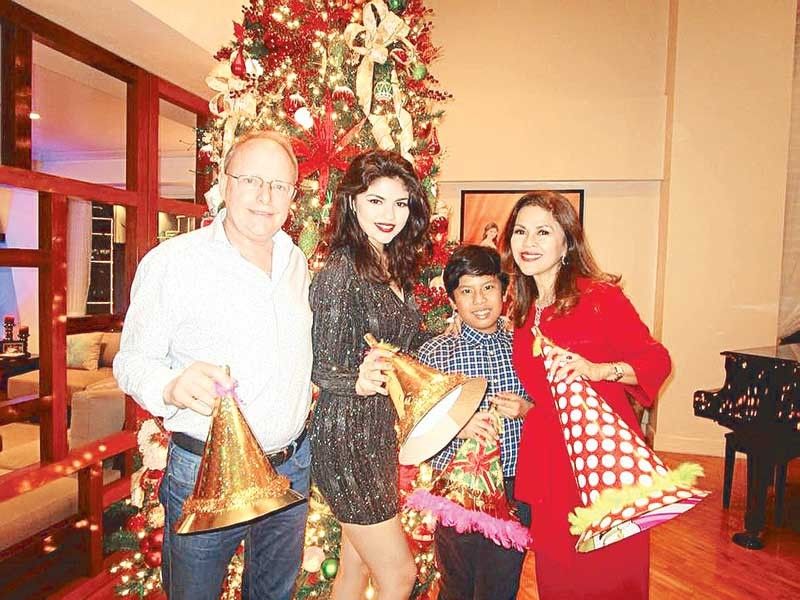 The Gerienes in Manila in 2016. (From left) Marc, Mara, Jean Marc and Hera.
The Christmas gift that keeps on giving
On Christmas Eve in their hotel suite in Makati 13 years ago, beauteous Mara Geriene, then 11, told her parents Hera and Marc, "You don't have a Christmas gift for me."
Mother and daughter had just arrived in Manila from Seattle a few hours before Christmas Eve, while Marc, a businessman, arrived a few days earlier. It was not part of their plans to spend the holidays in the Philippines, so Hera had no time to pack the gifts under their Christmas tree in Seattle. Mara was understandably crestfallen.
But with all the love in her beautiful, deep-set eyes, Hera assured her daughter, "Anak, we do have a gift for you."
Then she went to the next room and returned with a baby boy swaddled in a blanket, and tenderly placed the baby, not in a manger, but in Mara's arms.
"Your baby brother," Marc and Hera told Mara.
It was love at first sight for Mara. A dream come true. An answered prayer.
Mara had always prayed for a baby brother or sister, and on Christmas Eve 2005, he came, seemingly, from heaven.
Their Nativity tableau was complete and there were four of them in it.
* * *
In October that year, while the family was having dinner, Hera received a call from her brother in Romblon that a pregnant woman wanted to give up her baby. Townspeople advised the woman, who lived deep in the mountains, to consider giving her baby to a couple who could give it a better life. They thought of Hera, who was living in Seattle with her American husband Marc, who was in the underwater robot business.
When Hera received the call, she blurted out, "What, someone wants to give away her baby?"
Upon hearing her mother utter those words loud and clear, Mara suddenly started jumping up and down, "I'm going to have a brother, a sister! I'm going to have a brother, a sister!"
"Wait," Hera told her brother on the phone. "This is so sudden. I can't give you an answer. Let me ask Marc."
She hung up, turned to Marc. "There is this crazy woman in the Philippines who wants to give up her child," she told him.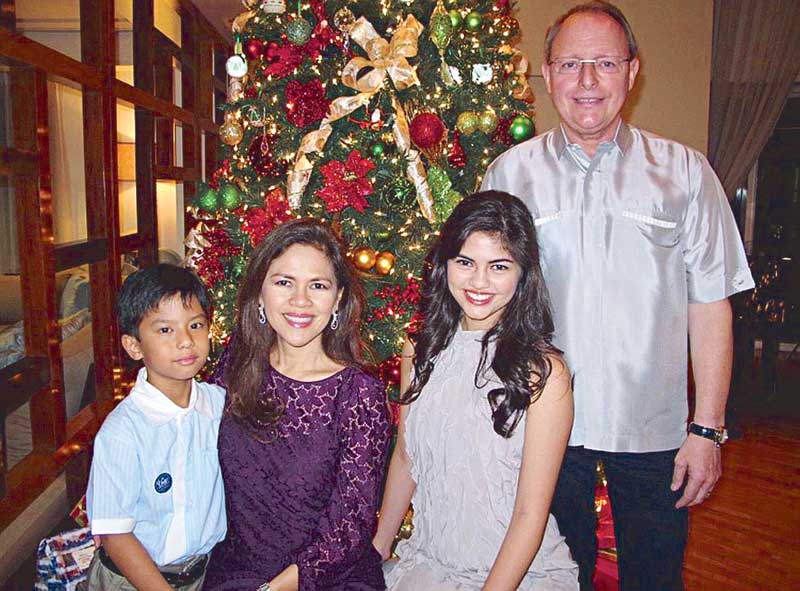 (From left) Jean Marc, Hera, Mara and Marc
Marc just looked at her and said, "There is nothing to talk about."
"What if she tried to abort the baby and harm was done to the baby? We will never know…" Hera replied, seeing the big "Yes!" in her husband's eyes.
"Then God has plans for us to take care of the child," Marc answered.
A stunned Hera whispered, "Okay," then proceeded to ring up her brother in the Philippines.
Beside them, a joyful Mara kept repeating, "Jesus has answered my prayers, Jesus has answered my prayers…"
* * *
Marc says there was no question in his heart that the baby was meant for them. He believes it was God's perfect timing, because just a few months earlier, they were told that Hera could no longer bear another child and had to have a total hysterectomy.
To him, that call from out of nowhere was a call from heaven.
Hera then made sure the mother was taken into her (Hera's) brother's home and to a doctor for a pre-natal checkup.
"We agreed with the mother that she could stay with my brother until the baby came. Our understanding was that if she changed her mind, she could go home with the baby and she would have had the benefit of the delivery in a provincial hospital. I requested that if she still decided to give us her baby after the birth that she nurse him/her for at least a week. The mother countered with nursing the newborn for three days. We agreed," Hera continues.
A month later, on Nov. 8, the woman delivered a baby boy. She didn't even want to give him a name. She wanted to give him a future.
The Gerienes were in Georgia when they received the good news. Nov. 8 was a meaningful day to Marc, because it was the first death anniversary of his best friend John. It was John who kidded Marc when he was first going to Manila for a business meeting, "Don't fall in love there."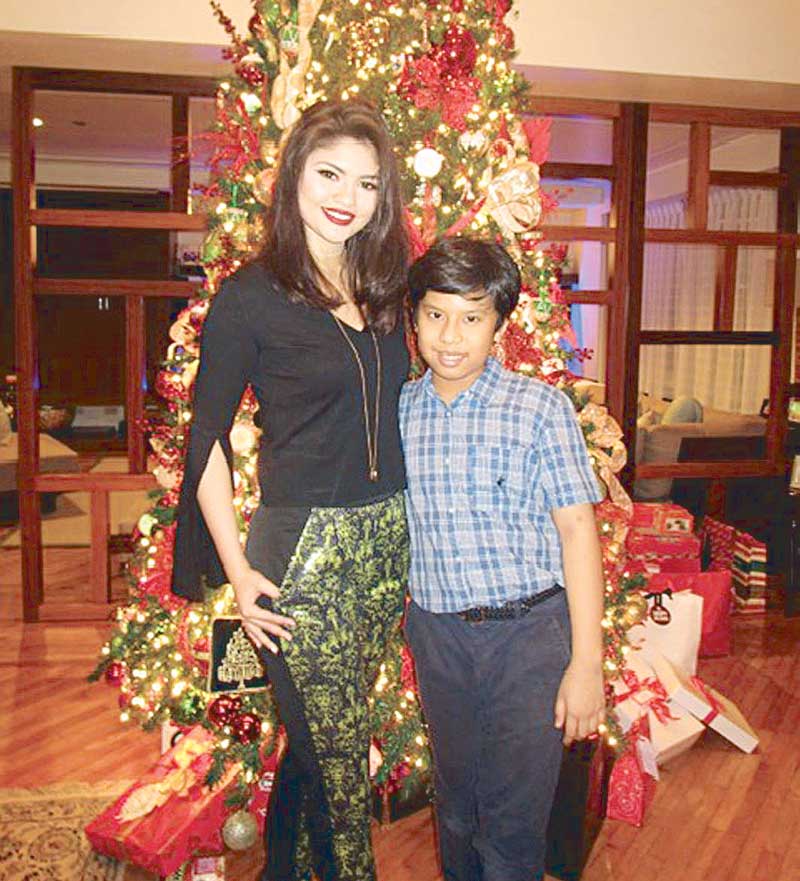 Siblings Mara and Jean Marc Geriene.
That was exactly what happened. Marc met Hera (Sagayap), made her his bride and now they were going to be parents again.
"We will name him Jean for John," Marc told Hera. Though born in Alaska, Marc had French roots and he wanted to celebrate that in his new son, who they decided to name "Jean Marc."
Ten days later, the tiny baby was on a boat (there were no flights to his part of the world) to Manila with a nurse and a nanny. From Romblon, Jean was brought to a nursery waiting for him in Hera's aunt's house in Manila.
On Dec. 15, Marc told Hera, "I want to fly to the Philippines to see our son. You stay because we don't want our daughter to be alone." Marc planned to stay only five days at most and be back home in Seattle by Christmas.
Instead of flying back as planned, he called up his wife and told her, "We can't have our son spend his first Christmas without us. Mara and you must fly to the Philippines instead."
Of course, getting tickets for two at that late stage of the holiday season, when balikbayans troop to their homeland, was also going to take a miracle. Marc persisted and finally mother and daughter were on the last flight in before Christmas Eve.
And at the stroke of midnight, when the stars were brightly shining, Marc and Hera told their precious daughter when she was asking for her Christmas gift, "Here's your baby brother."
It was a night divine.
(To be concluded on Thursday)
(You may e-mail me at joanneraeramirez@yahoo.com. Follow me on Instagram @joanneraeramirez.)