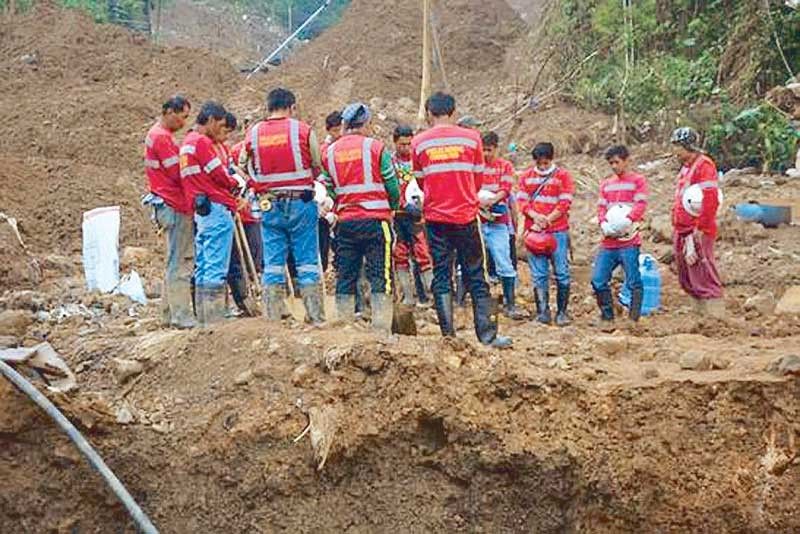 A prayer before the start of the daunting task ahead.
Let me pause from the usual politics, business, and leisure to pay tribute to ordinary women and men doing extraordinary things.
Difficult times often bring out the best in people.
With this amazing bunch, their best has been brought out time and again in the most difficult of times and the most challenging of situations.
What makes a hero?
There is a school of thought that says heroes are born, not made. Some studies on the matter say that there are people who are intrinsically strong, impervious to fear, perform with grace under pressure, and who are capable of doing amazing things.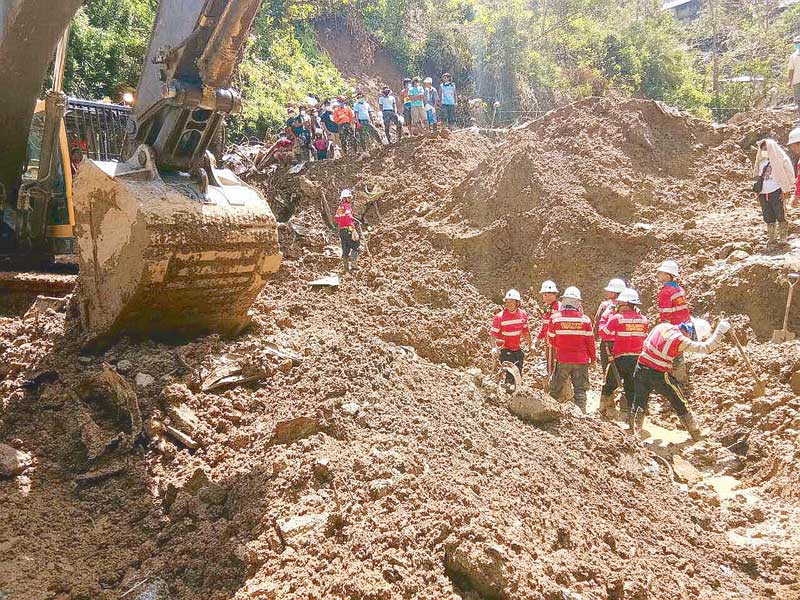 The construction of a pioneer access road by Philex speeds up rescue and recovery efforts.
The more popular view is that heroes are made. These are the people who are thrust in a situation of life and death; and in spite of their fears, decide to act despite risk to themselves — to save a life or lives, to go for that extra long leap, to make a difference for others — in short, people who become people for others. Being a hero, therefore, is a matter of choice.
The Philex Rescue Team is one such group of women and men who have decided to go beyond themselves to be of service to others and to the community.
On a regular day, you would see them at work in the Padcal mine in Benguet province as employees of Philex Mining Corp., one of the oldest and largest copper and gold producers in Southeast Asia.
But when duty calls, they are like Clark Kent removing glasses and suit at the speed of light to reveal Superman, Diana Prince spinning around to transform into Wonder Woman.
Duty called last Sept. 15 when typhoon Ompong hit the country, particularly Northern Luzon.
It dumped a week's worth of rain and strong winds in a matter of hours on northern provinces like Benguet.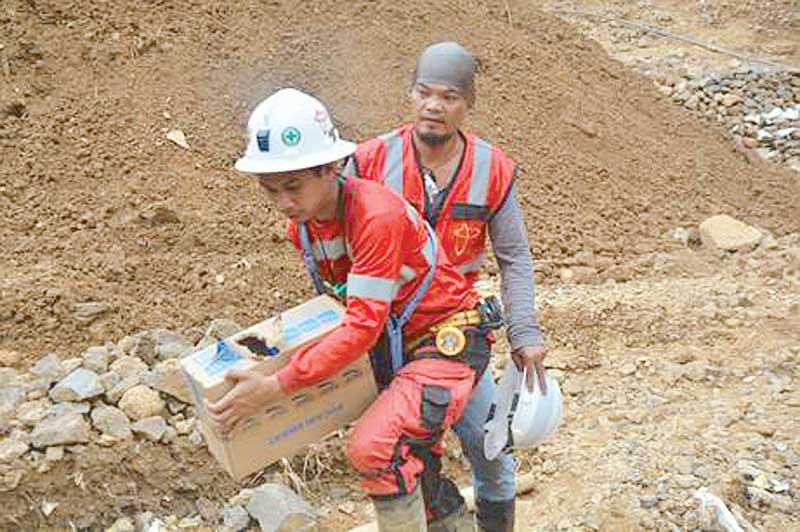 At Level 070 of the landslide area.
This caused a massive landslide on a hillside in Barangay Ucab in Itogon town, which buried houses, a bunkhouse, and a church under mud and debris.
In the wake of Ompong, at least 60 people — small-scale miners and their relatives — were believed buried under the landslide.
A call was made, particularly by the Mines and Geosciences Bureau in the Cordillera Autonomous Region, for rescue volunteers to assist government agencies involved in disaster response and recovery.
Without need of call, however, the Philex Rescue Team was first to respond. The team was no stranger to disasters and calamities. They saw action in the 2013 Bohol earthquake and Super Typhoon Yolanda.
They were also involved in the rescue efforts in the 1990 Baguio earthquake under the team leadership of the late engineer Joel Son, whose tales of heroic rescue efforts have become legendary.
"As a right and principled miner, we felt it our responsibility to provide disaster relief and rescue when needed," according to Euls Austin Jr., president and CEO of Philex Mining Corp. "No other business is better trained for disaster search-and-rescue or search-and-recovery than the mining industry. Because here, our miners are properly trained where safety is of paramount concern."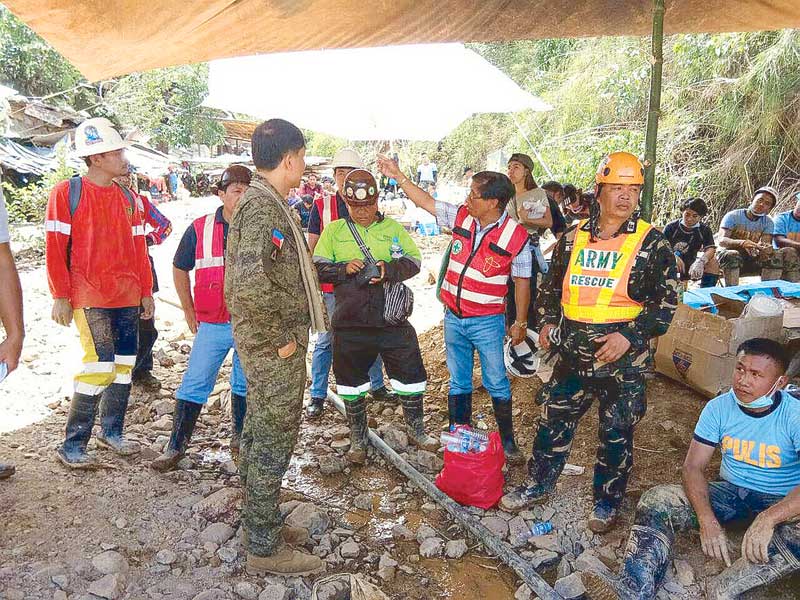 Philex president and CEO Euls Austin Jr. (third from right) with AVP and Padcal assistant resident manager Roy Mangali (second from left) at ground zero.
After responding to the rescue effort for Ucab, the team immediately went to work with the painstaking task of rescuing the landslide victims.
The sheer size of the landslide made the manual digging laborious and long-drawn.
Philex, in quick fashion, decided to construct a pioneer access road from the Itogon provincial highway to what was called "ground zero" of the landslide so that rescuers and equipment could pass through.
Others said it couldn't be done, but the company believed that it was possible and proceeded with the construction of the much needed access road with its excavators.
And they were proven right. After a day or so, the excavator reached ground zero, and the digging continued albeit at a much faster pace. Time was of the essence.
The Philex rescuers are always first on the scene as each day of the rescue effort draws on. They are also usually the last to leave.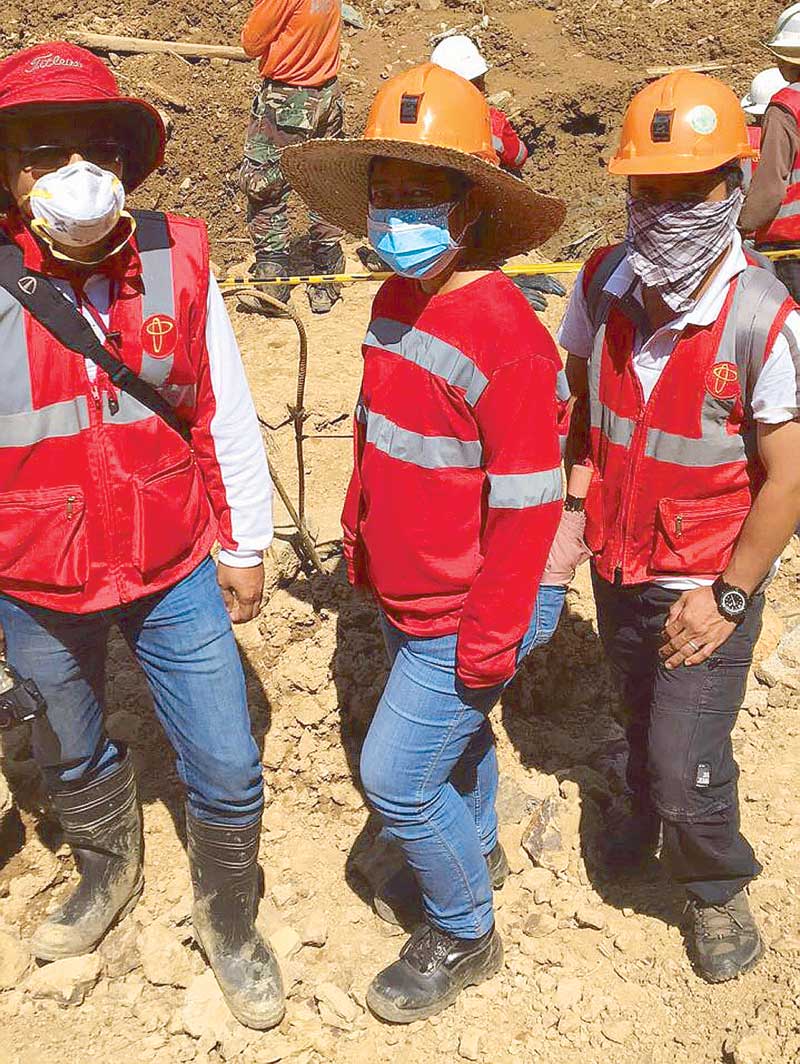 Philex Padcal legal division head lawyer Ed Aratas, community relations manager Au Dolipas and community relations special projects in-charge Chris Cheno at ground zero.
Sadly, the rescue effort turned into one of recovery and retrieval as they would discover lifeless bodies under the mud and debris.
In spite of their work and their families, not to mention the emotional baggage of working day in and day out to recover victims, they soldier on.
They are still there at ground zero as I write this — digging, sifting through the soil and rubble, trying to find any indication of life.
"This is where we report for work for the past two weeks now," says team leader Gregorio Oldangon. "The task isn't easy because of the size of the landslide area, but we need to go on in recovering the victims because there are people, especially families, who are waiting."
They are heroes in my book. In any book. This is my simple but sincere way of giving honor and respect to them and the work that they do:
Team leader engineer Gregorio Oldangon, engineer Stevenson Mangali, Abel Wandagan, Brent Balacio, Elmer Dapdapig, Norlie Cabacungan, Reyes Asan, Joey Siano, Arnold Lazaga, Manuel Ottao, Hilario Villanueva, Joe Andrew Estorpe, George Maslang, Johannes Oga-oy, Mark Jonathan de Vera, Randy Dinangwatan, Joey Catubing, Celestino Tawao, Allan Parinas, Roger Apilado, Roque Angad, Romie Leano, Roger Villanueva, Victor Cayat, Leo Dangi and Reynaldo Dulay Jr.
They are heroes of the modern time. Heroes in our midst!
Maraming salamat sa inyo! Mabuhay kayong lahat!