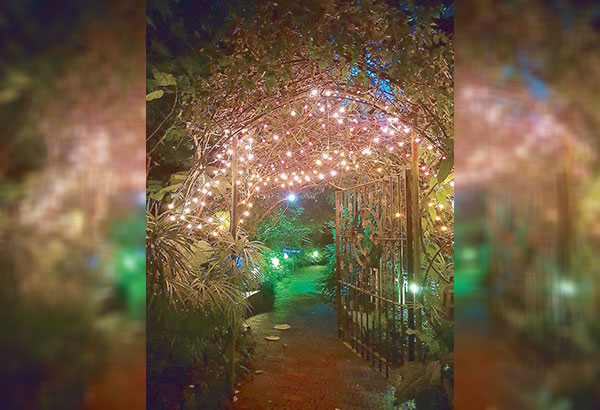 Sonya's Garden lights up with thousands of fairy lights at night.
(The Philippine Star) - November 29, 2017 - 4:00pm
MANILA, Philippines — By design, I believe, life is good," says Sonya Garcia.
Sonya is called the "royal innkeeper" of Sonya's Garden and Sonya's Bed & Breakfast. Her lovely and delicious business venture has grown into a 1.5-hectare paradise in the last 20 years.
In 1998, the first time I ate rose petals and other flowers in my salad at Sonya's Garden, the restaurant was just a mere cottage that could accommodate 20 people in one sitting, manned by 15 staff members. Now, there are three main dining areas called Morning Glory (that can seat 400 people), Sunflower (200 people) and Conservatory (150 people).
A visit to Sonya's Garden is a visit to a blissful haven serenaded by the whispering flowers of palo santo during summer or the inviting violet blooms on a nippy morning. Name a tropical flower and chances are, you will find it in Sonya's gardens, including the dainty pitimini, the imposing sunflowers, or the fragrant dama de noche.
Inside any of the 22 cottages at the bed and breakfast, a flower arrangement in a vase or a basket awaits the guests. Sonya, a giving, joyful soul, gives flowers to her guests. One morning, she gave me an arrangement so simple yet so beautiful I thought I saw a haiku the way the blooms were arranged.
Yes, there are also poetry books and other literary titles in the cottages. You sleep in a soft, soft bed; take a bath in the shower room whose flooring is covered in puka shells; and wake up to the chorus of birds. Long before you take a sip of piping hot tsokolate-eh in fine bone china, you first savor the glory of the morning scent — inviting, intoxicating, inspiring.
The breakfast fare at the B&B is a treat to the senses: omelet with basil, chicken pork adobo, ensaymada and Ispanis bread, sweet mangoes, bangus belly fried in olive oil.
Lunch or dinner at any of the restaurants at Sonya's Garden is a sumptuous sampling of how Sonya Garcia prefers her meals — or how she lives her life. There is a mixture of create-your-own salad of freshly harvested lettuce and arugula topped with ripe mango, eggs, cucumber, jackfruit, edible flowers, pineapple and white corn. Don't forget to drizzle it with Sonya's Secret Dressing. Oohlala!
If you're a bread and dips person, you have stumbled upon a pot of gold, err, a basket of freshly baked whole wheat sesame bread from Sonya's Panaderia. Choose your dips: basil pesto, white cheese, anchovies, bruschetta tomato toppings, mushroom pate, black olive tapenade and fresh green peppercorn in olive oil. The best part is, you can have them all.
The al dente pasta is served with two kinds of sauce: sundried tomato and chicken cream with tomato. You create your own pasta with toppings like salmon belly strips, Shiitake mushroom, ratatouille, black olives, capers and grated Parmesan cheese.
Your sweet ending is a smorgasbord of glazed sweet potato, banana rolls with sesame seeds and jackfruit and a slice of heavenly chocolate cake. Bottomless is the serving of freshly squeezed passion fruit or dalandan juice and tarragon tea.
Optional dishes include prime Angus rib-eye steak, grilled Chilean sea bass, chipirones en su tinta, tendon callos, braised chicken with potato and herbed roast chicken.
Lunch for the guests at the B&B can also be customized, especially if they want to experience Sonya's Secret Spring. Fifteen minutes away by car from Sonya's Garden is a stream where natural spring runs through. From a natural batis, Sonya created a "lap pool" in this new development for the exclusive use of her guests staying at the B&B.
Recently, I plunged into the cool, cool spring waters and allowed myself to be serenaded by the birds and cicadas singing in chorus. Butterflies and dragonflies chased each other before settling on a boulder. Matured leaves of bamboo and other endemic trees from the surrounding forest of Alfonso, Cavite momentarily gyrated down the stream. Flowers falling onto the stream got caught in the spouts of the tiny falls. And on the lush promenade area above the pool, foie gras, caviar and a bottle of bubbly awaited.
Sonya's Garden is a successful business venture because the owner runs it with so much heart. For one, Sonya believes in social fencing so all her 170 employees — assigned in the dining areas, gardens (there is a cozy nook called Proposal Garden), spa (yes, there's a spa that specializes in four-hand massage, heavenly!), bakery, laundry (the department responsible for the crisp table linens, which are hand-embroidered with stitchings called "fagoting" and French knotting) and carpentry (whose staffmembers are responsible for the furniture one can buy at Sonya's Favorite Finds) ­— all come from the neighboring barangays that surround the location of Sonya's Garden.
Sonya is generous to her employees. She is tightlipped about it but her staff will tell you that she has given free house and lot to almost 90 percent of her people. She also sends many of her employees' children to college.
The place evokes of kindness and other positive energies. Sonya's Garden fascinates the senses, impacts the soul. It is a haven where the art of doing nothing is encouraged at every turn.
"Our life is not our own. It's a wondrous gift, freely given by the Ultimate Giver. Life should be lived with joyfulness, mirth and laughter," Sonya always tells her guests.
And no matter how many times you've been to a paradise, it will always feel like the first time at Sonya's Garden. It's a sanctuary that heals, rejuvenates, inspires and rewards the soul.
No wonder many have called Sonya's Garden their favorite place on earth.
(Sonya's Garden is located at Barangay Buck Estate, Alfonso, Cavite. For inquiries, call 0917-5335140. E-mail the author at bumbaki@yahoo.com.) Photos by Büm D. Tenorio Jr.