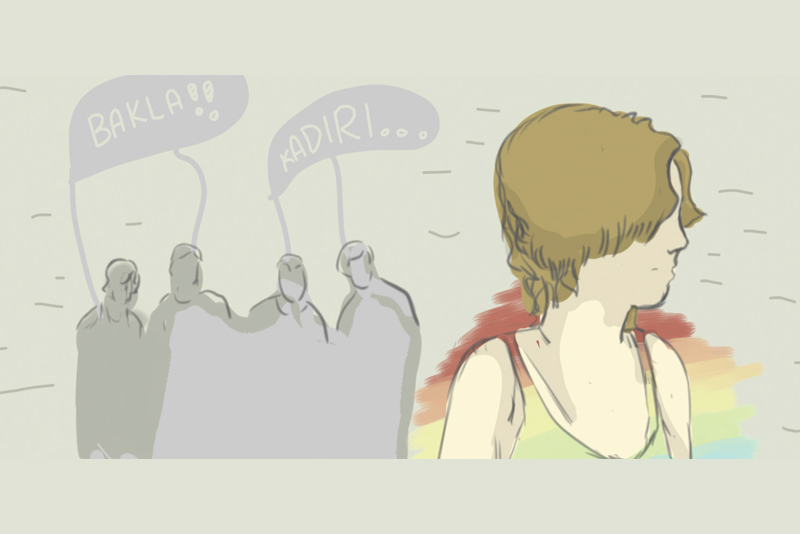 Illustration by Arjane Niebres
(The Philippine Star) - March 13, 2018 - 12:00am
"Magkano po ito (How much is this)," I asked the street vendor, pointing to skewered fish balls he was peddling. It was late in the afternoon, almost sun down. The sky was red orange. The air was warm and dry. I was on my way home from school when I stopped by for a snack.
"Sampu ho isa. (Ten each)," her answer went.
"Sige, isang stick po sa'kin, Ate (One stick for me, please)," I said.
I was putting my change in my purse when I caught sight of a familiar face – the face of the guy sweeping the steps in front of a small building a few feet from the food cart. He was wearing a pair of slippers, mini-shorts, and a worn-out shirt with three faces of politicians who won as mayor, vice-governor, and congressman in the last elections – mother, son, and brother-in-law. "For the nation," the shirt said. The guy's skin was browned, his eyes weary. Although he was keeping his head down, I could see sweat trickling down his face. He looked much different, I thought, from the last time I saw him 10 years ago.
His name was Ian. His friends used to call him Yan-yan, or sometimes Bessy, which is slang for bestfriend. We went to the same school in elementary, and we sat beside each other for the first two quarters in sixth grade. He was always full of energy. When someone played the Spanish pop single "Aserejé," he would gleefully walk to the front of the class with his hands held open while he continuously waved them over the other and swung his hips. His two girl friends who sat in front of us would jive to the music and my classmates would start clapping to the beat.
I never joined their dancing, but we became friends. During morning breaks, I would hang out with him and his two "bessies." During lunch time and after classes, though, I would still go out with my best friend from another class, while he would eat lunch, and play jackstones and Chinese garter with his friends. After playing, they would sometimes sing the song "Glowing Inside," putting hairpins on each other, as if they were auditioning for a Disney movie. Some of our classmates would tease and make fun of Yan-yan.
The last time I heard them sing that hit-single from a shampoo commercial was during our elementary graduation exercises. It was the song our school made us sing at the end of the ceremony. That was also the last time I saw them. I moved to a different school in a different city after graduation.
"Yan-yan!" I walked towards him as I finished my snack. "Kamusta ka na (How are you)?"
Yan-yan was a helper at the beauty parlor. An aunt got him there. He assisted the two beauticians of the humble shop and kept the salon clean. The job wasn't difficult, he said, although sometimes he would feel worn out after his work or irked by some customers and passers-by who would yell "Bakla!" or casually make sexual solicitations.
He worked from eight in the morning until early in the evening. The time he would go home depended on the time the beauticians would be finished with their last customer. He helped his aunt send his younger sister to school. He wasn't earning much, but he still saved most of his pay for the tuition of his sister who was already on her last year in college. He wanted to go back to school, too, Yan-yan continued, and learn hairdressing in a vocational school. He was waiting for his sister to graduate. Maybe next year, he sighed.
Yan-yan dropped out of high school before he started his second year. Like many of the millions of out-of-school Filipino children, he didn't want to stop studying, but his mother was diagnosed with breast cancer and his father couldn't afford to resign from work to take care of her. No one from the family had any form of health insurance that could help them pay the bills.
And so he looked after his mother until she died later that year. He was 14, his sister 11. Two years after his mother's death, his father left them and remarried.
"Buti na lang (Well and good)," he said.
His father would always come home drunk and beat him and his mother when she was still alive. Every single time.
"Babakla-bakla ka kasi (It's because you're gay)!" the usual line would go, then he would shift the blame to his hapless mother, "Ikaw naman, kinukunsinti mo anak mo (And you, you condone your son)!"
The family of his aunt who adopted him and his sister couldn't afford to send them to school, so Yan-yan decided to stop schooling so his sister could continue her studies.
'Di ko maintindihan ang mga tao, ang papa ko. Masama ba maging bakla? 'Di ko naman ito ginusto. Pero bakit sa araw-araw na ginawa ng Diyos, lagi silang nandiyan para gawing impyerno ang buhay ko (I don't understand people, or my father. Is it wrong to be gay? I never wanted this, but why is it that they are always there to make a living hell out of my life)?
He tightened his lips as he tried to stop the tears that formed in the corner of his eyes from falling. He kept his head down the way he did when I first saw him that afternoon. There was nothing wrong, I thought to myself. I looked blankly at his shirt while grasping for words to say. "Pero 'dedma na 'te, happy-happy lang, (But it's all good, sis, I'd rather be happy)," he said, and tried to smile.
Yan-yan is now 23. His story is only one of the many that we hear of, read of in Facebook posts and tweets, and see in television dramas and movies.
These are also stories we often do nothing about.
Many lesbian, gay, bisexual, transgender, and queer (LGBTQ+) Filipinos continue to experience discrimination every day, with the lack of a national legislation and government action that will protect their rights and dignity. Many LGBTQ+ youth are forced to drop out of school because of multiple layers of inaccessibilities. Many LGBTQ+ children are bullied and abused at school and at home.
Like most, they have dreams. They deserve the help they need to reach them. Call out your classmates when they ridicule or harrass someone on-line. Extend a helping hand to the abused kid living across your street. March alongside your friends who are fighting for their rights. After all, the success of our youth is the success of our society; their failure, ours too.
Xavier Javines Bilon, 22, works with the University of the Philippines (UP) Babaylan in empowering and advocating for the rights of LGBTQ+ students and youth across the country. He is currently an Electronics and Communications Engineering student at UP Diliman.