EDITORIAL - Nagoyo nabbed
January 24, 2022 | 12:00am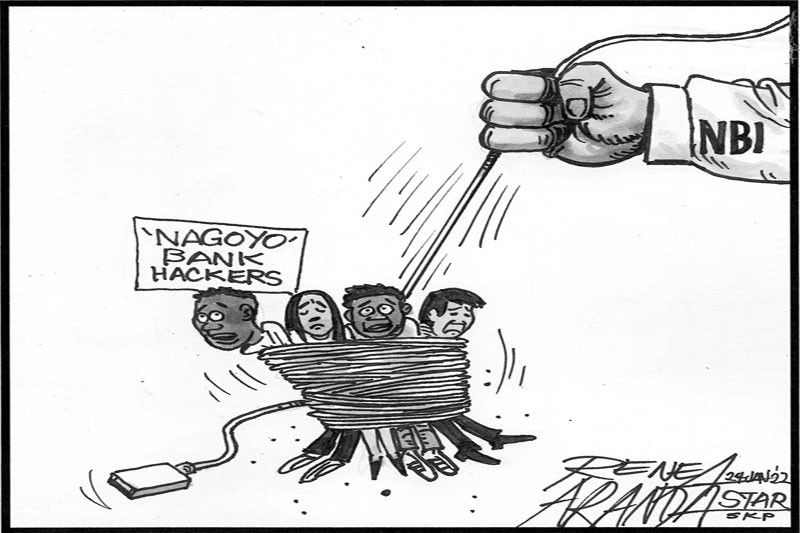 The Bangko Sentral ng Pilipinas and private banks have repeatedly warned bank depositors to be wary of e-mails and text messages seeking their account details, user IDs, passwords or personal identification numbers.
Cyber criminals, however, still manage to get such sensitive personal information by hacking into banks' digital networks, accessing their client contacts, and setting up imitations of the banks' legitimate websites to obtain account data.
The good news is that the National Bureau of Investigation arrested last week five suspects in the hacking of BDO Unibank accounts last December. NBI officials said more suspects are being eyed, with another bank reportedly being targeted by the group.
Alleged mastermind Jherom Anthony Diawan Taupa is accused of setting up the bank scam page that lured about 700 clients into clicking on a link. This triggered unauthorized fund transfers via InstaPay in increments of P50,000 from the clients' accounts to another in Union Bank of the Philippines under the fictitious name Mark Nagoyo.
Nigerians Ifesinachi Fountain Anaekwe, alias Daddy Champ, and Chukwuemeka Peter Nwadi, who were nabbed in Mabalacat, Pampanga, allegedly offered to cash out money stolen from bank accounts, crypto wallets and businesses' point-of-sale terminals.
Filipinos Ronelyn Panaligan and Clay Revillosa are accused of serving as developer of the scam page and data downloader, respectively. Taupa, who was arrested in Floridablanca, Pampanga, is accused of selling phishing websites and operating scam pages to hack GCash wallets.
The suspects, however, will not be the last of their ilk. Bankers are pushing for additional legislation to improve the battle against phishing, smishing and other forms of electronic financial crimes. With digital banking gaining popularity especially amid the COVID pandemic, and with the government pushing more people to open bank accounts, greater effort is also needed to improve digital financial literacy among the public.
The arrest of the suspected members of the Mark Nagoyo gang is a welcome development. It should serve as the start of an intensified effort to fight financial cyber crime.