EDITORIAL - Making jabs accessible
January 21, 2022 | 12:00am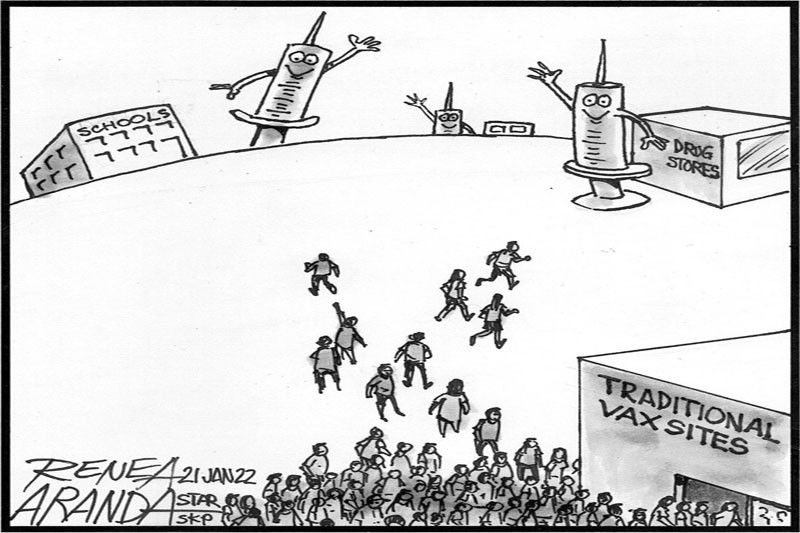 In other countries such as the United States, pharmacies have been used for COVID vaccination almost as soon as the jabs were rolled out a year ago. The availability of the jabs in pharmacies that are ubiquitous all over the US prevented crowding at vaccination sites, which could raise the risk of virus infection.
A similar move finally kicked off in the Philippines yesterday, with six pharmacies and a health clinic in Metro Manila selected for the pilot run and the jabs limited to boosters.
Health officials have explained that the limited supply of vaccines, the temperature and dosage requirements especially for the cutting-edge mRNA jabs, the fact that COVID vaccines were authorized only for emergency use, as well as the special training needed to safely handle the jabs prompted the government to limit the task of inoculation to persons supervised by health and local government officials.
Still, the organization of drug store owners said private pharmacists have been training for some time now for the possibility of being tasked to assist in the COVID vaccination campaign. When the govermment finally decided to tap them, the pharmacies were ready.
Yesterday, the main glitch in the pilot was the failure to inform the public that walk-ins were not allowed at the seven sites. Online registration with the local government unit is still needed; the LGU, which provides the jabs to the pharmacy within its jurisdiction, will text the schedule to the prospective vaccinee.
This glitch is easy to remedy, and it looks like the country is set to expand the program to other pharmacies and health laboratories or clinics in Metro Manila and other parts of the country. Officials said the goal is to vaccinate 90 million Filipinos by the end of June.
What should be remedied are the problems that have bedeviled the vaccination program. One is the need for a uniform vaccination card, or at least a system of quickly verifying the authenticity of the different cards available. There should also be an efficient system of manual scheduling for jabs. This is for those who don't know how to register online and who, for various reasons including the loss of a day's earnings, don't want to wait in a long line for hours for walk-in vaccination.
Even as these problems are addressed, the government should speed up the selection of more pharmacies, clinics and other sites to make COVID vaccines more accessible nationwide.