EDITORIAL - Questions on ayuda distribution
October 20, 2021 | 12:00am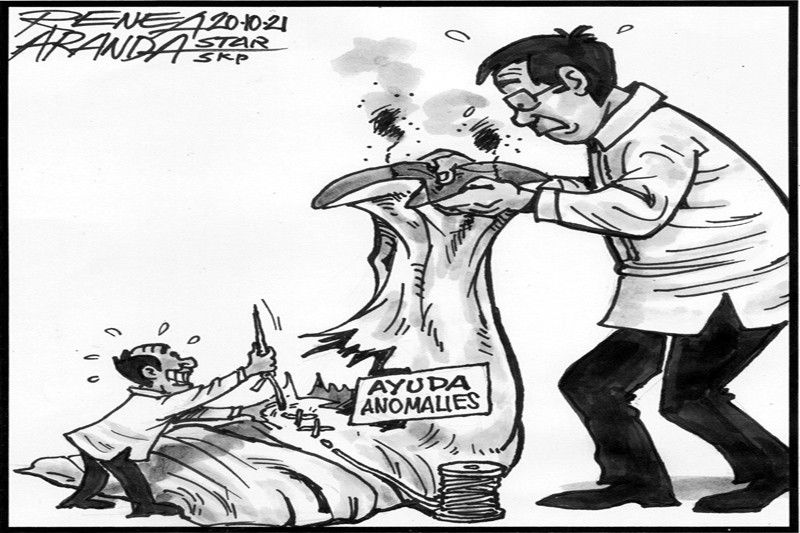 Since the multibillion-peso financial assistance or ayuda for the COVID pandemic was launched last year, anomalies have hounded the aid distribution. There were complaints of favoritism, and provision of aid even to the wealthy. There were problems with the list of beneficiaries.
As early as May last year, 134 barangay officials, mostly captains, faced criminal charges before the Department of Justice for various types of irregularities in ayuda distribution. Among the offenses were the collection of "processing fees" ranging from P50 to P1,000 from each recipient, and inclusion of unqualified relatives of barangay officials among the beneficiaries.
Despite the filing of criminal charges and suspension of those indicted, the aid anomalies have continued. Last August, for example, three barangay officials led by the captain together with a civilian were arrested in Manila on charges of stealing the P8,000 cash aid from two beneficiaries.
In the latest ayuda-related controversy, senators are questioning a contract awarded by the Department of Social Welfare and Development to what they described as a little known financial service provider to distribute about P50 billion worth of aid to over 1.89 million beneficiaries. The DSWD has defended the award of the bulk of the contract to Starpay, saying it was one of just two FSPs accredited to do mixed manual and electronic payouts.
Senators wondered why bigger entities such as GCash, PayMaya and RCBC have fewer beneficiaries than Starpay, which was allotted up to seven million beneficiaries, each of which would be charged P50. Only 800,000 have downloaded the Starpay app as of last week, the senators said.
DSWD officials have said it was the Bangko Sentral ng Pilipinas that selected the FSPs for the distribution of the social amelioration program. The department had to "recalibrate" after it turned out that many beneficiaries did not have contact numbers. Only Starpay and RCBC "signified" readiness to distribute the SAP to such beneficiaries, the DSWD explained.
Senators, on the other hand, urged the Bangko Sentral and investigative bodies to probe the deal with Starpay, a company that reportedly declared bankruptcy in 2019. Apart from failing to fully distribute the aid, Starpay reportedly deposited the undisbursed amount in a private bank before it began returning the funds in installments to the DSWD, the senators said. The country has struggled to deal with pandemic, and the government must ensure that aid distribution is efficient and aboveboard.