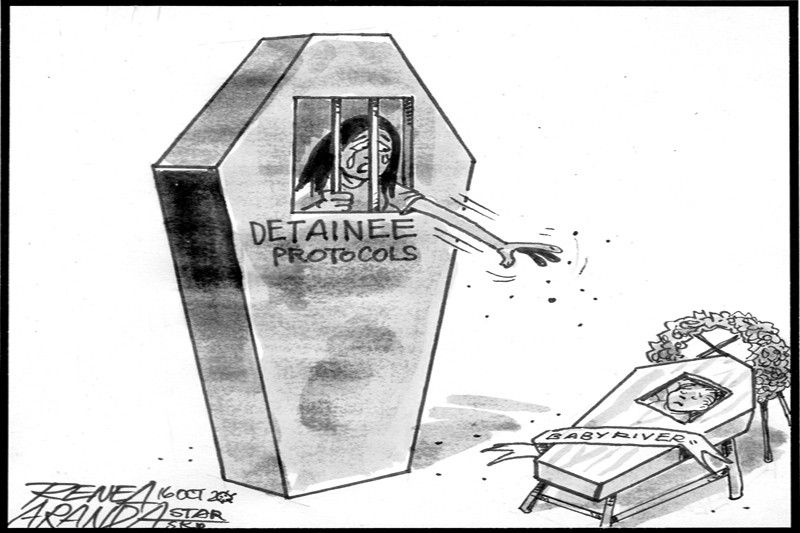 EDITORIAL - Mothers in jail
(The Philippine Star) - October 16, 2020 - 12:00am
Politicians detained for plunder have been granted furloughs for a toothache. Reina Mae Nasino had to fight for a furlough to be with her three-month-old daughter River – at the child's wake.
No matter where you are in the political spectrum, you will be touched by the story of Reina Mae. Last Wednesday, the 23-year-old mother finally had a tearful three hours with her daughter, who died of acute respiratory distress syndrome on Oct. 9 after she was taken to the Manila Medical Center with pneumonia on Sept. 24.
Reina Mae was one of three activists arrested by police during a raid in November last year on the office of the Bagong Alyansang Makabayan. They were charged with illegal possession of guns and explosives; they claimed the weapons were planted. Reina Mae was one month pregnant at the time; last July 1, she gave birth to an underweight Baby River at the Dr. Jose Fabella Memorial Hospital in Manila. The Manila Regional Trial Court rejected the new mother's request to breastfeed the baby while in detention, saying jail is not a place for a baby.
When River died, the warden of the female dormitory at the Manila City Jail opposed Reina Mae's request for a three-day furlough to attend the wake, arguing that the jail did not have enough personnel to guard the inmate for three days. The Manila RTC, noting this opposition, then gave Reina Mae three hours for the wake and another three hours to attend her baby's funeral.
Last Wednesday, Reina Mae arrived at the funeral parlor under heavy police guard, in handcuffs and wearing personal protective gear as the jail custodians also said they were worried that she might get infected and bring coronavirus to the city jail upon her return.
While COVID has upended many aspects of life in this country, and several jails have indeed become hotspots for the coronavirus, Reina Mae's case should prompt reforms in the rules as well as jail facilities for pregnant inmates and nursing mothers. There is a special bond between mother and child, and every effort must be made to prevent a repeat of tragedies such as the one that befell Reina Mae and Baby River.