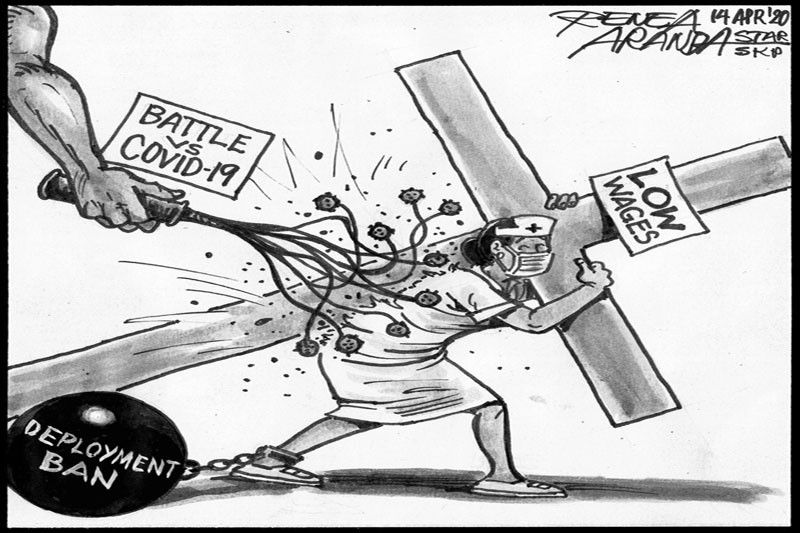 EDITORIAL - Deployment ban
(The Philippine Star) - April 14, 2020 - 12:00am
Even before the coronavirus disease 2019 pestilence arrived in the Philippines, the country already suffered from a shortage of approximately 290,000 health workers. This is according to the Philippine Overseas Employment Administration, which has banned the deployment abroad of health workers while the country is battling the COVID-19 pandemic. The POEA reported that last year, about 13,000 health professionals left the country for jobs overseas.
Critics have decried the POEA ban as unconstitutional. Proponents, on the other hand, said such moves are allowed under a state of public health emergency and the special powers granted by Congress to President Duterte to contain the unprecedented pandemic. Other proponents have taken a different tack, appealing to the patriotism of health workers in fighting the highly contagious and deadly disease. Hundreds of health workers have answered the call.
Hailed as heroes of the pandemic, the plight of health workers should prompt a review of government policies toward this sector. Before the arrival of COVID-19, nurses in both government and private health facilities had been pushing for better compensation. Some private hospitals even charge nurses for the privilege of working and getting the required residency for overseas deployment. Poor compensation – in some cases even lower than the minimum wage – has driven nurses to work instead in business process outsourcing or to find jobs overseas.
As of Tuesday last week, COVID-19 had reportedly killed 21 doctors in the Philippines, accounting for a significantly high percentage of the total deaths nationwide, now at over 300. Nurses and other health professionals are also among the COVID-19 fatalities. The pandemic is showing the nation the importance of this sector not only for public health but also for the economic health of the country.
The government is reviewing the POEA's suspension of overseas deployment of health workers. Even with the deployment ban, going to the frontlines of a battle against a deadly, unseen enemy is best done voluntarily. If only a few answer the call, the government – and the nation – should review the possible reasons, and find ways to address them.
Related video: