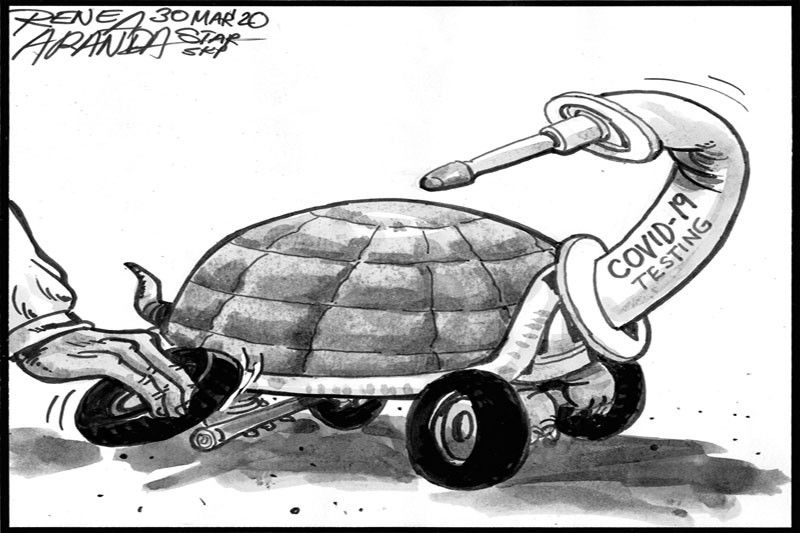 EDITORIAL - Ramping up COVID testing
(The Philippine Star) - March 30, 2020 - 12:00am
In a tragic manifestation of how the coronavirus disease 2019 pandemic is overwhelming the public health system, the assistant director of the Research Institute for Tropical Medicine, Dr. Salvacion Rodriguez-Gatchalian, last Wednesday joined the ranks of frontliners who have fallen in the difficult battle. The RITM is the country's lone testing center for COVID-19 infection.
Health experts have stressed the importance of rapid, widespread testing to contain the spread of a potentially deadly affliction for which there is still no vaccine or cure.
There was excitement over reports that the city government of Marikina was set to open its own testing center, using the GenAmplify test kits developed by the University of the Philippines-Manila's National Institutes of Health and Philippine Genome Center, to be mass-produced locally. Both the opening of the testing center and rollout of the local test kit, however, are still waiting for an official green light.
Other countries have fast-tracked approval processes for such critical items. While Philippine health officials have valid concerns over the need to ensure the accuracy and safety of the tests, the other side of the argument is that time is of the essence in containing this highly infectious disease.
Gabor Kelen, director of emergency medicine at Johns Hopkins University in the United States, which now has the world's highest number of COVID cases, has argued that easing regulatory hurdles for testing in this emergency outweighs the disadvantages, and governments do not have the luxury of aiming for a perfect testing environment.
With COVID deaths surging in the US and their hospitals overwhelmed, Kelen was quoted in a report as saying: "If we could have done contact tracing, we might have found a lot more cases quickly and shut down the hotspots." Arguing for the speedy rollout of more testing kits, he said: "Something is better than nothing, sooner is better than later, and if one test is good, two are better. So let's get to it – perfect is the enemy of good."