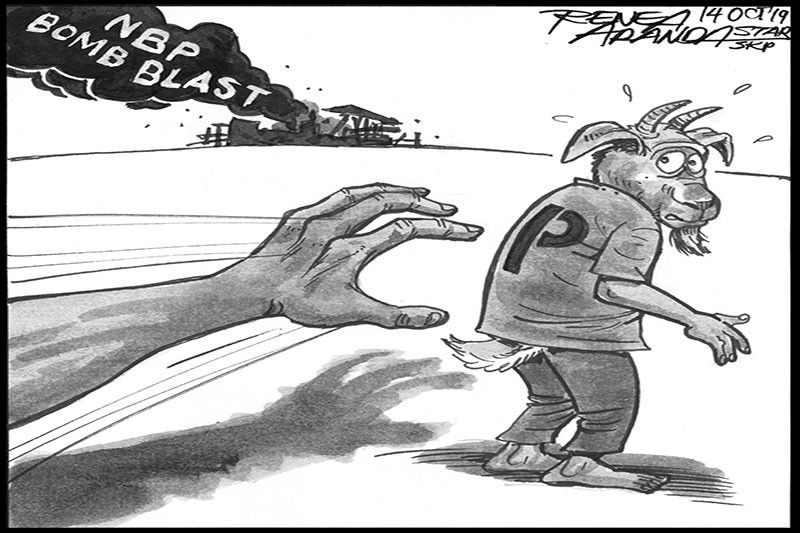 EDITORIAL – An explosion in Bilibid
(The Philippine Star) - October 14, 2019 - 12:00am
With the Bureau of Corrections and its main facility, the New Bilibid Prison, under minute scrutiny due to the recent mass release of heinous crime convicts, you'd think security would be extremely tight in the NBP.
So it's intriguing that the NBP was rocked by an explosion last Friday. While the blast was attributed to an improvised explosive device or IED by prison personnel, the National Capital Region Police Office bomb squad reported finding two grenades and blasting caps at the site.
Getting hold of a grenade is difficult even for ordinary people outside government detention facilities. How do such weapons find their way into the wrong hands in the national penitentiary? The question begs for an answer especially when the NBP and BuCor are in the national spotlight for being at the heart of a probe into the release of heinous crime convicts based on a new interpretation of the good conduct time allowance law.
Inevitably, people are reminded that the newly installed director general of the BuCor, Gerald Bantag, was warden of the Parañaque City Jail in 2016 when a grenade went off in the facility, killing 10 inmates mostly facing drug-related charges. The multiple killings have not been solved.
As the NCRPO has already looked into the NBP blast, it should also proceed to determine who set it off and where the explosive came from. The government is supposed to maintain an inventory of grenades in its arsenal, and it may be possible to trace the source. If the grenades didn't come from the government, this should be even more worrisome, especially since the explosives managed to find their way into the country's main prison facility.
No one was injured in the explosion at the NBP, which occurred as kubols or huts used by prisoners were being demolished as part of a sweep for contraband ordered by the new BuCor chief. The demolition continued despite the blast. And for sure, no grenade blast will stop the illegal activities going on inside the NBP and within the BuCor. Problems bedeviling Bilibid and the corrections system cannot be blasted away.