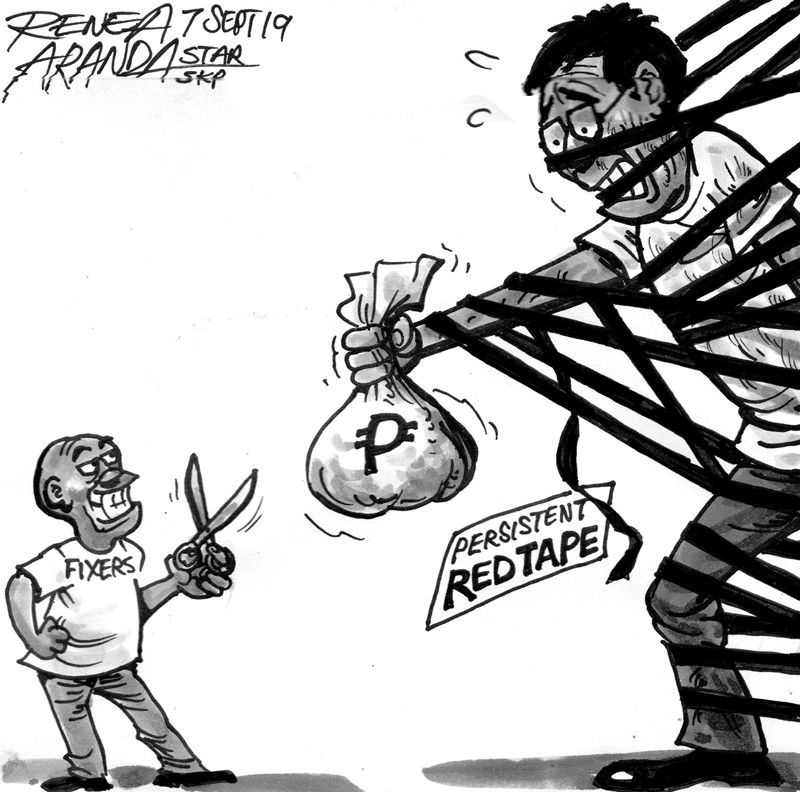 EDITORIAL - No end to red tape
(The Philippine Star) - September 7, 2019 - 12:00am
Two laws have been passed and President Duterte, who often says in his speeches that he wants red tape cut, has formed an Anti-Red Tape Authority. Yet the processing of transactions in many government offices continues to move slowly and fixers still proliferate, according to ARTA officials.
The fixers operate, collecting "facilitation fees," precisely because of the red tape. Every layer of delay in processing transactions offers an opportunity for collecting grease money. This has been the biggest hindrance to the implementation of Republic Act 9485, the Anti-Red Tape Act of 2007, which necessitated the passage last year of RA 11032 or the Ease of Doing Business and Efficient Government Service Delivery Act.
ARTA officials say the largest number of complaints about red tape involve the Bureau of Internal Revenue, Land Transportation Office, Pag-IBIG Fund, Social Security System and Land Registration Authority. President Duterte had mentioned the five agencies in his State of the Nation Address last July.
The implementing rules and regulations for RA 11032 took effect only last month. Since assuming power, however, President Duterte has been calling for a processing time of no more than three working days for simple transactions with the government. For more complicated technical procedures, current laws and rules prescribe 20 days.
The President's repeated admonitions have been ignored by those who profit from inefficiency and red tape. Corruption is not always the culprit, however. ARTA officials have stressed the need for capacity-building to cut red tape and eliminate fixers in many government offices.
RA 9485 penalizes violators with imprisonment of not more than six years and fines ranging from P20,000 to P200,000. The penalties for violating RA 11032 include imprisonment of one to six years, fines ranging from P500,000 to P2 million, dismissal from government and forfeiture of all retirement benefits, and perpetual disqualification from holding public office.
While improving capacity, the government should start filing administrative and even criminal cases against violators of the two laws, to show that the state means business. Once crooks and the incompetent see that wrongdoing does not pay, red tape may finally be eliminated.