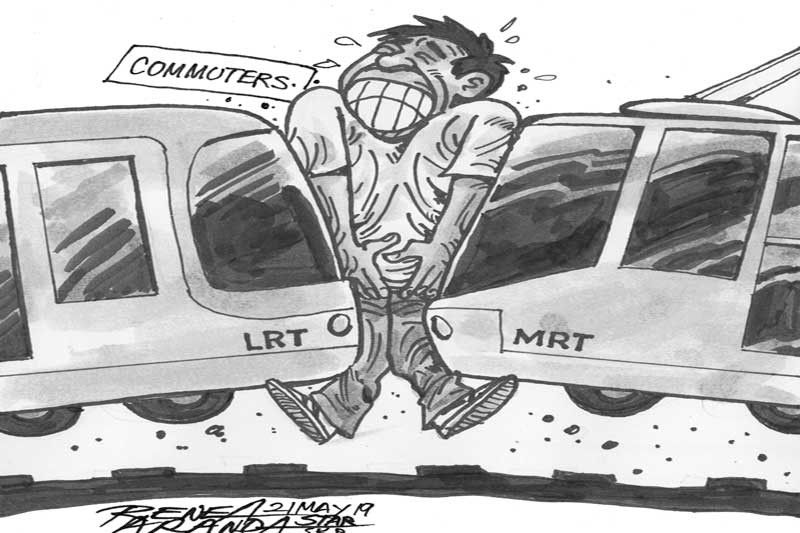 EDITORIAL - Commuter safety
(The Philippine Star) - May 21, 2019 - 12:00am
The glitch-plagued railway service is the Metro Rail Transit 3. Last Saturday night, it was the turn of the relatively new Light Rail Transit Line 2 to be hit by a technical malfunction.
Four LRT personnel and 30 commuters were injured, many of them hospitalized, after an LRT coach that was parked along an emergency track for towing to a depot rolled into the main track and smashed into the side of an eastbound train between the Cubao and Anonas stations in Quezon City.
It was reportedly the first collision in the LRT-2 since its rollout in 2003. A preliminary probe indicated that LRT-2 personnel tried to prompt the emergency brakes of the defective train, which had no power supply, causing it to roll away.
Compared to the MRT 3, which was bled dry by crooks in the previous administration, as alleged in formal indictments, the LRT lines have delivered better service. Last Saturday's accident should alert railway authorities that there is no room for complacency when it comes to the safety of public conveyances. Machines inevitably become glitch-prone with age. But proper maintenance can prevent breakdowns and ensure smooth operation.
The accident should also give urgency to the upgrading not just of the LRT but also the MRT lines. The railway services are burdened not only by age but also by the lack of additional capacity to keep up with an ever-growing commuting population.
Railways officials and personnel may also be encouraged to improve services if the courts can speed up adjudication of the corruption cases filed in connection with the MRT 3. Collecting grease money and kickbacks can seriously derail the efficient delivery of public services. The government rank and file must be made to understand clearly that there will be hell to pay for graft and mediocre service.