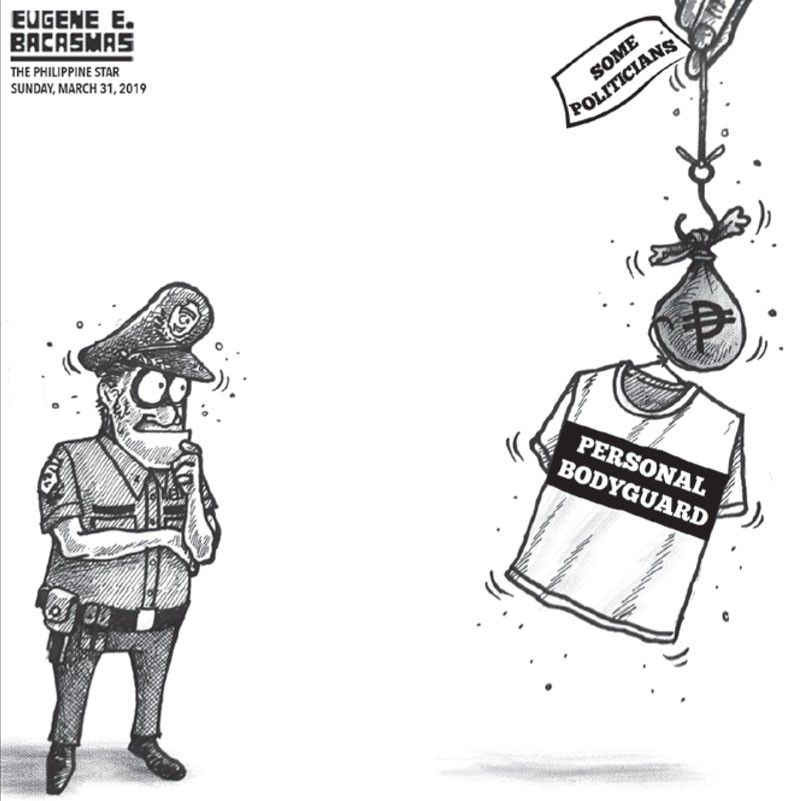 (The Philippine Star) - March 31, 2019 - 12:00am
As the campaign period for local positions kicked off last Friday, Gen. Oscar Albayalde reminded members of the Philippine National Police that they must not engage in partisan activities. The PNP chief warned that sanctions await cops who disregard the order.
The public can only hope that the order will be strictly followed. Similar orders must be issued to paramilitary forces. Armed violence is always high in local races, and among the perpetrators are police officers and militias serving as bodyguards of politicians. The worst case of election violence in the country – the 2009 massacre of 58 people in Maguindanao – was carried out by policemen and militias allegedly serving as the private army of the Ampatuan clan. Politicians have used their police security detail and militias to assassinate or harass rivals.
PNP officials have said candidates facing armed threats may request for security escorts during the campaign. Requests, however, must be granted with utmost care, considering that the PNP has only about 170,000 personnel to keep nearly 100 million people safe from criminality and violence.
To ensure that warnings will be heeded, the PNP leadership must show its members – as soon as the opportunity arises – that stiff sanctions will be imposed on any cop who is found to be engaging in partisan activities. Every PNP member must understand clearly what such acts are. Equally important is showing that the rules cover all candidates, regardless of political affiliation.
Citizens can do their part by reporting police officers who engage in partisan activities to the PNP and Commission on Elections. Technology has made documenting such acts easier. Similar efforts have been launched in previous elections, with underwhelming results. Enforcement of the prohibition can be done better in the ongoing campaign.