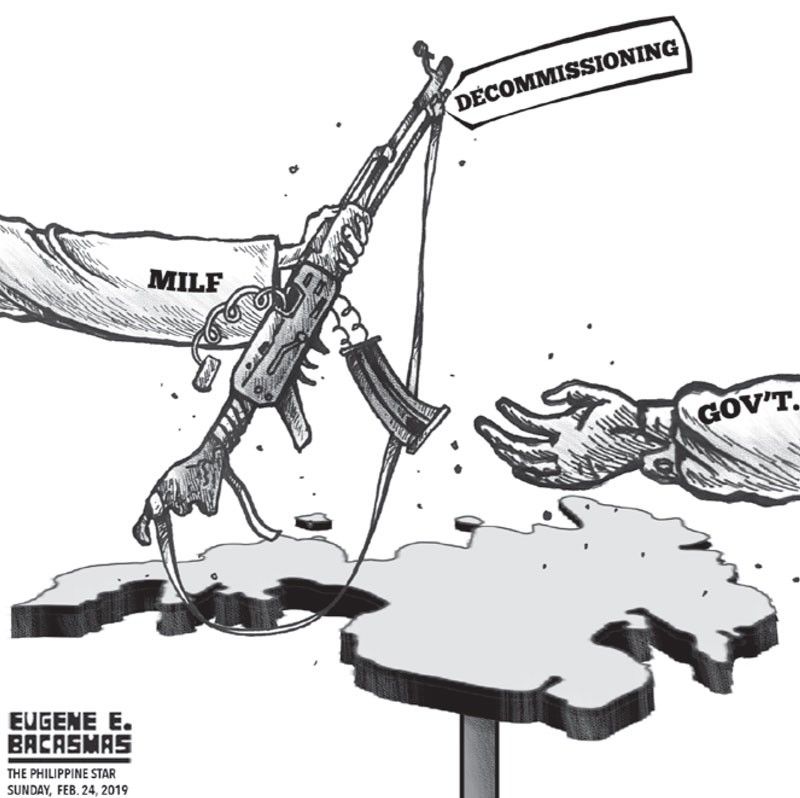 EDITORIAL – Decommissioning for peace
(The Philippine Star) - February 24, 2019 - 12:00am
From waging a separatist rebellion, key members of the Moro Islamic Liberation Front are now part of the government, with MILF chief Al Hajj Murad Ebrahim heading the Bangsamoro Transition Authority or BTA.
Swearing in the team that will oversee the transition to the Bangsamoro Autonomous Region in Muslim Mindanao, President Duterte made special mention of a critical component of the peace process: decommissioning.
For rebels, parting with their weapons must be among the hardest acts. That difficulty, however, precisely makes decommissioning one of the most important steps on the tortuous path to enduring peace. A rebellion is deemed over, without a doubt, when the insurgents lay down their arms and give up their armed struggle. Not just token rusty weapons and ammunition, but the guns that they actually used in advancing their cause and fighting the government.
Nur Misuari, founding chairman of the Moro National Liberation Front, not only did not give up his guns, he even built up his arsenal after he signed a peace agreement with the government and later became governor of the ARMM. Not surprisingly, as his grip on power weakened, he returned to armed violence, attacking Zamboanga City in a mini rebellion that left about 100 people dead.
Decommissioning cannot be completed in one sweep, especially when several armed groups continue to pose security threats in Mindanao. But decommissioning will have to be carried out, fully and with sincerity, if the MILF wants this peace – and the BARMM – to endure.
Dealing with security threats in the BARMM must be left to regular security forces of the government. Some MILF members may be integrated into those forces; they can have government-issued firearms.
With the situation in Mindanao, full decommissioning may seem like a quixotic objective at this point. But significant compliance is possible. Decommissioning merited special mention from the President, whose administration has given the peace process with the MILF all the support possible. The MILF can reciprocate that goodwill by heeding the President's appeal.