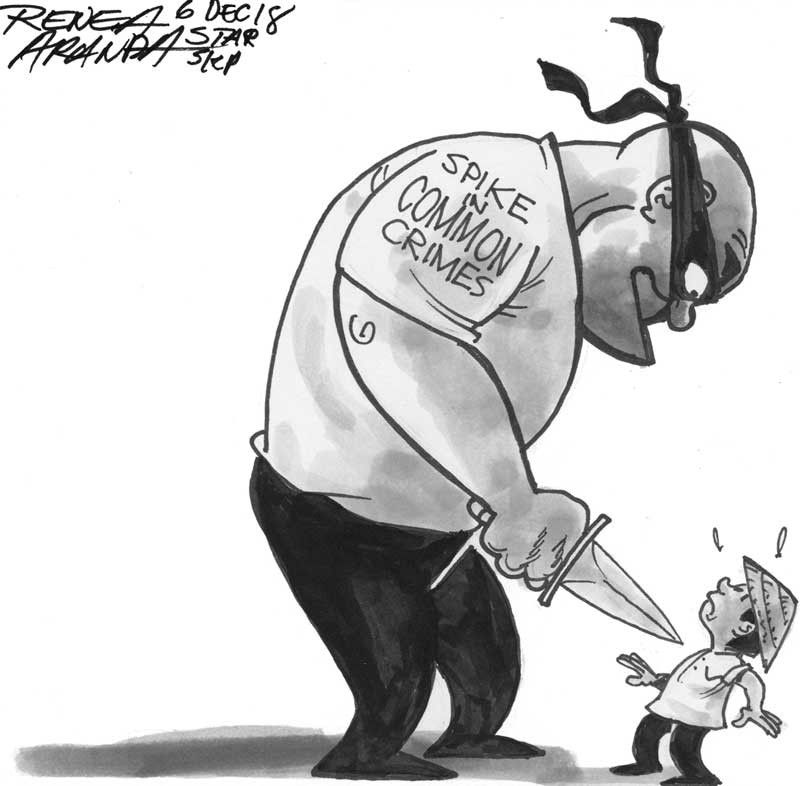 (The Philippine Star) - December 6, 2018 - 12:00am
Crime usually increases with the approach of the Christmas season. Public confidence in reporting crimes to authorities has also improved. These were the explanations of the Philippine National Police following the release of a Social Weather Stations survey showing an increase in the number of people who reported being victims of crimes in the third quarter of the year.
The SWS survey, taken from Sept. 15 to 23, showed 6.1 percent of the respondents, or approximately 1.4 million families, reporting that they became victims of common crimes including street robbery, home break-ins, motor vehicle theft and physical violence.
Anti-crime watchdogs have in fact previously warned that crimes particularly against property spike during holiday seasons. And people do report crimes in hopes of a solution and the arrest of the perpetrators. So trust in the PNP's investigative capability could be a factor in the increase in reported crimes. The PNP also correctly pointed out that the 6.1 percent is an improvement from the 11.4 percent from April to June this year.
Regardless of the explanation for the survey results, the crime spike indicates a need for intensified crime prevention. This includes better enforcement of gun control laws. Too many people in this country are in possession of unlicensed guns – and are not afraid to use the weapons. The country has the highest homicide rate in Asia, and the ease of obtaining guns has to be among the main reasons.
Another reason for a high crime rate is the failure of the state to bring the perpetrators to justice. If people know they can literally get away with murder, impunity reigns. This is happening in many parts of the country.
Both the PNP and the judiciary, through a new rule mandating speedy adjudication of criminal cases, are addressing the weaknesses in the criminal justice system. The SWS survey should provide impetus for more effort in these areas, especially with the approach of elections. Anti-crime watchdogs have also warned that apart from political violence, candidates also resort to criminal activities such as armed robberies and kidnapping for ransom to raise campaign funds. Loose firearms combined with slow justice can have lethal consequences for the public.