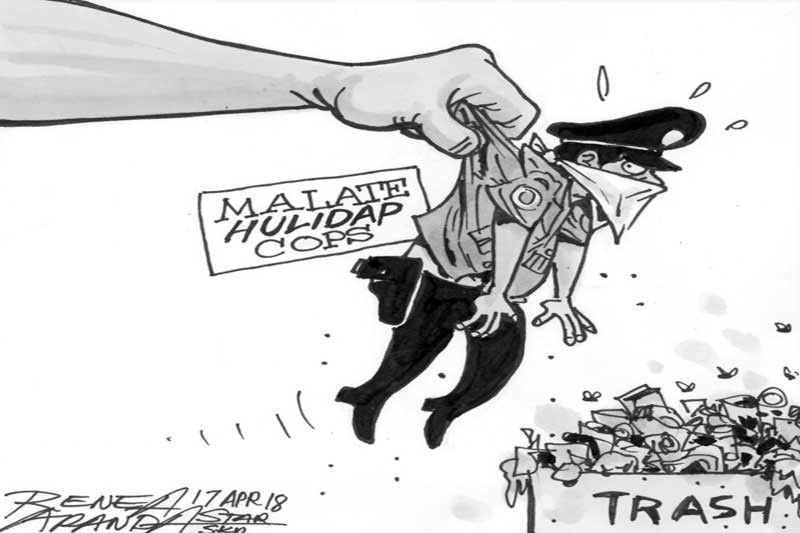 EDITORIAL - Shakedown artists
(The Philippine Star) - April 17, 2018 - 12:00am
The racket called hulidap has been around for decades, so it's always good when police officers are caught and sacked for shakedown activities. The other day, the commander of the Manila Police District station in Malate and six of his intelligence officers were sacked after four policemen under his command were arrested on accusations of framing and shaking down an Egyptian man.
Senior Police Officer 3 Ranni Dionisio, PO3 Richard Osorio and PO1s Arjay Lasap and Exequiel Jeric Fernandez were arrested last Friday night after allegedly receiving marked money from their victim in Ermita, Manila. The victim had complained that at least 10 members of the Manila police had apprehended him on trumped-up drug charges on April 9, and demanded P200,000 in exchange for clearing him. The policemen allegedly agreed to accept a check for an initial P50,000 from the victim, whose identity was withheld by investigators.
This is a depressingly common story in the police. The victim should be glad that aside from the arrest of four of his accused tormentors, their station chief, Superintendent Eufronio Obong, was also relieved of his command.
The relief was ordered by Director Oscar Albayalde, commander of the Metro Manila police who will soon assume the post of Philippine National Police chief. It's a good start for Albayalde, who also did not hesitate in sacking nearly the entire Caloocan police force after its members were involved in suspected summary executions of teenage drug suspects.
Albayalde must see to it that those involved in this shakedown will be meted administrative and criminal penalties. Such shakedowns especially in drug cases have been common even long before the Duterte administration launched a ruthless campaign against illegal drugs. The extortion undermines legitimate anti-drug operations and erodes public trust in the police.
As in any crime, the best deterrence is the strong possibility of getting caught and punished. Extortionists obviously give the PNP a bad name. There must be a continuing purge of such misfits from the police service.