The June 2014 priority dates: F-2A retrogresses to May 1, 2012!
The June 2014 Visa Bulletin indicates that the priority dates for the F-2A category (spouse/minor children of immigrant) will retrogress (move backwards) from September 8, 2013 to May 1, 2012. That means that people with F-2A priority dates that are AFTER May 1, 2012 will NOT be able to adjust status or be issued an immigrant visa, until their priority date AGAIN becomes current.
If you have an F-2A priority date that is on or after May 1, 2012 and before September 8, 2013, you should immediately seek the advice of an attorney to see if your family is eligible to file for adjustment of status before June 1, 2014 (i.e. evaluate if you are in status, need 245(i), fraud and other admissibility issues, crimes, same sex marriage, preserve your child's CSPA eligibility in the US or Philippines, etc.. ). But you need to hurry, before the priority date retrogresses!
Each month, the Visa Office of the State Department publishes, in the Visa Bulletin, the priority dates for that particular month, for the various family and employment based categories. A priority date is a person's "place in line" for a visa, meaning that immigrant visas (or green cards) would be available for persons whose priority date is earlier than the cut-off date listed below. If your priority date was "current," but later retrogressed (or "moved backwards" and became unavailable) before your immigrant visa was issued (or before you adjusted status in the US), you would have to wait until it becomes current again.
The June 2014 priority dates for the Philippines are as follows: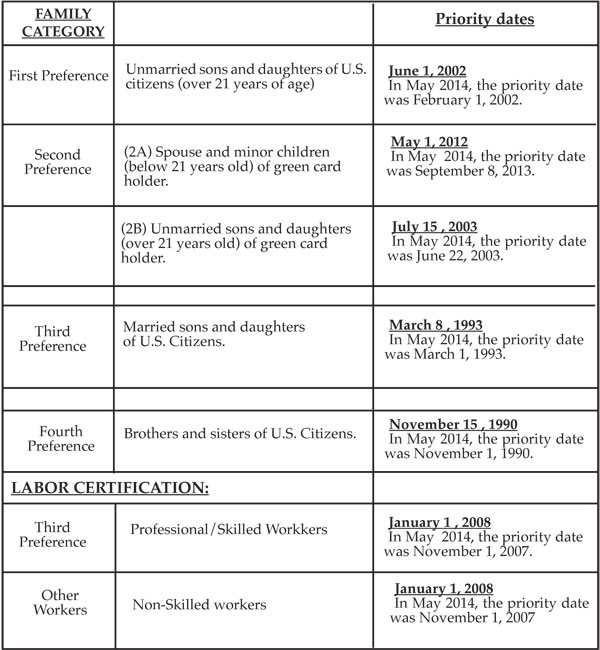 WEBSITE: www.gurfinkel.com
Follow us on Facebook.com/GurfinkelLaw and Twitter @GurfinkelLaw
Four offices to serve you: PHILIPPINES: 8940258 or 8940239; LOS ANGELES; SAN
FRANCISCO; NEW YORK: TOLL FREE NUMBER: 1-866-GURFINKEL (1-866-487-
3465).