Schools told: Hold quake, fire drills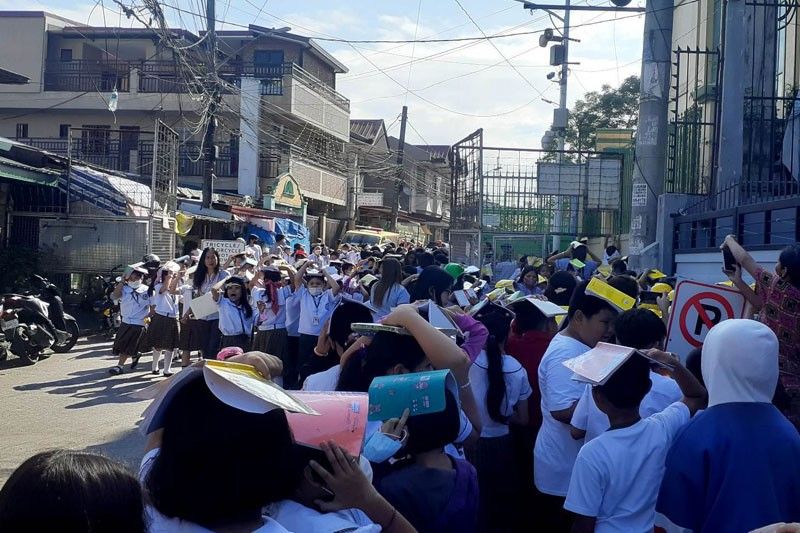 MANILA, Philippines — The Department of Education (DepEd) yesterday reminded public schools to conduct unannounced fire and earthquake drills every first and third week of the month.
Private schools, community learning centers as well as state universities and colleges offering basic education were also asked to adopt the policy.
The DepEd issued the directive as the country observes Fire Prevention Month this March.
"Together, let us keep our learners, personnel and schools safe from fires, earthquakes and other calamities through effective preparation and simulation exercises," the agency said.
Vice President and Education Secretary Sara Duterte has issued a department order mandating the conduct of unannounced fire and earthquake drills in public schools.
"Emergencies and calamities may strike anywhere, any time. Thus, having an effective preparedness plan is the key in preventing disasters and saving lives," Duterte said.
"Accordingly, local drills and simulation exercises are preventive measures that familiarize escape routes and reinforce proper actions in the occurrence of a calamity. Frequent practice of these drills and exercises would eventually turn these actions into automatic reflexes that would manifest during an actual calamity," she added.
The DepEd also directed public schools in Metro Manila, Bulacan, Cavite, Laguna and Rizal to create disaster plans in anticipation of a magnitude-7 earthquake.
The plan, according to the agency, must specifically lay down the response should there be a scenario involving massive casualties among students and school personnel.
Experts have warned that a strong earthquake called the "Big One" may soon hit Metro Manila and nearby provinces.
Duterte noted that the Philippines is prone to disasters, particularly earthquakes, as it is in the seismically active Pacific "Ring of Fire."
"Aside from natural disasters, man-made catastrophes also pose serious risks and threats to the safety and security of students, teachers and other school personnel," she said.
The agency tasked school heads, with the assistance of disaster and risk reduction management coordinators, to spearhead the planning, implementation and regular monitoring of earthquake and fire drills.
"These drills aim to ensure that learners are properly guided on what should be done during and after an earthquake or occurrences of fire in schools," read the department order.
In Pasay, at least 5,000 city hall employees participated in the nationwide earthquake drill yesterday.
"The simulation drill will equip us to deal with a strong earthquake that may hit the country," Mayor Emi Rubiano said. – Ralph Edwin Villanueva Four persons believed to be victims of a crypto scam ring were intercepted by the Bureau of Immigration at the Ninoy Aquino International Airport last week as they attempted to leave for Singapore, a BI official reported yesterday.
BI Travel Control and Enforcement Unit chief Ann Camille Mina said they received information from the National Bureau of Investigation and Inter-Agency Council Against Trafficking (IACAT) about the departure of the victims.
"Actually, they were bound for Cambodia to work in an offshore gaming company," Mina said.
The BI said the four were escorted by a female recruiter, who was with her four-year-old child.
During interrogation, the victims initially said they were employees of a manpower agency in Cambodia. They later admitted that they paid their recruiter P10,000 each as down payment for the trip. – Robertzon Ramirez, Rudy Santos