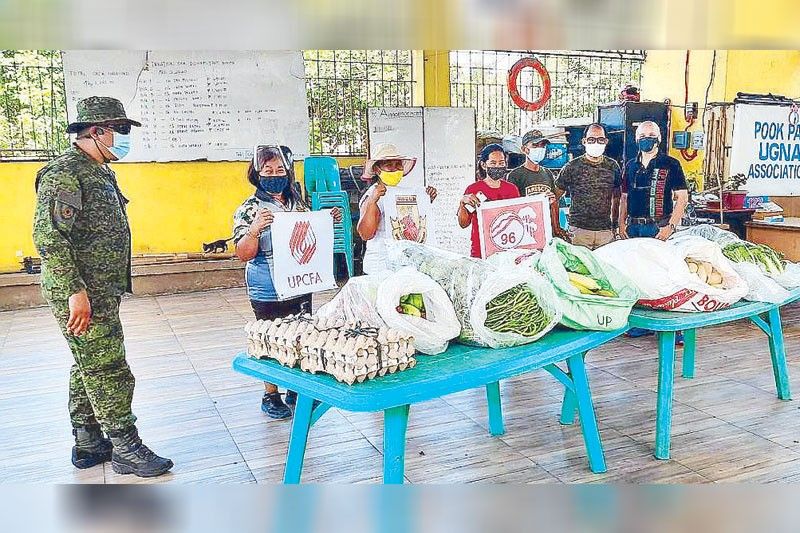 Maj. Jonathan Iloreta leads the distribution of food items to a community pantry in UP Diliman, Quezon City on Saturday. Also in photo are Capt. Ireneo Taggueg and First Lieutenants Wieland Dizon and Aldwin Galapon.
STAR/File
Quezon City Ready Reserve distributes goods to community pantries
(The Philippine Star) - May 3, 2021 - 12:00am
MANILA, Philippines — The 1502nd Quezon City Ready Reserve Infantry Brigade headed by its operations officer Maj. Jonathan Iloreta distributed food items to several community pantries in the city on Saturday.
The second community pantry replenishment project coincided with the celebration of Labor Day.
Army officers distributed fresh vegetables, eggs, corn and softdrinks to the Kamuning community pantry; Block IX in Barangay Damayan Lagi; Maginoo pantry; Matatag pantry; Ugnayan Palaris, Barangay UP Campus; Samahang UP Manininda; UP All Academic Employees Union; Area 17, Garcia street, UP Campus, and KNL in Barangay Krus na Ligas.
The project was in collaboration with the office of Mayor Joy Belmonte, UP Mountaineers Batch 1996, UP Vanguard Inc. and UP Sigma Rho Fraternity Batch 1992.