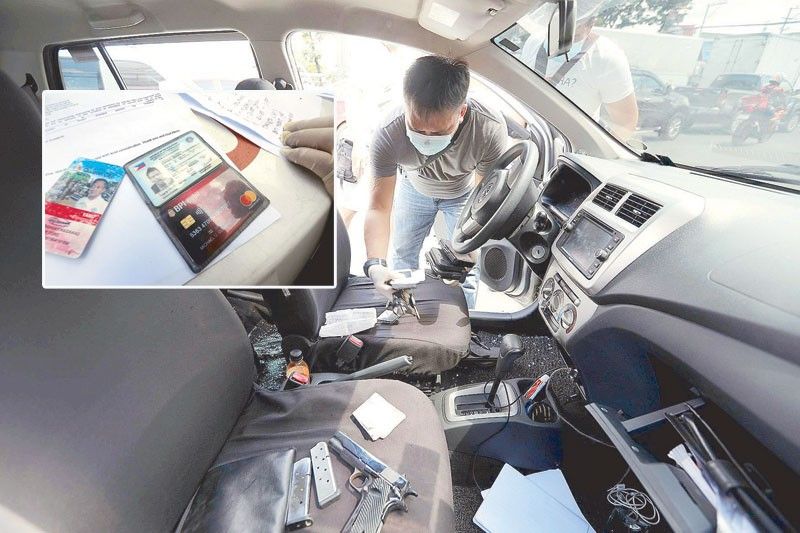 A police officer takes an inventory of the items seized from car theft suspect Michael Quebral and his companion, Richard Albaran, following a running gun battle in Quezon City yesterday. Insets show identification cards recovered from the suspects.
Boy Santos
Car theft suspect caught after shootout
MANILA, Philippines — A suspected car thief, who is on the watchlist of the Highway Patrol Group (HPG), and his companion were arrested following a shootout with police officers in Quezon City yesterday.
Michael Quebral and Richard Albaran were apprehended at the corner of Mindanao and Congressional Avenues in Barangay Bahay Toro at around 9:50 a.m.
Col. Wilson Doromal, who heads the HPG's National Capital Region field office, said Quebral is the subject of arrest warrants for car theft and robbery in Quezon City and Pampanga.
He said police officers were about to arrest Quebral when the suspect reportedly started shooting and escaped in a Toyota Wigo hatchback.
Police officers arrested the suspects after a brief running gunbattle. A .45 caliber pistol and a sachet of methamphetamine hydrochloride or shabu were confiscated from the two men, who were brought to the HPG head office in Camp Crame.
Doromal said they are checking if Quebral's vehicle is included in their list of stolen vehicles.
The suspects are facing charges of illegal possession of a firearm, possession of illegal drugs and direct assault.