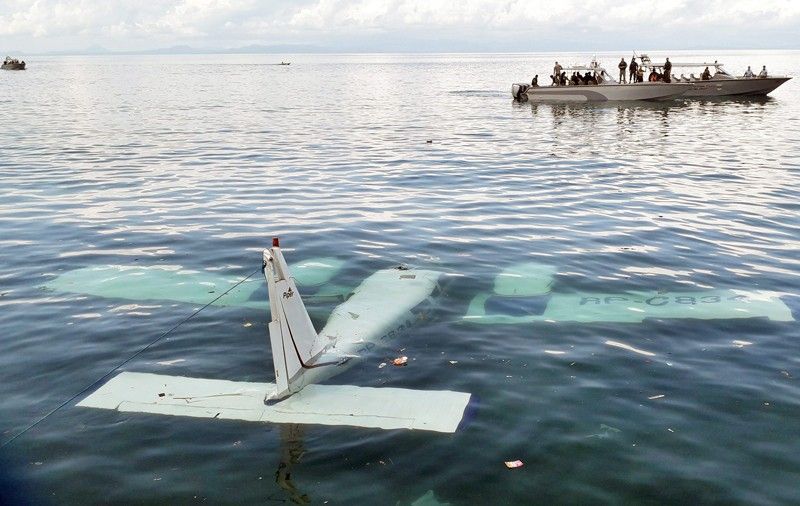 A Piper 34-A Seneca is submerged in the water after it crashed off the coast of Barangay Sinunuc in Zamboanga City yesterday.
Roel Pareño
Light plane crashes off Zamboanga; 4 rescued
ZAMBOANGA CITY, Philippines — A six-seater Piper 34-A Seneca plane crashed in the waters off Barangay Sinunuc west of this city yesterday.
The pilot, Indian citizen John Pulinthanam, 27; Nepalese student pilot Suramya Khana, 28; Indian flight instructor Jemy Chacko Domen, 34, and Filipino Razel Dulay, 27, all from the Royal Flight Training Academy based in Dumaguete City, Negros Oriental, were rescued unharmed.
Antonio Alfonso, Civil Aviation Authority of the Philippines regional manager, said the plane had just taken off from the Zamboanga International Airport on its way to Dumaguete when the accident occurred.
"We're still investigating... It was good the pilot made the landing close to the shore," Alfonso said.
Tricycle driver Mufri Yusop Akalan, who rescued the four passengers, said the pilot reversed to its right to avoid hitting the seawall before it crashed into the water.
"I rushed to the site and shouted at the passengers to swim. They said they don't know how to swim so I jumped into the water and rescued them," Akalan said in Filipino.
He said he pulled the victims atop the submerged plane where they waited for the boat that brought them to the shore.