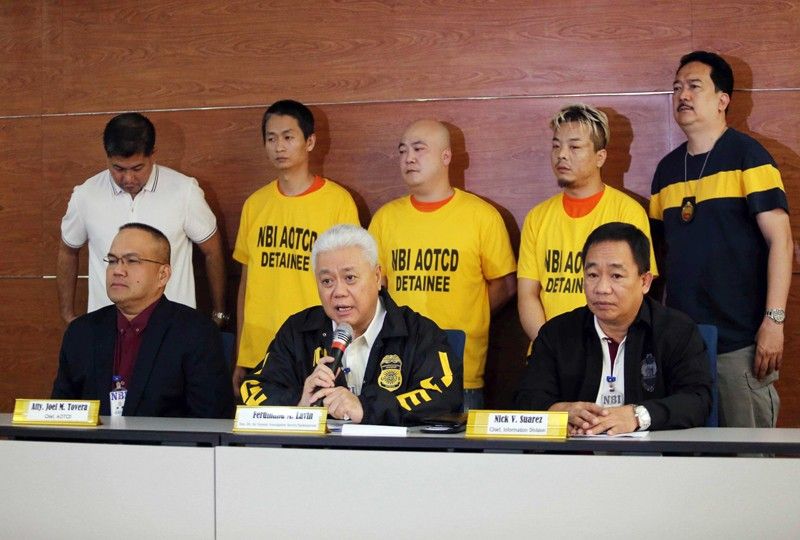 Alleged prostitution ring leaders Liang Feng and Lu Fu Xing and Philippine offshore gaming operator Chen Xun Bo (second from right) are presented during a press conference at the National Bureau of Investigation headquarters in Manila yesterday.
Russel Palma
POGO operator, 2 others nabbed in sex ring sting
MANILA, Philippines — Tips from the Filipino drivers of Chinese offshore gaming operators led to the arrest of two Chinese nationals operating a prostitution ring at a posh casino hotel in Pasay.
Alleged ringleaders Liang Feng and Lu Fu Xing and Philippine offshore gaming operator (POGO) Chen Xun Bo were arrested in an entrapment operation launched by the National Bureau of Investigation-Anti Organized and Transnational Crime Division (NBI-AOTCD) last Monday.
One room was used as a "viewing room" while the three other rooms were used for sex.
Chen was reportedly caught having sex in one of the rooms.
Six women were rescued in the operation.
The suspects will face human trafficking charges.
The management of the five-star hotel and casino could not be held liable because they may not have been aware the Chinese nationals were renting their rooms for illegal activities, according to NBI-AOTCD chief Joel Tovera.
The syndicate's use of renting hotels is a new modus to evade authorities, NBI spokesperson Ferdinand Lavin.
"This is a human trafficking violence... They have evolved their modus operandi. They don't operate in regular night clubs anymore, but in hotels," Lavin said.
Clients paid P5,000 for each transaction lasting 30 minutes, he added.
The two operators of the syndicate had no passports, Tovera said, adding that the NBI will coordinate with the Chinese embassy on why the suspects were in the Philippines.
Lavin said the proliferation of Chinese prostitution rings coincided with the boom of Chinese POGO operators in the Philippines.
He said the NBI continues to crack down on Chinese sex rings following an order from Justice Secretary Menardo Guevarra on illicit activities involving POGO operators.
"This is one of the crimes related to POGO. When you bring a lot of them here, these syndicates cater to their needs," Lavin said.
Last month, NBI rescued 91 Chinese and four Filipino women at a posh Makati karaoke bar that served as a prostitution hub catering exclusively to Chinese men.
The syndicate charged P15,000 for Filipina escort services and P20,000 to P30,000 for Chinese escorts.