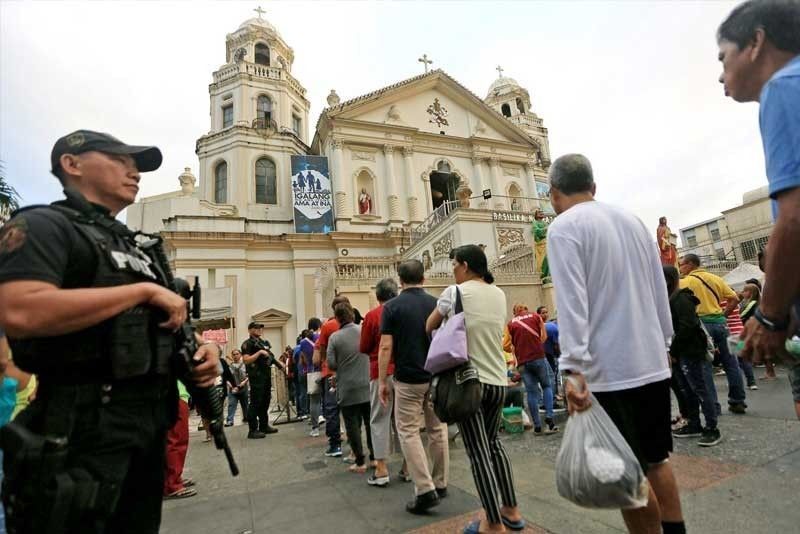 In this February 2019 file photo, personnel of the Manila Police District stand guard at Quiapo Church
Edd Gumban
Manila is 43rd of 60 in Safe Cities Index
(Philstar.com) - August 29, 2019 - 3:30pm
MANILA, Philippines — Manila had an overall score of 59.2 of a possible 100 in the Safe Cities Index 2019 of the Economist Intelligence Unit, putting the Philippine capital at 43rd of 60 cities in the index.
The index, which is sponsored by NEC Corp., ranks 60 cities based on 57 indicators that cover digital security, health security, infrastructure security and personal security, EIU said in its report.
Manila's scores in the four categories were were "high," or were between 50.1 and 75.
Although the index measures certain indicators, EIU said rules of thumb can be a good starting point to defining what "safe" means and to illustrate that safety is a multi-faceted issue.
Quoting Alioune Badiane, president of The Urban Think Tank Africa in Senegal, EIU says "in any city where you can often see a woman walking alone at night, you can bet that is a safe city."
EIU said that although a seemingly simple metric, walking alone at night indicates safety from violent attack.
"Looking deeper, though, quickly brings up more issues. Walking alone at night also requires infrastructure, including places to walk where one is unlikely to be hit by vehicles and lighting that not only deters violence but also lets our pedestrian see where she is going," it said.
That pedestrian would also be less likely to walk around the city if it has high levels of air pollution or has low public health education to highlight the health benefits of walking.
"Finally, Mr. Badiane's scene would seem far less safe were the contactless debit cards in our pedestrian's purse charged by someone with a hidden RFID reader walking in the other direction," EIU said.
Personal security
Manila did best in the category of personal security, where it scored 74.7 and was in 40th place. The category looks into indicators like level of police engagement, community-based patrolling, the effectiveness of the criminal justice system, and the prevalence of petty and of violent crime.
The top cities in the category were Singapore, Copenhagen in Denmark, Hong Kong, Tokyo, and Wellington in New Zealand.
EIU noted that the top cities all had "full marks for the policing-related indicators: level of engagement, community-based patrolling and use of data-driven techniques."
It also noted that "citizens don't look at policies but at results," saying the perception of safety "correlates closely" with levels of petty and of violent crimes but "shows no statistical link" to policy inputs like gun regulation and enforcement or the availability of street-level data.
According to data from the National Capital Region Police Office website, the average monthly index crame rate for the city of Manila in 2018 was 12.13 percent.
The NCRPO recorded 2,682 index crimes that year.
Digital security
Manila's lowest score, 52.1 was in digital security, which considers indicators like percentage of the population with internet access, privacy policies, and citizen awareness of digital threats. The capital placed 45th of 60 in this category.
EIU said in its report that top cities like Singapore and Tokyo had top marks in digital security and had low levels of infection by computer viruses and malware.
"The only thing that sets these cities apart is the percentage of residents with internet access, which ranges from 76% in Los Angeles and San Francisco to 91% in Tokyo," it also said.
EIU also pointed that Kuwait City, with a score of 56.4 and a rank of 39, "has the highest level of internet access (98%), but weaknesses in privacy policy, citizen awareness of cybersecurity, and dedicated cyber-security teams" which explain how 20%-30% of computers in the city are infected with malware. It said focusing on digital security before expanding internet access seems to be the best approach.
Health security
Manila was at 48th place on the index in health security with a score of 56.6.
The category, which was topped by Osaka, Tokyo, and Seoul with Amsterdam and Stockholm at a tie for fourth, looks into indicators like environmental policies, access to healthcare, and the number of beds and doctors per 1,000 population.
"These leaders get the basics right, scoring well—including often getting full marks—for areas like healthcare access and quality, safe food, water and air, and speed of emergency services," EIU said.
It said that there were generally more beds in the Asian cities.
"Given similarities in terms of healthcare access and quality, this may reflect differing medical cultures rather than a fundamental weakness in Amsterdam or Stockholm," the report said.
Manila has four government hospitals and the Philippine General Hospital, which has a capacit y of 1,334 beds.
Dr, Jose Fabella Memorial Hospital has 700 beds, Jose R. Reyes Memorial Medical Center has a capacity of 300 beds, and San Lazaro Hospital has 500 beds. Another hospital, the Tondo Medical Center has 200 beds.
According to the Philippine Statistics Authority, the city had a population of around 1.78 million in 2015.
Infrastructure security
Manila scored 53.6 in infrastructure security, which measures indicators like pedestrian friendliness, enforcement of transport safety, as well as disaster management plans, putting it at 46th place.
EIU said that in the cases of top cities Singapore, Osaka, Barcelona, Tokyo, and Madrid "good policy is essential to become a leader in this pillar, with every one of the top five scoring full marks for their continuity management plans, pedestrian friendliness, institutional capacity and disaster-risk informed development."
It also pointed out that "infrastructure is the area that sees the widest variations in scores—and therefore the greatest possibility for improvement." — Jonathan de Santos