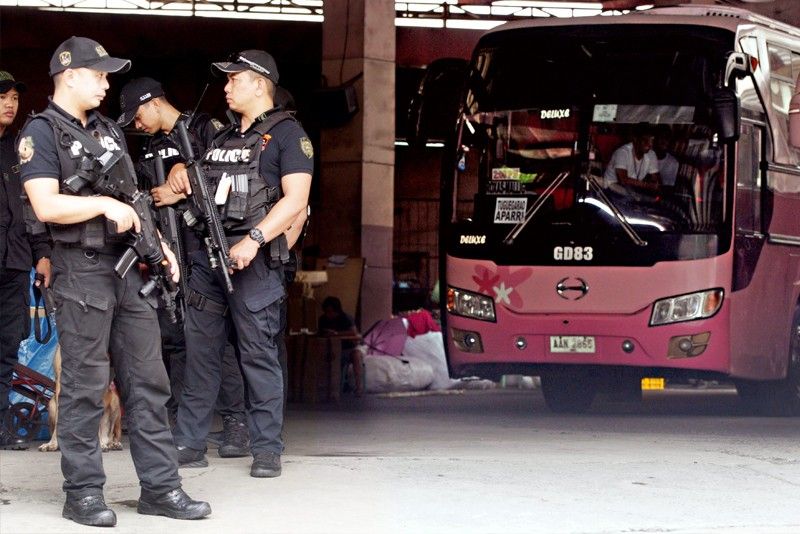 Members of a SWAT team guard a bus terminal in Manila yesterday as the Metro police force went on full alert after suspected suicide bombers attacked a military camp in Sulu the other day.
Krizjohn Rosales
NCRPO on full alert after Sulu bombing
MANILA, Philippines — The police force in Metro Manila went on full alert on Friday after suspected suicide bombers attacked a military camp in Indanan, Sulu that left five people, including three soldiers, dead.
Maj. Gen. Guillermo Eleazar, director the National Capital Region Police Office (NCRPO), raised the highest alert status at around 6 p.m. on Friday.
It means the estimated 29,000 police officers assigned with the NCRPO are readily available for security deployment and immediate response.
The public should also expect stricter security measures at vital installations and places of convergence, he said..
Eleazar, however, clarified that their response to the blast is just a proactive measure, stressing they have not monitored any security threat in Metro Manila.
"Having this measure could mean of great help in deterring unscrupulous individuals in carrying out their illegal or terrorist acts," he said.
The Islamic State (IS) has claimed responsibility for the explosions, saying its fighters have infiltrated the military base camp in Barangay Kajatian.
Philippine National Police (PNP) spokesman Col. Bernard Banac said they are looking into the IS' reported involvement in the attack.
"The PNP is helping the Armed Forces of the Philippines in validating the claims," Banac said in a text message.
To prevent a similar incident from happening in Metro Manila, Eleazar urged the public to remain vigilant and report any incident or suspicious-looking persons in the respective communities by texting their hotlines 0915-8888181 and 0999-9018181.