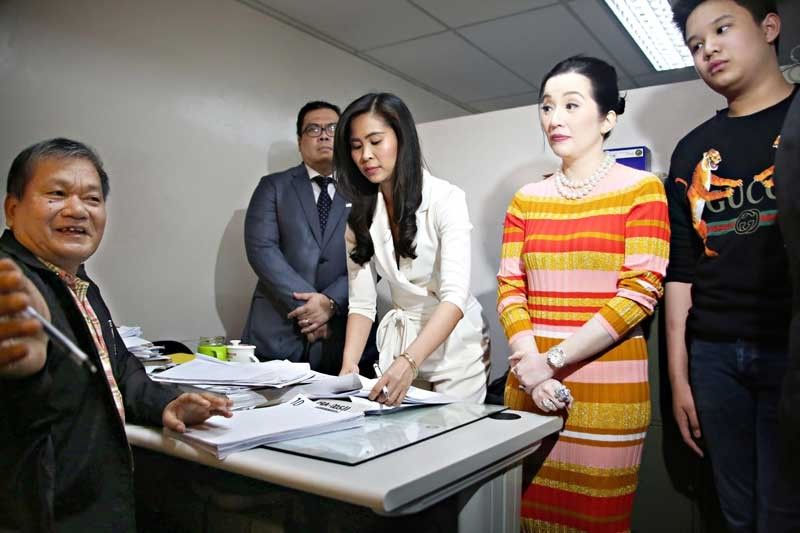 Kris Aquino, accompanied by son Bimby, fi les her counter-affi davit in a grave threat case fi led against her before the Quezon City prosecutor's offi ce yesterday.
Michael Varcas
Fiscal junks theft rap vs Kris Aquino's business partner Nicko Falcis
MANILA, Philippines — The Makati City prosecutor's office dismissed on Monday qualified theft charges filed by actress Kris Aquino against her former project manager and business partner for lack of probable cause.
Senior deputy city prosecutor Emmanuel Medina recommended the dismissal of charges against Nicko Falcis.
Aquino accused Falcis of allegedly making P1.27 million worth of personal purchases on a credit card she entrusted to him exclusively for transactions involving Kris Cojuangco Aquino Productions.
Medina pointed out that the credit card was issued under Falcis' name.
"He can use the card for his purchases subject to the terms and conditions" of the bank to which it is connected, the prosecutor said.
Medina also said that "no proof was presented that he used the card with intent to gain or intent to defraud. Accordingly, he is, at most, only liable to pay his credit card bill that has become due."
Falcis' lawyer, Regi Ponferrada, said they "hope that the other prosecutors where the other similar cases are pending will also agree with our position," according to an ABS-CBN report.
Qualified theft charges were filed against Falcis in seven cities, including Makati.
Grave threat
Meanwhile, Aquino yesterday filed a counter-affidavit in a grave threat case filed against her by Falcis and his brother Jesus before the Quezon City prosecutor's office.
Aquino, who wants the case dismissed, told reporters that the basis of the case is an "illegally recorded conversation" between her and Falcis during the height of their fight in September last year.
"I would like to say a sincere apology because in the heat of the moment I said things that should not be said,"she said, referring to the phone call wherein she supposedly warned Falcis against returning to the Philippines.
She questioned the filing of the case, which came months after the phone call she confirmed was between her and Falcis. – Romina Cabrera