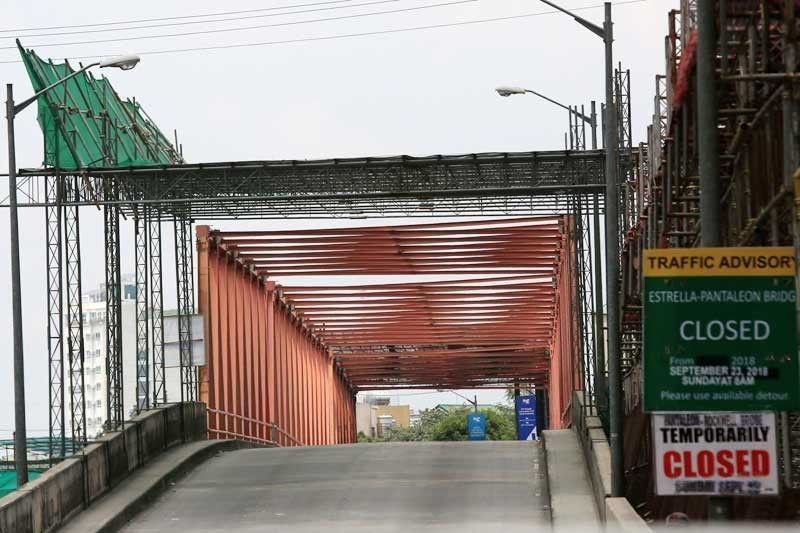 The eight-year-old Estrella-Pantaleon Bridge, also known as the Rockwell Bridge, was closed to traffic beginning Jan. 19, 2019.
The STAR/Edd Gumban, File
Rockwell Bridge's remnants to link Pangasinan island to Luzon
MANILA, Philippines — Steel components of the Estrella-Pantaleon Bridge, also known as Rockwell Bridge, will be sent to Pangasinan to build a bridge in the province, the Metro Manila Development Authority said Wednesday.
The remnants of the eight-year-old Estrella-Pantaleon Bridge will be transported to Pangasinan and will be used as steel frames for the planned Santiago bridge as they are still in "mint condition."
Santiago Bridge will connect the seven barangays of Bolinao town to mainland Luzon.
The MMDA said the move promotes "sustainable consumption to infrastructure investments."
"This move will reduce economic and environmental costs to the government. Instead of acquiring again material of the same kind for constructing a bridge, we will just make use of what we already have that are still structurally sound," Jojo Garcia, MMDA general manager, said.
The completion of the Santiago Bridge is expected to be done by 2020.
The Department of Public Works and Highways closed the Estrella-Pantaleon Bridge last January 19 in order to replace it with an expanded structure to accommodate the increasing number of motorists. The reconstruction and widening project is expected to be done by 2021.
The bridge connects Estrella St. in Makati and Barangka Drive in Mandaluyong.