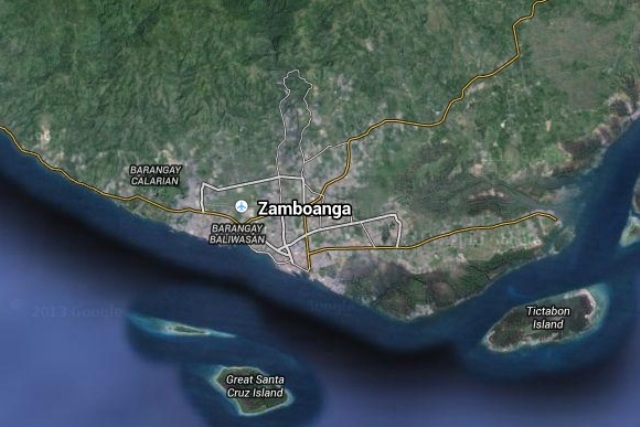 Police investigators said the attackers had reportedly turned off a nearby streetlight before throwing the grenade.
Google Maps, file
Leaders call for calm after Zamboanga City mosque explosion
Roel Pareño
(Philstar.com) - January 30, 2019 - 11:36am
ZAMBOANGA CITY, Philippines — Political and religious leaders on Wednesday called for swift action over a grenade blast in a mosque in Zamboanga City that left two Muslim preachers dead and four people wounded, but also called for calm among residents.
"Let us remain calm and stay vigilant and allow the authorities to bring the suspects before the bar of justice," Rep. Celso Lobregat (1st District, Zamboanga City) said.
Mayor Maria Isabela Climaco-Salazar meanwhile urged authorities to conduct thorough investigation and arrest perpetrators of the attack, which police believe was done with a grenade.
"While we condemn this act, let us not speculate and connect the incident [to other incidents]. Allow the authorities to find the real culprit and the truth," Sheik Wakil Tanjilil, a member of the Darul Ifta' of Region 9 and Palawan, said.
Police said the explosion inside the Kamardikaan Mosque in Barangay Talon-Talon happened around 12:20 a.m. on Wednesday when two yet unidentified assialants lobbed a grenade into the mosque while the victims were sleeping.
Senior Superintendent Joseph Thomas Martir, City Police Office director, identified the victims as Hadji Sattal Bato, 47, of Isabela City; and Rex Habil, 46, of Lamitan City.
Those injured were Palson Asgali, 44, Alniskar Sabbaha, 30, and Jikilani Albani, 60, all residents of Lamitan City.
In a phone interview on CNN Philippines on Wednesday morning, Chief Superintendent Emmanuel Licup, regional director in the Zamboanga Peninsula, confirmed that there were four people injured, up from an initial report of three. He also said police are working to identify the perpetrators and to establish a motive for the apparent grenade attack.
The victims were among the 11 preachers who had been staying at the mosque to teach Islam for the past two days.
Jojo Gonzales, one of the caretakers of the mosque and who lives just meters away said one of the preachers was brushing his teeth outside the mosque when he heard a hard object hit the floor of the mosque.
Police said that the perpetrators of the attack had reportedly switched off a nearby streetlight before throwing the grenade.
Lamitan City Vice Mayor Roderick Furigay said the victims, who are his constituents, are known to be peaceful residents and have not been in conflict with anybody.
The explosion comes within days of bombings at the Our Lady of Mount Carmel Cathedral in Jolo, Sulu on Sunday although authorities have yet to issue a statement on whether they are connected.