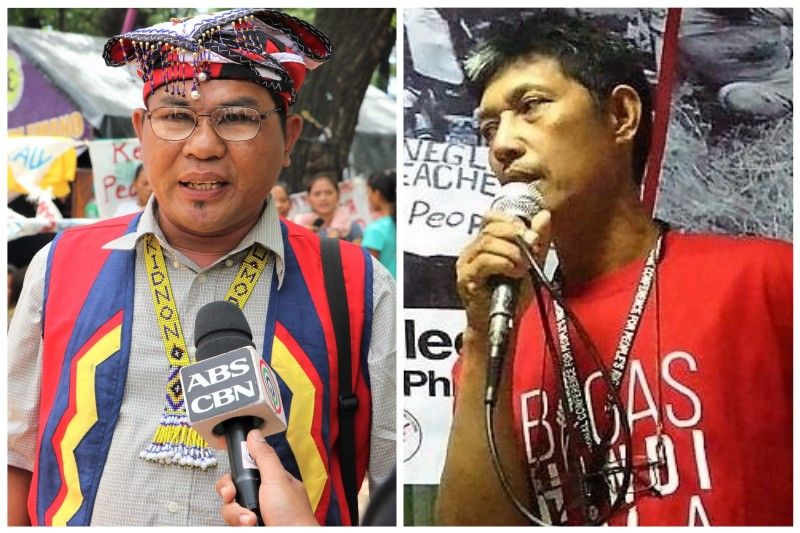 Datu Jomorito Goaynon (L) and Ireneo Udarbe (R) didn't arrive at a scheduled meeting in Cagayan de Oro on Monday and have not been heard from since.
Facebook/Kalumbay Regional Lumad Organization
Lumad, farmer leaders reported missing in Cagayan de Oro
(Philstar.com) - January 29, 2019 - 4:09pm
MANILA, Philippines — Leaders of a Lumad organization and of a farmers' group are believed to have disappeared after they failed to arrive at a meeting in Cagayan de Oro on Monday morning.
According to alerts issued by activist groups and by human rights organization Karapatan, Datu Jomorito Guaynon, chairman of the Kalumbay Regional Lumad Organization and Ireneo Udarbe, chairperson of Kilusang Magbubukid ng Pilipinas-Northern Mindanao Region, left their office in Barangay Bulua on Monday morning and have been missing since.
"Their last communication to a staff of Kalumbay had been to inform him that they were stuck in traffic on the way to their meeting place from their office," the alert read.
The two were supposed to meet with Pig-uyan, a member organization of Kalumbay that was scheduled to hold a dialogue with the Army's 65th Infantry Battalion, Moro activist group Suara Bangsamoro, which also issued an alert, said. The planned dialogue was facilitated by the Commission on Human Rights.
"It was around 11 in the morning. The two never got to their meeting place. None of their relatives or friends have seen or heard from them afterwards. Twice, calls to Datu Jomo were picked up but no one answered," Suara Bangsamoro said.
According to the alerts, Pig-uyonan, with Guaynon, had filed a complaint against the 65th IB at the CHR for alleged harassment and forced surrender.
"A tarpaulin bearing Goaynon's photo, along with text accusing him of recruiting the Lumad to the New People's Army, was hung in public places. Goaynon and Udarbe were also among those illegally arrested by composite elements of the military and police, along with 13 other church workers and rights advocates, in July 2018," Karapatan said.