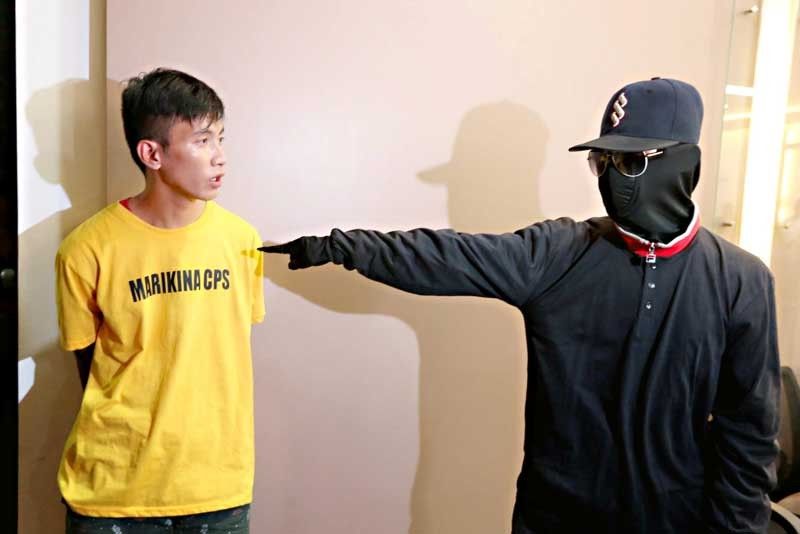 An informant points to Jayvee Santos as the suspect in the killing of Ateneo student Francis Arnold de Leon in Marikina City yesterday.
Boy Santos
Suspect in Ateneo student's slay arrested
MANILA, Philippines — A man accused of robbing and killing a student of the Ateneo de Manila University in Marikina City was apprehended by police before dawn yesterday.
Jayvee Santos, alias Diablo, was nabbed in Barangay Marikina Heights at around 1 a.m.
Santos was tagged in the killing of Francis Arnold de Leon, 24, during a robbery in Barangay Concepcion Uno on Saturday.
Director Guillermo Lorenzo Eleazar, chief of the National Capital Region Police Office, said Santos was identified through a rogues' gallery following a tip from an informant.
The informant told probers that Santos tried to recruit him for another robbery on Friday but he declined.
Santos' alleged cohort in the heist, a 16-year-old boy, was collared in Barangay Tumana.
Eleazar said Santos and the minor possibly took shabu before they robbed the victim of his mobile phone and cash.
De Leon died from multiple stab wounds.
Closed-circuit television footage provided police with initial information on the suspects.
Santos is said to be involved in a series of robberies in Marikina and nearby towns in Rizal province.
The informant will receive P500,000 in cash reward, which the city government offered for any information leading to the suspects' arrest.