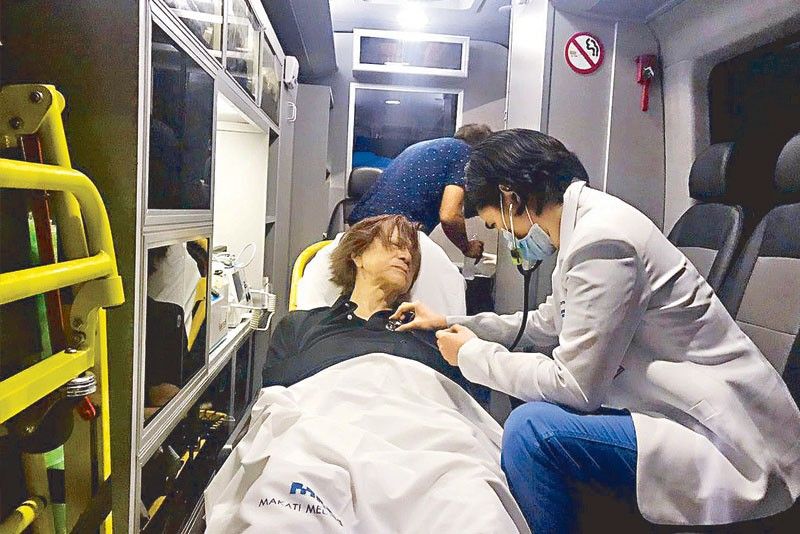 A doctor tends to Dante Silverio as the former Philippine Basketball Association coach is transported in an ambulance from the Makati City police station to the Makati Medical Center at around 3:30 a.m. yesterday.
Contributed photo
Ex-PBA coach nabbed for indiscriminate firing
MANILA, Philippines — A former coach of the Philippine Basketball Association (PBA) was arrested on Friday for indiscriminate firing in a posh subdivision in Barangay Magallanes, Makati City, an official said yesterday.
Dante Silverio, 81, who is also a sports car enthusiast and a businessman, was detained at the city police station after some concerned citizens filed a complaint against him for alarm and scandal, the Southern Police District (SPD) said.
Neither Senior Superintendent Rogelio Simon, city police chief, nor the investigator of the case was available for comment.
Quoting Silverio, a source told The Star that he fired his gun to defend himself against some Muslims following him and attacking him in Ecology Village.
The source said no Muslim groups were spotted when they arrived at the crime scene. It was the first time that Silverio committed such an act and was slapped with several complaints in the barangay.
Silverio allegedly led police on a brief chase as he tried to escape in his white Toyota Fortuner – with plate number DSS-33, which stands for Dante Sison Silverio – before he was arrested in his office along Chino Roces Extension.
It took two police teams, one of which was from the city's Special Weapons and Tactics division, before Silverio surrendered to the police, the source said. Each team had four police officers.
The businessman allegedly called for his lawyers before he went with the police officers.
The source said neither Silverio's car nor his gun, which was allegedly in the vehicle, were confiscated.
Silverio was detained at the police station for a few hours as he complained of stomach and chest pains and was admitted to the Makati Medical Center before dawn yesterday.
The source said a Cabinet secretary and three generals called the police station and asked that Silverio be put under "hospital arrest."
Three doctors checked Silverio's condition, with the first two saying he was healthy. The third recommended that the former basketball coach be hospitalized due to an unspecified illness, the source said.
"At least four high-profile officials called and told us to grant his request for 'humanitarian considerations' even if the first two doctors found him healthy," the source said.
Silverio's daughter Catherine "Kit" Silverio-Zobel, who was on vacation in Boracay, also reportedly called the police station to ask the lawmen to treat her father properly. She is married to business tycoon Fernando Zobel de Ayala.
Silverio underwent inquest proceedings yesterday afternoon on charges of alarm and scandal, unjust vexation, grave threat and trespassing.