MMDA announces measures to address traffic as holiday rush nears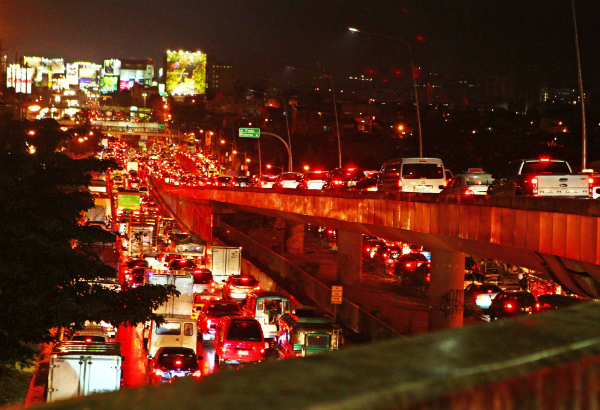 MANILA, Philippines — Say goodbye to your Friday sale in shopping malls starting next month after the government and private mall operators agreed on various measures to ease traffic conditions on Metro Manila roads during the holiday season.
In a Facebook post on Monday, the Metropolitan Manila Development Authority said the agency met with "concerned representatives" to discuss "traffic-alleviation measures in anticipation of monstrous traffic during the holidays."
Filipino consumers, whose activity account for around 70 percent of the Philippine economy, typically flock to shopping malls to buy gifts during the holiday season, resulting in heavy traffic on surrounding streets.
"Traffic is already bad and we expect it to get worse as the number of vehicles increases," MMDA general manager Jojo Garcia said in a statement.
Later hours
Aside from the traditional "no weekday sale policy," MMDA said malls along Metro Manila thoroughfares were also instructed to open an hour later than usual at 11 a.m. from the original 10 a.m. during weekdays.
Deliveries for re-stocking of goods to be sold in malls should also be done from 11 p.m. to 5 a.m. to avoid worsening rush hour traffic, MMDA said.
Loading and unloading stations should also be kept open near the malls to avoid clogging main roads like EDSA whenever public transport vehicles let passengers in or out.
"Shopping mall operators (must) deploy additional security personnel to facilitate long lines of vehicles going inside mall parking areas that cause traffic gridlock," MMDA added.
The measures will be implemented from Nov. 5 to Jan. 14 next year.
Fifteen malls along EDSA
The Philippines has once been dubbed as "Asia's shopping mall capital" by a foreign newspaper. Conglomerates SM Investments Corp., Robinsons Corp., Ayala Corp. and Megawide Corp. operate the largest malls in country, which as of last year, number to 185 nationwide, most of which are located in Metro Manila.
In the 23.8-km stretch of EDSA alone, MMDA said 15 malls are in operation, including SM Megamall, Shangri-La Mall and Robinsons Forum.
Representatives from SM Supermalls, Ayala Malls and Robinsons Malls were among those present during the meeting with MMDA held earlier on the day.
Officials from power distributor Manila Electric Co., water firm Maynilad and telecommunications giant Globe Telecom were also present during the meeting to discuss a "moratorium on road works" in Metro Manila during the holiday season.
The ban, which will cover road diggings, repair of water pipes, drainage systems and telephone wires, is also aimed at minimizing traffic congestion.
The work on government infrastructure projects, however, is not covered by the prohibition.