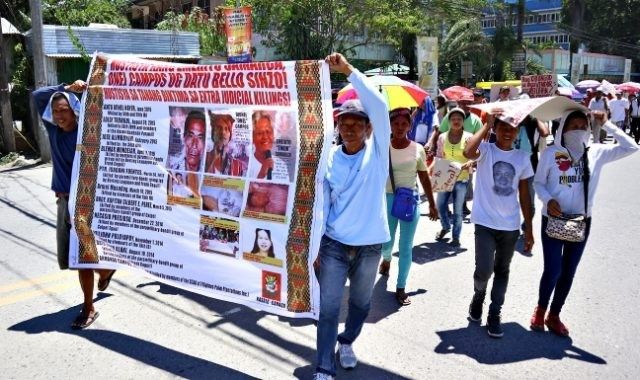 Protest march in Butuan City to mark the anniversary of the Lianga killings.
Erwin Mascariñas, News5 | InterAksyon, file
Datu in Uson video tagged in Lumad killings, IP group points out
MANILA, Philippines — Presidential Communications Assistant Secretary Mocha Uson's interview with a "datu" implicated in the deaths of Lumad leaders in Surigao del Sur in 2015 is an insult to indigenous peoples, Lumad groups in the Caraga region said.
In a statement in Filipino, Kahugpungan sa mga Lumadnong Organisasyon sa Caraga (Kasalo Caraga) said the interview with Jomar "Marcos" Bocales — "Datu Jumar Bucalis" in a video posted on Uson's blog — "tramples on the memories of those who died in September 2015."
The group was referring to the killings of Emerico Samarca—executive director of the Alternative Learning Center for Agricultural and Livelihood Development—and IP leaders Dionel Campos and Aurelio Sinzo in September 2015.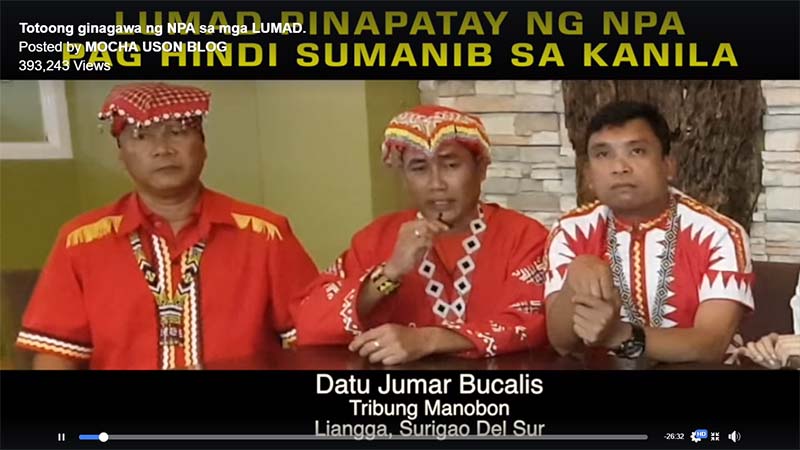 Kasalo Caraga, a coalition of IP groups, said the interview with Bocales was an insult to three Lumad leaders killed in Surigao del Sur in September 2015. | Screenshot from Facebook
Bocales' Magahat-Bagani, a paramilitary group, was blamed for the killings. "This is the creation of the military. But they created a monster that they could no longer control," Surigao del Sur Gov. Johnny Pimentel — now a member of the House of Representatives — said of the group then.
"As long as (the suspects) are armed and remain free to roam around, our province can never achieve peace. It will always cause unrest among the Lumad communities," he also said.
RELATED: Paramilitary groups' hand in lumad killings alarms DOJ
Interview with IP representatives
Bocales was among six representatives of indigenous people's groups whom Uson gathered for an interview, recorded in Manila, to deny claims of militarization in Mindanao — a region that has been under martial law since May 2017. She said they were"from Mindanao-wide and coming from different regions."
IP leaders interviewed in the video also blamed the Communist Party of the Philippines-New People's Army for Lumad killings in Mindanao and called for an end to peace talks with communist rebels. The talks have been suspended indefinitely although the government said it will pursue "localized" talks with individual rebel units.
The video was uploaded in the same week that the Armed Forces of the Philippines announced the existence of a supposed "Red October" ouster plot. "That is the month of international celebrations for communism, Marxism and IP (indigenous peoples)," Brig. Gen. Antonio Parlade, AFP deputy chief of staff for operations, said of the alleged conspiracy. .
Bocales claims IPs use 'Bakwit Tactic'
In the interview, Bocales said Lumad evacuations from their communities are meant for propaganda. He said IP groups used the "Bakwit Tactic" involved leaving their homes to live in evacuation centers and sending representatives to Manila for publicity.
"Kasi hindi naka-ano, naka-ano sa aming kultura, tradisyon ang tribo mag-evacuate dito sa baba tapos mag-rally (It is not in our culture or tradition to evacuate to the lowlands and rally)," Bocales, who said in the video that he represents three Manobo tribes, said.
He said the Lumads flee their homes and travel hours on foot to hold protests "so they can spread propaganda and discredit our government. Discredit our Philippines, destroy the reputation of the Philippines."
Bocales' statement echoes that of the military in July, when more than 1,600 Lumads left their homes in Diatogon in Lianga, Surigao del Sur because troops had put up a detachment near their communities.
"The intent of the evacuation is a protest, not because their life is in danger," the 401st Infantry Brigade's Civil-Military Operations officer said then.
'Self-proclaimed datu'
In its statement, Kasalo described Bocales as a "self-proclaimed datu" and a known leader of Magahat-Bagani.
"Matagal na kasama ng mga militar si Marcos Bocales na ginagawa nilang tagapagsalita para magpakalat ng kasinungalingan o fake news laban sa mga Lumad, sa mga Lumad na paaralan at mga guro nito," the group said.
(Marcos Bocales has been working with the military for a long time and they use him as a spokesperson to spread lies or 'fake news' against the Lumad, Lumad schools and its teachers...)
RELATED: For Lumad schools, even holding class is a struggle
They said Bocales is a claimant for a Certificate of Ancestral Domain Claim in the Andap Valley Complex, one of the areas that the government is eyeing to open up to mining despite decades of opposition from Lumads like Manobo group Malahutayong Pakigbisog alang sa Sumusunod (MAPASU, or Persevering Struggle for the Next Generation).
Mining on ancestral land requires Free, Prior and Informed Consent from the IP group holding the land, a situation made complex by disputes over who stands as the legitimate representative of a tribe or IP group.
The group said using "agents of the military" like Bocales shows that the government "uses bandits and criminals in paramilitary groups against Lumads defending their ancestral land and fighting for their rights."