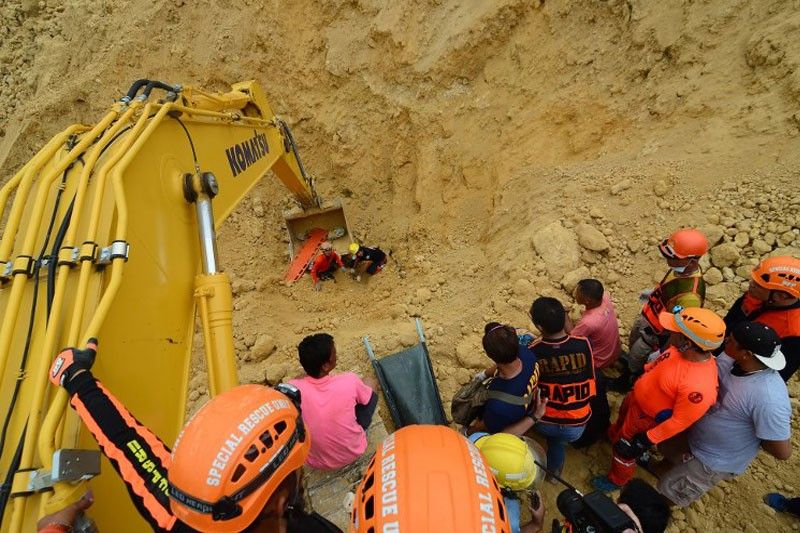 This photo taken on September 20, 2018 shows rescue workers using a backhoe as they retrieve a body at the landslide site in Naga City on the popular tourist island of Cebu. Twelve people were killed and dozens missing after a landslide unleashed by monsoon rains struck in the central Philippines on September 20, inflicting more misery on the already storm-battered nation.
AFP/Alan Tangcawan
Death toll in Cebu landslide now at 46 on 4th day of rescue ops
MANILA, Philippines — The death toll in the Naga City, Cebu landslide rose to 46 as of 12:45 p.m., according to a report from The Freeman.
The city marks its fourth day of search and retrieval operations.
The landslide occurred after intense rainfall enhanced by the southwest monsoon or "habagat."
It occurred near a quarry site that the city had issued a cease-and-desist order against in August. Dozens of residents are also believed to be trapped in the area.
The massive landslide reportedly buried over 20 houses in the city.
As of Saturday morning, the Naga City government said there are 1,103 families or 3,908 individuals in evacuation centers.
These families are in need of donations such as sleeping mats, pillows, blankets, feeding bottles, toiletries and underwears, among others.
The city government said it already installed a centralized system in the distribution of relief goods to all affected families located in the six evacuation centers in the city.
A donation desk has been installed at the entrance of the Naga City Hall while cash donations are accepted at the treasurer's office of the city hall.
"This also ensures that goods are fairly and appropriately distributed to all the families," the city government said.
The city government said it is also hosting masses for the wakes of deceased victims at the badminton court in East Poblacion, Naga.
Masses started on Saturday but there were scheduled masses on Sunday and Monday evening.
Last week, a tragic landslide also occurred in a mining site in Itogon, Benguet killing dozens of people during the onslaught of Typhoon Ompong.