Drug war: 2 dead, 11 arrested throughout Metro Manila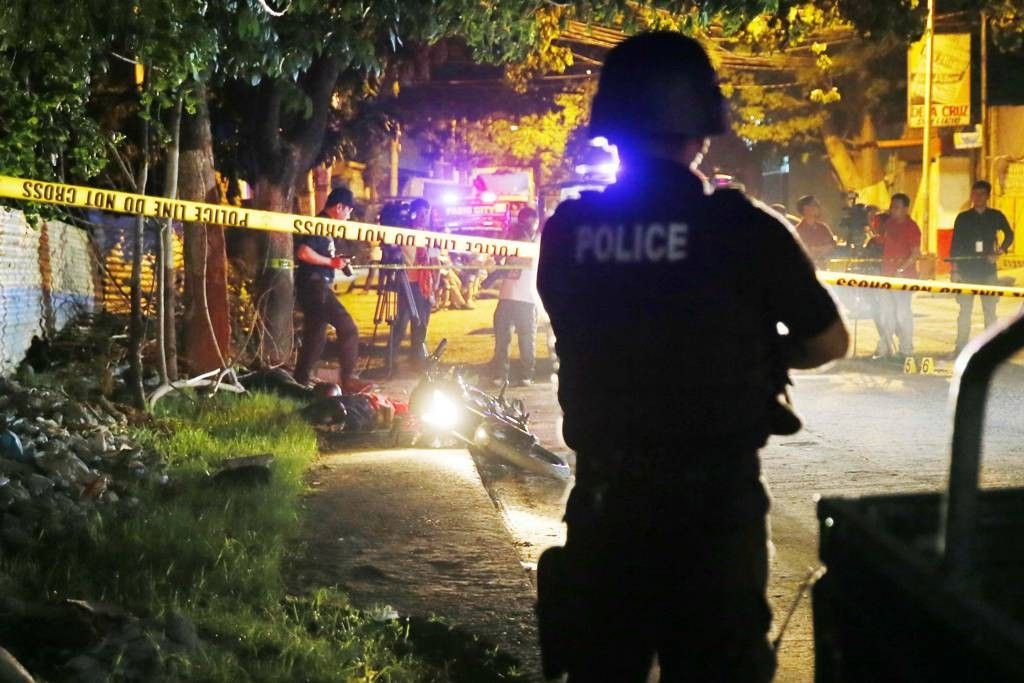 MANILA, Philippines — At least two suspected pushers were killed and 10 persons were arrested since the weekend as the government continues its war against illegal drugs.
Alleged pusher Eduardo Espino was slain in alleged shootout during a sting along J. Santiago street in Malanday, Valenzuela on Saturday afternoon, said city police drug enforcement head Chief Inspector Jowilouie Bilaro.
The suspect was declared dead on arrival at the hospital.
Police recovered a loaded .38 caliber revolver and three sachets of suspected shabu at the crime scene.
Police later recovered 15 more sachets of shabu from Espino's cadaver at the morgue.
Police also arrested at the crime scene Jojit Lazaro for alleged possession of two sachets of suspected shabu.
In Caloocan, a reported pusher identified only as Makmak was killed in an alleged shootout during a sting along Centros street in Barangay 63 Sunday night.
Makmak allegedly drew his firearm and shot at Police Officer 1 Raymond Dio, who was unharmed, according to city police chief Senior Superintendent Restituto Arcangel.
This prompted PO1 Domeciano Merin to retaliate, hitting Makmak in the body.
Police recovered a .45 caliber pistol, a loaded magazine and 10 sachets of suspected shabu.
P.5-M marijuana seized in Pasig
Meanwhile, two alleged pushers were arrested and five kilos of dried marijuana leaves, with a street value of P500,000, were seized in Pasig City Sunday.
Patrick John Magalona, 20, and Anselle Rivera, 25, were caught after a concerned citizen posted a comment on the Eastern Police District (EPD) Facebook account about the rampant trade in marijuana in the city.
Magalona was arrested in a drug bust in Barangay Pinagbuhatan at around 3:30 p.m. Around P60,000 worth of dried marijuana was seized from him.
Rivera was arrested in a follow-up operation at his home in Barangay Palatiw. He reportedly yielded five kilos of high-grade marijuana.
Police said Rivera admitted that the marijuana came from a supplier in Mountain Province.
In Parañaque, police arrested Ryan Jay San Juan and Richard Abajero, both 19, and two 17-year-old boys during an Oplan Galugad operation in the Multicelia Building in Barangay Moonwalk at around 8:30 p.m. Sunday.
Police seized from them 35 sachets of dried marijuana leaves and fruiting tops, a bigger resealable plastic bag containing more marijuana, a sachet of a "hybrid marijuana strain" called "Lemon OG" and drug paraphernalia.
The seized drugs were valued at around P27,500, police said.
The teenagers would be charged with possession of illegal drugs and maintaining a drug den.
In Makati, four people were arrested while engaged in a drug session in the house of Joel Chua Aguda, 45.
Aside from Aguda, those arrested were Lea de Guzman, 35; Celestino Ramos, 45; and Ronie Boy Prestado, 32.
Four sachets of shabu and drug paraphernalia were reportedly seized from the suspects. – Non Alquitran, Ghio Ong