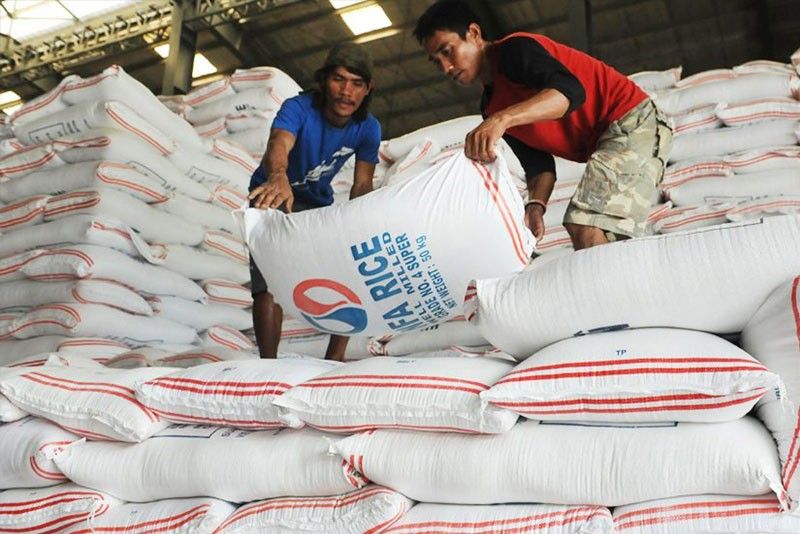 Workers arrange sacks of imported rice from Vietnam at an NFA warehouse in Barangay Tablon, Cagayan de Oro City yesterday.
Gerry Lee Gorit
NFA allays fears of rice shortage; imports arrive
CAGAYAN DE ORO CITY, Philippines — The National Food Authority (NFA) has allayed fears of a rice shortage as imports from Vietnam have started to arrive.
The unloading of 92,000 bags of long grain well-milled rice, which arrived in this city on Tuesday, was finished yesterday, according to Hazel Belacho, NFA-Northern Mindanao information officer.
Belacho said the rice bags are stored at the NFA warehouse in Barangay Tablon.
She said the imported rice allocation of Northern Mindanao this year is 280,000 bags and would be delivered in two batches.
At least 40,000 of the bags will be delivered in Marawi.
Two more Vietnamese vessels – MV Zircon V. 1806, which contains 154,000 bags, and MV Hai Ha, with 74,000 bags – are expected to arrive in the next few days.
Belacho said another batch of rice importation, which is around 100,000 bags, would arrive in August to replenish their stocks for the "lean" months.
In Cebu City, an additional 140,000 bags also from Vietnam arrived yesterday.
Another vessel carrying 160,000 bags from Thailand is on its way to Cebu, Olma Bayno, NFA-Central Visayas information officer, said.
Bayno said the unloading of 200,000 bags, which arrived from Vietnam last week, started yesterday.
Another 140,000 bags, which arrived from Vietnam on Thursday, have yet to be unloaded at the Cebu International Port.
In Bataan, Adelaida Nuestro, NFA-provincial manager, said they would distribute 5,000 bags to around 100 registered retailers next week.
Nuestro said Bataan is expected to receive a total of 12,000 bags to augment its stocks until the third quarter of the year.
The NFA said around 48,000 bags would be distributed this year for buffer stock, relief and retail purposes.
The agency reminded consumers that NFA rice is sold through its authorized retailers only at P27 and P32 per kilo. – With Raffy Viray, Mitchelle Palaubsanon/The Freeman