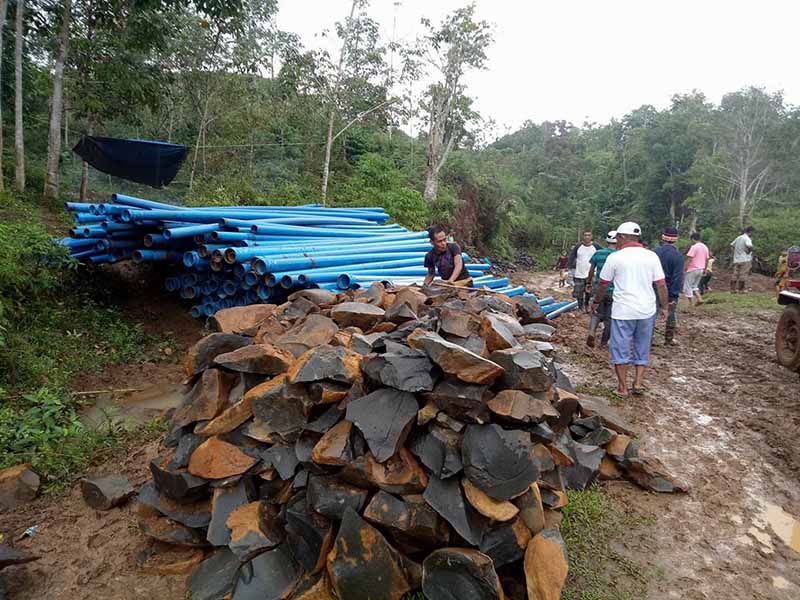 The ARMM government is putting up a water supply facility near Sampinit Complex, the remaining lair in Basilan of the Islamic State-inspired Abu Sayyaf. Philstar.com/John Unson
ARMM government provides livelihood for reforming Abu Sayyaf members
John Unson
(Philstar.com) - February 17, 2018 - 5:23pm
COTABATO CITY, Philippines — Reforming Abu Sayyaf bandits in Basilan got this month more livelihood interventions needed to hasten their recovery and return to mainstream society.
Chief Superintenent Graciano Mijares of the Police Regional Office-Autonomous Region in Muslim Mindanao told reporters Saturday he was elated learning that efforts to rebuild the lives of former militants are being supported by the ARMM's agriculture and fisheries department.
Gani Yahiya, chief of the provincial office of the Department of Agriculture and Fisheries-ARMM, said in an official report last week that former Abu Sayyaf members were given 10 mechanized cassava graters, rice mills and fishing equipment in tranches that started early February.
More than a hundred Abu Sayyaf members in Basilan surrendered in batches to the Western Mindanao Command and the police through the intercession of provincial officials and the regional peace and order council led by ARMM Gov. Mujiv Hataman.
"Convincing them to surrender is one thing, helping them become productive citizens is another thing. Without livelihood support they will return to their old, criminal ways. We are glad of these continuing outreach interventions for them from the ARMM government," Mijares said.
Yahiya, in a report supported with photos, said the ARMM government had also constructed for the former bandits 14 units of "payao," a deep-sea fishing buoy rigged with coconut palms that attract planktons that tunas and skipjacks feed on.
Copies of the report were released to different media outfits here Friday.
The 14 payaos are now afloat in open seas around Basilan, tied to ropes attached to sinkers dropped on the ocean floors.
"In a way that will also help our campaign against use of dynamites to catch fish," Mijares said.
The latest surrender of Abu Sayyaf bandits to authorities in Basilan happened only last February 13.
Karim Abubakar, Jimboy Aldam and Imram Abduladzis turned themselves in to the Army's 4th Special Forces Battalion in Barangay Banah in Tipo-Tipo, Basilan after clandestine talks initiated by officers of the unit and emissaries of the provincial government.
More than 50 of the now reforming Abu Sayyaf members were trained last year in modern corn and rice farming and propagation of orchard and rubber trees by personnel of ARMM's Basilan provincial agriculture and fisheries office.
Yahiya said Hataman, now in his second term as ARMM governor, is also ready to help the former bandits study in local Islamic schools handled by moderate clerics helping the government prevent the spread of violent religious extremists in Basilan.
Lt. Gen. Carlito Galvez Jr. of the Western Mindanao Command said Saturday one of the reasons for the continuing surrenders of Abu Sayyaf members in Basilan is the massive implementation in the province of ARMM infrastructure projects.
"The projects implemented there in the past five years brought in livelihood opportunities. When people are employed they get busy with income-generating projects and realize it's better to earn money the legal way," Galvez said.
Galvez said the WestMinCom is actively supporting three ongoing programs of the regional government for poor sectors in Basilan --- the Autonomous Region in Muslim Mindanao-Bangsamoro Regional Inclusive Development for Growth and Empowerment, the Health, Education Livelihood and Protection Synergy and the Humanitarian Assistance and Development Program --- all focused on the socio-economic empowerment of local communities.