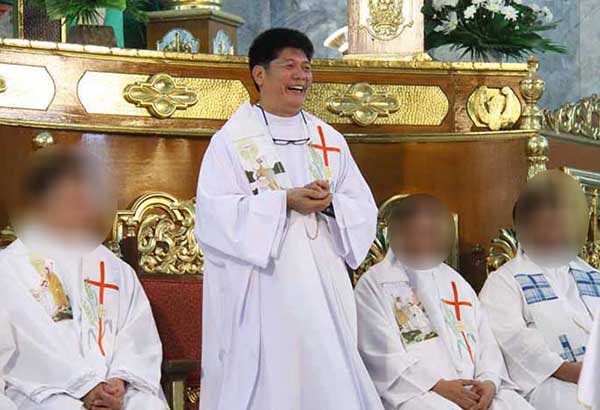 Eastern Police District director Chief Superintendent Romulo Sapitula identified the suspect as Msgr. Arnel Lagarejos, 55, a resident of Antipolo City in Rizal and assigned in Taytay in the same province. Rizal-PIO
Priest nabbed for trafficking minor in Marikina
MANILA, Philippines - A parish priest was arrested after an alleged attempt to sexually abuse a 13-year-old girl in Marikina City on Friday.
Eastern Police District director Chief Superintendent Romulo Sapitula identified the suspect as Msgr. Arnel Lagarejos, 55, a resident of Antipolo City in Rizal and assigned in Taytay in the same province.
Lagarejos was arrested in a joint operation by the Marikina police and the Department of Social Welfare and Development (DSWD) around 6:30 p.m. at Blue Wave Mall in Barangay Sto. Niño in Marikina.
Sapitula said in a text message that Lagarejos sought the services of the victim through a 16-year-old pimp. The victim's mother, however, reported it to the police after she learned of the transaction.
Operatives from the Marikina police women and children protection division and DSWD set up the entrapment operation against Lagarejos.
After closing the deal, the pimp got out of the suspect's gray Ford Explorer, leaving behind the victim.
Lagarejos and his victim were on their way to a motel when authorities blocked their vehicle. The priest was immediately placed under police custody.
Seized from his possession was an iPhone 5s smartphone containing his messages to the victim and the pimp.
Lagarejos is facing charges for violation of Republic Act 9208 or the Anti-Trafficking in Persons Act of 2003.
The priest was appointed president of Cainta Catholic College in 2006 based on the school's website and parish priest of the Our Lady of Light Parish Church in Cainta in the same year.