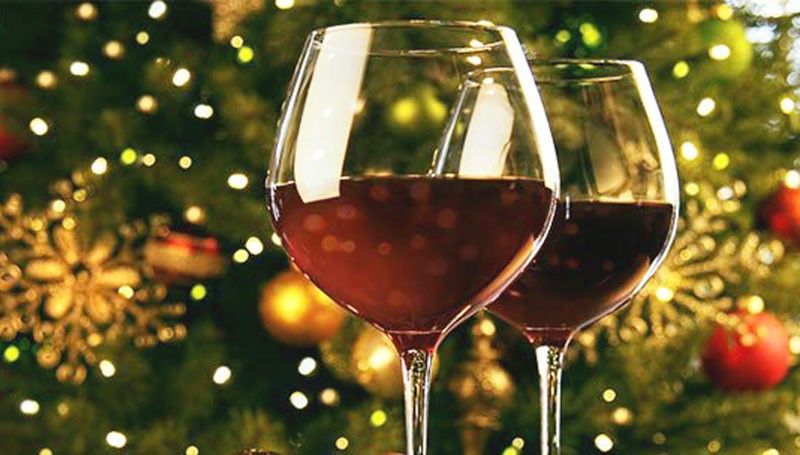 Let's drink to that: The active ingredients in red wine have been proven to improve overall heart health.
pxhere.com
When choosing your 'poison' for the holidays, be smart
Christmas time is officially here and everyone's bringing out the food and the booze. Apart from the negative effects of drinking too much, alcohol can pack in sneaky, serious calories into your diet. When picking your poison, be smart.
Just like with food, knowing and choosing healthier beverage options can help sustain your fitness while still enjoying the season's festivities. You would be surprised that some alcoholic drinks even have health benefits when taken in moderation.
We round up a list of the better beverage choices you can stick to for all those Christmas parties. Plus, we count down the calories in most common cocktails at the end of the article.
• Red wine. Red wine has great health benefits. The active compounds in red wine polyphenols, resveratrol and quercetin have been proven to improve overall heart health. Red wine also helps slow down the process of glucose hitting the bloodstream, which stops high spikes of insulin. Plus, one glass of red wine has only 85 calories.
• Tequila. Surprisingly, tequila has numerous health benefits and lower calories than vodka. Agavins, the natural sugar found in tequila, are non-digestible, meaning they won't raise your blood sugar levels. Even better, the sugar is shown to help lower cholesterol and can help you lose weight. One shot of tequila has only 64 calories, which is less than a light beer at 100 calories.
• Rum. Made from molasses and other sugarcane byproducts, rum has numerous health benefits. It can be used to combat colds, ward off illness and promote heart health. Rum can also enhance mental health. One shot of rum has 97 calories, and this standard serving can help reduce anxiety.
• Whisky. One serving of whisky contains as many antioxidants as a glass of wine. Studies show that a moderate amount of alcohol maximum seven small glasses of whisky a week will reduce, to some degree, the risk of heart disease and heart failure. Whisky also contains ellagic acid, which is known for fighting off cancer by absorbing rogue cells. Trying to lose weight? Whisky contains absolutely no fat, and barely any carbohydrates or sugar. One shot of whisky has only 85 calories.
• Rosé. This pretty wine offers a lot of health benefits. The polyphenols in rosé have been shown to prevent atherosclerosis, a major contributor to heart disease. It's better than white wine because it has more antioxidants like resveratrol. Resveratrol is an antioxidant found in much higher concentrations in red wine grapes than white. Rosé is made with red wine grapes, giving them health benefits that their colorless counterparts lack. An average glass contains 138 calories.
• Champagne. Bubbly can help enhance memory performance and the quality of your skin. Because it is made from both red and white grapes, it gets the maximum antioxidant benefit. Champagne contains high levels of resveratrol, an antioxidant that prevents damage to blood vessels, reduces bad cholesterol and prevents blood clots. It also contains polyphenol antioxidants that help reduce the risk of cardiovascular diseases and strokes. One glass of champagne has 95 calories.
Cocktails can do serious damage to dieters. Soda, juice and syrup add up sugar and sneaky calories. Topped up with alcohol, which can also be dense in terms of calories, and you could be adding hundreds of unnecessary calories to your body in a single night.
Here are the calories found in the most common cocktails:
Rum and diet cola: 96 calories
Vodka soda: 96 calories
Sazerac:136 calories
Gin and tonic: 148 calories
Old-Fashioned: 154 calories
Paloma: 166 calories
Mojito: 168 calories
Martini:176 calories
Gimlet: 178 calories
Margarita: 200 calories
* * *
Post me a note at mylene@goldsgym.com.ph or mylenedayrit@gmail.com.