Facebook not doing enough to protect users from red-tagging — Internews study
January 16, 2023 | 5:16pm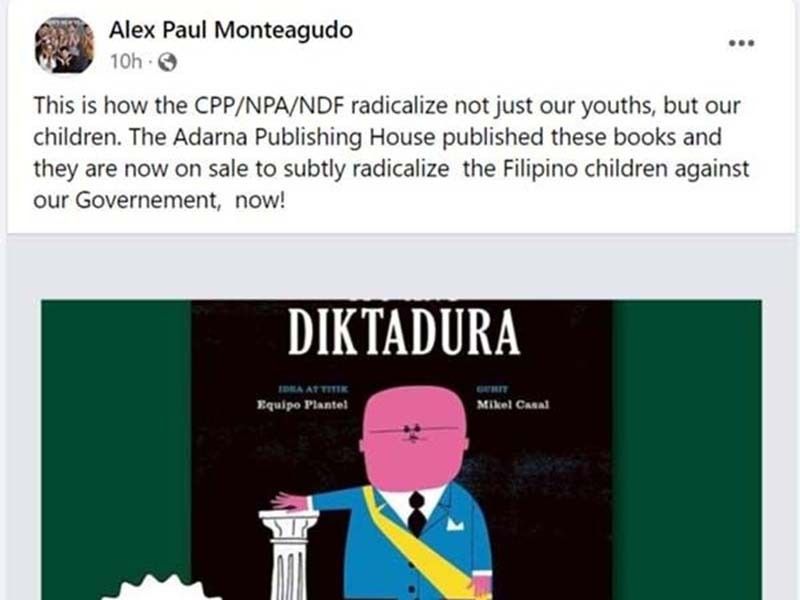 MANILA, Philippines — Lapses and loopholes in Facebook's community guidelines have allowed red-tagging to flourish on the popular social media network, putting those accused of ties to communist rebels at risk of offline harm and with little recourse against the label, US-based nonprofit Internews said in a report released this month.
Red-tagging or the practice of labeling of people and organizations as supportive of or part of the communist armed struggle and as enemies of the state has increasingly put more people — from activists to journalists to rights workers and elected city mayors — at risk of reputational as well as actual harm.
Internews, in its report, said that red-tagging content "has largely managed to fall between the cracks of platform content policies, without being classified as harassment or hate speech" and that platforms have offered little help to victims.
"By allowing the practice to continue largely unchecked, online platform companies, including Meta, have significantly contributed to an enabling environment for violence, reinforced the lack of public accountability of government institutions, and ultimately led to the killing of red-tagged people," the report "Meta's Amplification of Persecution: Red-Tagging in the Philippines" reads.
Rights groups, including the Commission on Human Rights, have repeatedly warned against the practice. The UN human rights office said in June 2020 that it poses a "persistent and powerful threat to civil society and freedom of expression." Government officials, particularly those in the anti-communist task force, have either denied the practice — claiming what is actually done is "truth-tagging" — or have defended it as freedom of expression.
RELATED: Karapatan: Red-tagging is a threat, not simple freedom of expression
According to the Internews report, which looked at cases of terrorist labeling on Facebook, "red-tagging has become a key issue of human rights abuse in the Philippines as activism and dissent are equated to communist rebellion, and incitement to violence against those that are red-tagged is rampant online and offline."
It added that the continued practice also points to what it called a democratic crisis, noting that "the most powerful arguments against presidential candidate Leni Robredo were false accusations of communist terrorist affiliation" and that these were often first seen on Facebook. Similar accusations have also repeatedly been made against the Makabayan bloc of party-lists under similar circumstances
"The social media platform promotes, amplifies, and enables the reckless practice by government officials to name and tag both opposition and involuntary public figures, most of [whom] are human rights activists, educators, and lawyers," the report also reads.
RELATED: CPP's Sison: No talks at all with Robredo campaign
Community standards
Facebook has strict guidelines "to prevent potential offline harm that may be related to content on Facebook", it says on its Community Standards page. These standards have led to the takedown of content on the accounts of activist groups and, in some cases, of the accounts themselves.
According to Facebook's community standards, it "[does] not allow organizations or individuals that proclaim a violent mission or are engaged in violence to have a presence on Facebook."
Facebook parent Meta includes "entities that engage in serious offline harms — including organizing or advocating for violence against civilians" in its Tier 1 of content enforcement.
But, the Internews report notes, the rules are not the same for government agencies: "State actors are considered exempt from Meta's policies around Dangerous Organizations and Individuals, even if they would otherwise qualify for their use or advocacy of violence or atrocities."
This has meant that government content that "regularly legitimizes violence and warrantless arrests by making claims that the harassment and violence against individuals are legally justified without providing evidence" are rarely removed from the platform if at all.
It said that Meta should consider revising its community standards to consider how state actors can use its platform to "promote or undertake violence."
Meanwhile, Facebook's policies on bullying and harassment gives some protection to "limited scope public figures" like activists and journalists but not from being labeled as terrorists or communists.
"The result of this policy contortion is that under Meta's guidelines it is prohibited to say that a journalist has a big nose, but it is allowable to label them a terrorist without any evidence, even when this action has a high likelihood of resulting in offline harm," the report reads. "This cannot possibly be considered an optimal balance of policy outcomes."
To remedy that, researchers recommended adding "criminal allegations which pose offline harm to the named individual" to its policies on harassment and having policies specific to the Philippines, where being tagged as part of the communist armed struggle is particularly dangerous.
RELATED: HRW: State forces 'actively use social media' for red-tagging
Transparency and engagement with stakeholders
Researchers also recommended more transparency from Facebook on content-moderation decisions as it also raised concerns of pressure on local staff due to political realities in the Philippines.
"To rectify this Meta should create and publicly commit to a firewall between Philippines-based staff and any decisions relating to the enforcement of policies. This will require hiring staff with expertise and contextual understanding who are based offshore," they said.
They also urged the social media platform to leverage existing partnerships through its "Trusted Partners" program to get better context and information on specific content that may need moderation.
"Without a policy on red-tagging, the company is inadvertently harming the organizations it contracts with," researchers added.