Officials aware 'outdated' air traffic system could fail. What was done about it?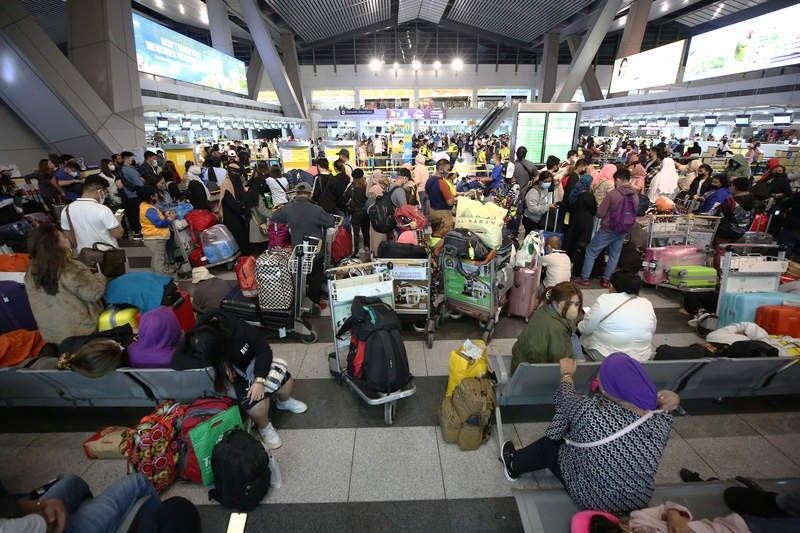 MANILA, Philippines — Transport officials had expected that the supposedly outdated air traffic system controlled by the Civil Aviation Authority of the Philippines would eventually conk out, but no concrete plans to replace it or install backups were laid out.
Transportation Secretary Jaime Bautista, himself a former airline executive, admitted that he had known about the problems with the Communications, Navigation and Surveillance Systems for Air Traffic Management (CNS/ATM) that went down on New Year's Day, halting air traffic nationwide.
Speaking at a news conference Sunday night after over 56,000 passengers were affected by the technical failure, Bautista said he had raised the lack of a backup system for the CNS/ATM during a Cabinet meeting.
LIST: Canceled flights for January 2 due to NAIA air traffic outage
"You know, in one of our Cabinet meetings, we already presented this problem. And we said, 'We really need to have this [backup] system,'" he said. "And with what happened today, we will be forced to hasten the building or procurement of a backup for our CNS/ATM system."
The CNS/ATM is apparently so outdated that CAAP Director General Antonio Tamayo said they have procured new equipment to replace parts of the system as they "were anticipating defects like this."
Back as regional laggard
Former President Rodrigo Duterte inaugurated the CNS/ATM in 2018, which he called a "much-needed infrastructure to upgrade the country's inadequate and aging navigation system which lagged behind those neighbors in the region."
But this was only the inauguration. Transport officials now said the CNS/ATM had been procured way back in 2010 but was only inaugurated eight years later, without explaining why it took so long for them to get it online.
Asked about the reason behind the long period between procurement and full operation of the CNS/ATM over dzBB on Monday, Manila International Airport Authority General Manager Cesar Chiong was only able to say: "Yes, it was quite lengthy."
The result is an air traffic management system that, according to CAAP Director General Antonio Tamayo, is at least 10 years behind Singapore — back to being a laggard among neighbors in the region.
"So as far as the technology is concerned, it is already outdated," Tamayo said. "So as early as the time that we took over, no less than the secretary and Undersecretary [Roberto] Lim already recommended that we come up with a backup system of this equipment before it fails."
All talk
But so far, talk of having a backup of the CNS/ATM remains just that — with President Ferdinand "Bongbong" Marcos Jr.'s ordering Bautista to study the possibility of creating redundancies to the air traffic system.
"He had an instruction to carefully study and create a proposal so we can have a backup system," Bautista recalled.
Hundreds of flights had to be diverted or grounded over what airport officials initially called "technical issues," but later on blamed on an internal power outage.
RELATED: MIAA: Airline ops may take up to 72 hours to normalize after airspace outage
Tamayo said the main uninterruptible power supply of the CNS/ATM failed at around 9:49 a.m. after its cooling blower conked out. A backup UPS should have kicked in, but he said "for some reason" it also failed to function.
He said this prompted CAAP engineers to connect to the commercial line instead, but this supposedly led to more equipment failing as the commercial line supplied power at 380 volts, when the system can only handle 220 volts.
Back in 2009, the Ninoy Aquino International Airport also suffered a power outage which led to the diversion or cancelation of dozens of flights. Like the most recent mishap, this too was blamed on a technical failure due to supposedly outdated equipment.
"Our system should have been replaced in 2005, but because of the processes that we had to go through, it is only now that we are starting to put in place the new systems," said Eduardo Batac, who was then serving as CAAP spokesperson, in a 2009 report by The STAR.