Speaker leads House in hailing Marcos Jr. first 100 days
October 7, 2022 | 12:00am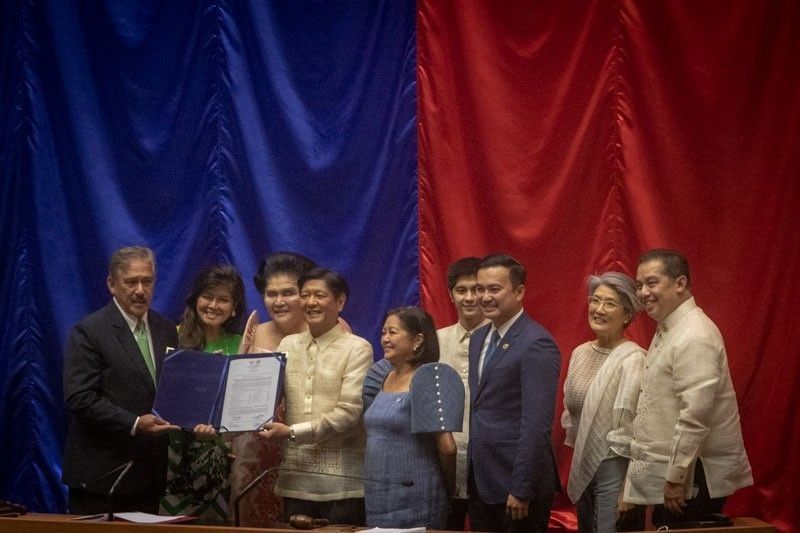 MANILA, Philippines — Speaker Martin Romualdez led yesterday officials and members of the House of Representatives in commending President Marcos in his first 100 days in office, saying he generally made good as Chief Executive despite some crises.
"I think the President has done great things in the government, particularly in his Cabinet. And his policies are very clear," the Leyte congressman told reporters in a chance interview.
"He has also done a wonderful job in engaging our friends in the international community whereby foreign direct investments would be coming," said Romualdez, who had accompanied his first cousin in visits to Indonesia, Singapore and the US.
"We're looking for a swift recovery despite all of the pressures and the global economic downturn. We're very excited for his administration," he added. "On the part of the House, we support him wholeheartedly and we wish him Godspeed and congratulations."
Senior Deputy Speaker Gloria Macapagal-Arroyo of Pampanga and Reps. Joey Salceda of Albay and LRay Villafuerte of Camarines Sur have also commended Marcos for a job well done.
"President Marcos Jr. reassured everyone by assembling an impressive economic team that has been universally praised," Arroyo said, noting that Marcos managed to run the economy despite global tensions in Ukraine as well as regional conflicts like China and Taiwan.
Salceda, chairman of the House ways and means committee, observed that Marcos was "treading carefully but decisively on critical areas, including agricultural imports, tax policy, and the management of the COVID-19 pandemic."
"Overall, the President's first 100 days have been a stabilizing period, amid global disruption. I look forward to working with our President on all his key legislative priorities," one of the chamber's resident economists said.
Villafuerte, for his part, noticed that Marcos has "done well" and is "hitting his stride already" at the onset of his presidency on the strength of initiatives on investment generation, job creation and infrastructure buildup that will let him fulfill his promise.
"Given the government's limited fiscal space, the President was correct in anchoring our country's rebound from COVID-19 on generating more capital from both foreign and local investors," the Bicolano legislator pointed out.
It was also a good policy that Marcos decided to "sustain" what the previous Duterte administration started, like the massive infrastructure program which will stimulate high growth and create jobs early on in his six-year term as Chief Executive.