DPWH, DOF review ODA-funded infrastructure projects
September 5, 2022 | 12:00am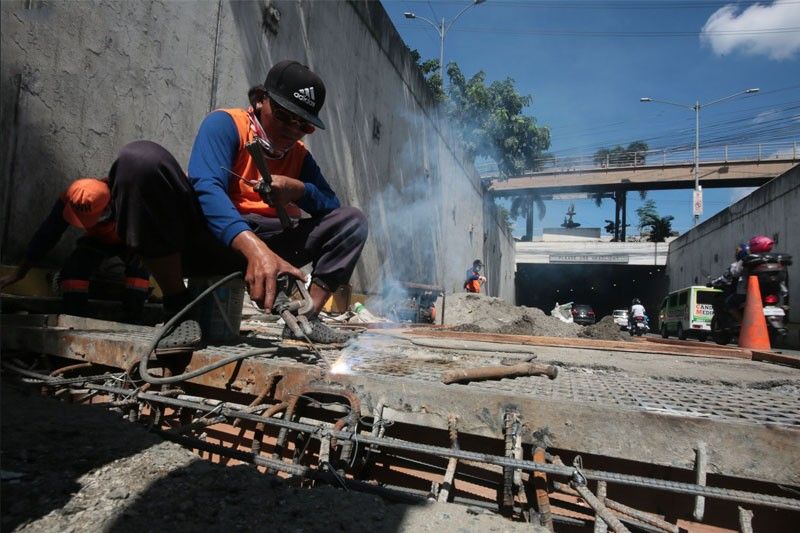 MANILA, Philippines — The Department of Public Works and Highways (DPWH) worked with the Department of Finance (DOF) for the conduct of a performance review on flagship infrastructure projects funded by foreign official development assistance (ODA) last week.
Public Works Senior Undersecretary Emil Sadain said that the review meeting held last Friday with the DOF International Finance Group headed by Finance Undersecretary Mark Dennis Joven was in line with their goal of stepping up implementation of key infrastructure projects to support the government's economic recovery and create the country's foundation for stronger and more inclusive growth.
Sadain added that the ODA investments on public infrastructure on various parts of the country will be the cornerstone to recovery from the pandemic for sustainable development.
At the end of the meeting, both the DPWH and DOF strongly supported the holding of regular joint meetings on infrastructure development and economic cooperation to conduct implementation of ODA projects more efficiently and effectively.
The meeting held at the DOF head office was also participated in by DOF Executive Director Helena Habulan; DPWH Unified Project Management Office project directors Benjamin Bautista, Sharif Madsmo Hasim, Ramon Arriola III, Rodrigo delos Reyes and Soledad Florencio; and Project Manager Shirley Castro.
The review noted that ODA from Japan International Cooperation Agency (JICA), Asian Development Bank (ADB), Korean government's Economic Development Cooperation Fund, China ODA, World Bank and Asian Infrastructure Investment Bank (AIIB), and the United Kingdom affirmed their commitment to sustain infrastructure partnership with the Philippine government by providing support investments to bankroll numerous big-ticket infrastructure projects.
Sadain said that several roads, bridges and flood control projects handled by the DPWH-UPMO Operations are financed by foreign grants and loans and passed on to the new administration in the advanced stage of implementation.
Sadain said that the Japanese government through JICA currently supports the Arterial Road Bypass Project, Phase Ill (Plaridel Bypass); Davao City Bypass Construction Project; Road Network Development Project in Conflict Affected Areas in Mindanao; Program for the Support to Rehabilitation and Reconstruction of Marawi City and its Surrounding Areas; Cebu-Mactan Bridge (4th Bridge) and Coastal Road Construction Project; Metro Manila Priority Bridges for Seismic Improvement Project (Guadalupe and Lambingan bridges); Pasig-Marikina River Channel Improvement Project, Phase IIl (improvement of remaining sections along Pasig River, Delpan Bridge to Napindan Channel); Pasig-Marikina River Channel Improvement Project, Phase IV; Flood Risk Management Project for Cagayan River, Tagoloan River and Imus River; Flood Risk Management Project for Cagayan de Oro River, and Cavite Industrial Area Flood Management Project.
Projects covered by financing partnership arrangements with ADB, a multilateral financial institution, are the Improving Growth Corridors in Mindanao Road Sector Project; Emergency Assistance for Reconstruction & Recovery of Marawi (Output 2: Reconstruction and Development Plan for a Greater Marawi, Stage 2; Metro Manila Bridges Project (3 Bridges connecting Marikina City and Quezon City: Kabayani-Katipunan Avenue Extension Bridge formerly Marikina-Vista Real Bridge, Homeowners Drive-A. Bonifacio Avenue Bridge formerly J.P. Rizal-Lopez Jaena Bridge, and Marcos Highway-St. Mary Bridge formerly J.P. Rizal-St. Mary Bridge); Bataan-Cavite Interlink Bridge; and Laguna Lakeshore Road Network Project, Phase I.
Meanwhile, the Chinese government, through a bilateral loan agreement and/or grant financing facility, are involved in the following projects: Metro Manila Logistics Network-China-Grant bridges: Binondo-Intramuros and Estrella-Pantaleon bridges; Samal Island-Davao City Connector Bridge; Priority bridges crossing Pasig-Marikina River and Manggahan Floodway Bridges Construction Project (three bridges: North and South Harbor Bridge, Palanca-Villegas Bridge, and Eastbank-Westbank Bridge); Panglao-Tagbilaran City Offshore Bridge Connector; Davao City Expressway; and Ambal-Simuay River and Rio Grande de Mindanao River Flood Control and Riverbank Protection Project.
Under Korea ODA are the design and construction of Panguil Bay Bridge; Samar Pacific Coastal Road Project; Integrated Disaster Risk Reduction and Climate Change Adaptation Measures in the Low-Lying Areas of Pampanga Bay, and Panay-Guimaras-Negros Link Bridge.
Projects under World Bank and AIIB are the Metro Manila Flood Management Project-Phase I and Philippine Seismic Risk Reduction and Resilience Project while the United Kingdom is interested in financing the construction of three long span bridges in the province of Cagayan Alcala, Pinacanauan and Solana-Bagay under Iconic Bridge Project for Socio-Economic Development, Phase I.
Public Works Secretary Manuel Bonoan had earlier declared that the administration of President Marcos will "build better more" as it continues to build and complete flagship infrastructure projects that have been started and approved by the previous administration to boost the Philippine economy.