LGUs, labs asked to use RT-PCR for COVID-19 testing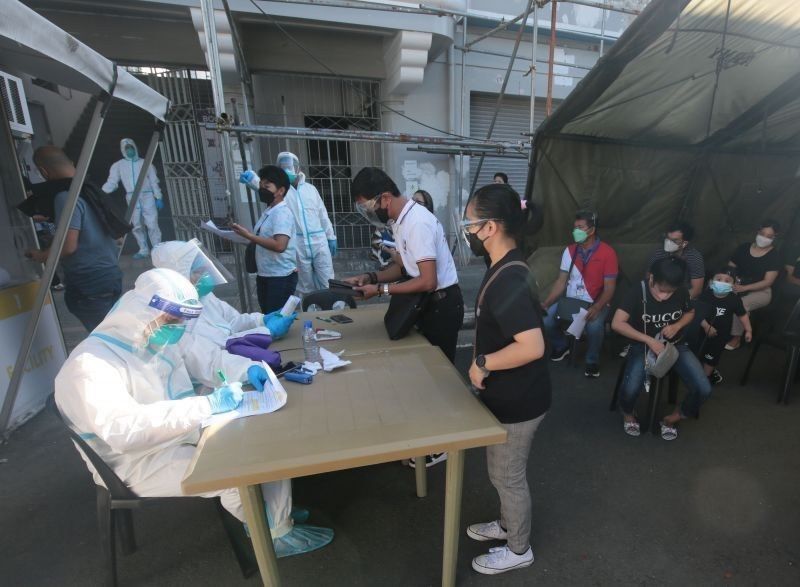 MANILA, Philippines — With the Omicron subvariants BA.1.12 and BA2.12.1 now in the country, the Department of Health (DOH) has asked local government units and COVID-19 testing laboratories to prefer reverse transcription-polymerase chain reaction (RT-PCR) over rapid antigen tests.
According to DOH Undersecretary Maria Rosario Vergeire, this is to better detect the presence of other sublineages of COVID-19 variants.
"Testing using RT-PCR is strongly advised during active surveillance as the method also allows for genomic sequencing," she said at a press briefing Tuesday.
For whole genome sequencing, the Philippine Genome Center (PGC) and the Research Institute for Tropical Medicine (RITM) could only use eligible swab samples from confirmed COVID-19 cases that were tested through RT-PCR.
Samples processed through antigen tests are not qualified for genome sequencing.
Vergeire noted there is no need to change the testing protocols for COVID-19 but focus should be on RT-PCR.
"It was recommended by our expert when we had our meeting that ... the preference right now would be RT-PCR because it's only RT-PCR when we can do genome sequencing," she added.
Earlier, the DOH had announced that one case of BA.2.12 and 17 cases of BA.2.12.1 have been documented in the country.
For her part, PGC executive director Cynthia Saloma said there are now four genome sequencing facilities in the country.
One is run by the RITM while three are at the PGC main and at the University of the Philippines campuses in the Visayas and Mindanao.
Saloma gave assurance that PGC has enough re-agents to do sequencing but "the number of COVID-19 cases is low and submission of samples is also low."
"There are only around 150 (new) cases per day being recorded in the country for the past weeks. And out of the 150 cases, only a few samples have low CT (cycle threshold) value ... which qualifies them for whole genome sequencing," she added.
As a protocol, swab samples can be subjected to genome sequencing if they have CT value below 30.