Lacson visits Abra hotspot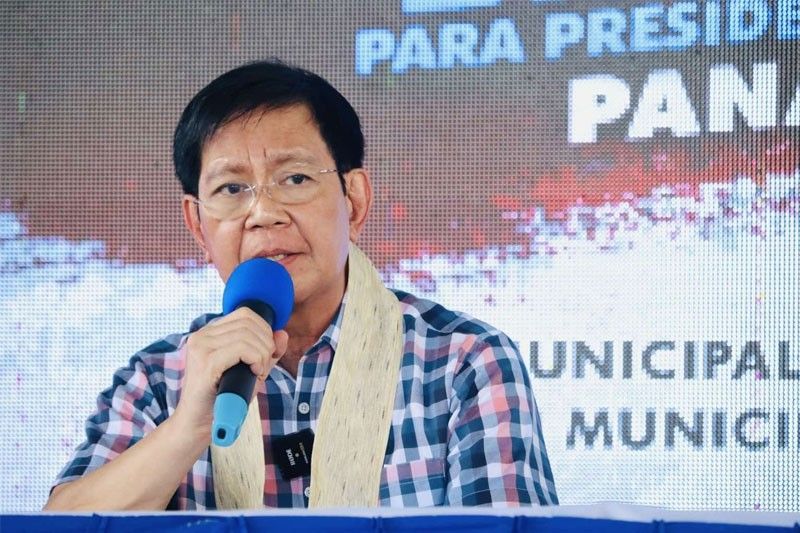 MANILA, Philippines — Independent presidential candidate Sen. Panfilo Lacson and his running mate Senate President Vicente Sotto III vowed yesterday to contribute to make the May 9 elections honest and peaceful.
Lacson made the promise as he visited Abra, one of the provinces that has been placed on the watchlist of the Philippine National Police (PNP) for possible election-related violence, and met with residents and local officials as well as members of the Reporma party that sided with him.
He also paid a courtesy call on Bangued Bishop Leopoldo Jaucian, who prayed over him and blessed him.
Lacson said Abra has a history of bloody elections, except in 2013 when he requested then PNP Cordillera Autonomous Region chief Benjamin Magalong to stabilize the province following a request from then Supreme Court Associate Justice Lucas Bersamin, whose brother was gunned down several years back.
"Other politicians in places that are troubled, they don't only want political power, but also economic power. We hear of politicians who are also the contractors or their relatives; they own the hardware; they provide the lumber; they also own the quarry. You can just imagine the infrastructure projects they control," Lacson told reporters in Filipino.
"That's where they derive their wealth that they will use for vote buying, to terrorize, to hire goons," he said.
He said politician-warlords thrive on the ignorance and fear of their constituents, especially the poor and uneducated to make them dependent on them.
"I just want our whole country to no longer be like it's still primitive. Whenever I hear stories like this, I feel that way and think 'it's already 2022, why do we have situations like these in our country?'" he said, referring to a recent shoot out between bodyguards of a vice mayoralty candidate and police officers.
Lacson said members of the Reporma party allied with him are peace-loving and are working not only to gather support for him and Sotto, but also to help make the elections violence and fraud-free.
He said the government must be data-driven in preventing election-related violence.
"Everything starts and ends with government. Fix the government first. That's why SP Sotto and I say that in the first 100 days we will start without letup, up to the last day in office, the internal cleansing of the entire government bureaucracy," he said.
He said he was able to successfully undertake internal cleansing when he was chief of the PNP, that restored the people's trust and confidence.
"If we scale it up, I hope we can restore trust of the people in government. There's no other way. If there's no trust how can the people cooperate with government?" he said.
PNP dismantles 20 private armed groups
Police have dismantled around 20 private armed groups (PAGs) ahead of the national and local elections on May 9.
Col. Jean Fajardo, spokesperson for the PNP, said a majority of the PAGs were from the Bangsamoro Autonomous Region.
"Some of them are members of local terrorist groups," Fajardo said in Filipino over radio dzBB.
These lawless elements would then work as armed goons of politicians during the elections.
With just two weeks to go before the elections, Fajardo said all security measures are in place to secure the conduct of the polls.
At least 40,000 police officers will secure the elections but the number is expected to increase in the coming days.
The PNP has also ordered stricter security measures put in place in Abra to prevent a repeat of the incident in Pilar involving the security escorts of Mayor Mark Somera, his sister Vice Mayor Jaja Josefin Disono and Disono's husband, Noel.
Gun ban violators
The number of people arrested for allegedly violating the nationwide gun ban reached 2,841 yesterday, according to a latest report released by the PNP.
The PNP said it has also seized 2,159 firearms in 2,711 law enforcement operations across the country.
According to the PNP, 2,736 of the violators were civilians, 45 security guards, 17 police personnel and 17 military personnel. Twenty-six others were unidentified.
Apart from firearms, police also confiscated 933 bladed weapons, 107 explosives and 11,512 rounds of ammunition.
The PNP said 1,059 of the violators were arrested in Metro Manila, followed by 319 in Calabarzon, 300 in Central Visayas, 262 in Central Luzon and 171 in Western Visayas.
The gun ban started last Jan. 9 and will last until the end of the election period on June 8. – Emmanuel Tupas