'Why now?': Quiboloy legal counsel questions timing of FBI 'wanted' poster, trafficking charges
February 6, 2022 | 3:28pm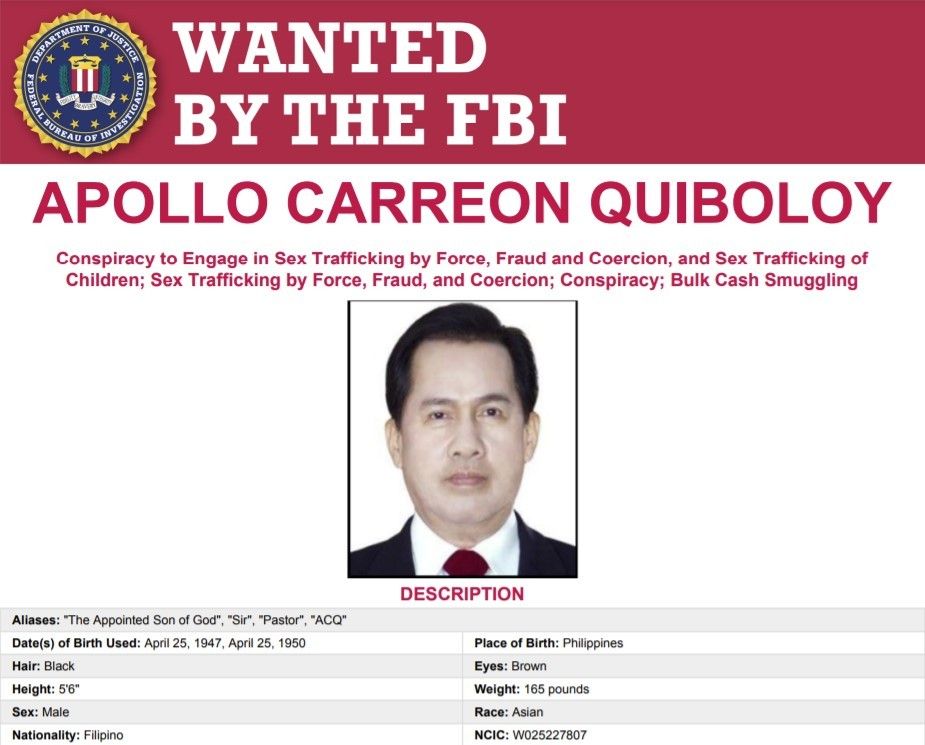 MANILA, Philippines — The legal counsel of Kingdom of Jesus Christ, The Name Above Every Name founder Apollo Quiboloy questioned the timing of the Federal Bureau of Investigation's wanted posters against him, claiming that the move was meant to interfere with the country's 2022 elections.
This comes after the FBI released wanted posters for Quiboloy and KOJC officials Teresita Dandan and Helen Panilag following their indictment in November 2021.
Speaking in an online press conference, Quiboloy's legal counsel, lawyer Ferdinand Topacio, questioned the timing of the latest development, pointing out that the federal jury indictment was made on November 10, 2021, at which point a warrant was already issued.
"Without going into the merit, the timing of the release of this poster is very suspect... why did they wait until now when the elections are starting?" he claimed.
"It doesn't make sense... the only logical reason here is that they are using the closeness of Pastor Quiboloy to President Duterte to indirectly bring Duterte down."
To recall, Quiboloy was indicted for conspiracy to engage in sex trafficking by force, fraud and coercion and sex trafficking of children; sex trafficking by force, fraud and coercion; conspiracy; and bulk cash smuggling.
Topacio went as far as claiming that the poster was being "blown out of proportion" in an "obviously orchestrated effort" by sectors who "want to bring the Pastor down...and indirectly, the present administration for political effect." He also slammed the reportage of unnamed media outlets, saying the issue was published as though "there was already a final sentence."
Unsurprisingly, the online press conference was aired over Sonshine Media Network International or SMNI, the official broadcasting arm of Quiboloy's church. It was also streamed through Quiboloy's Facebook page, which has amassed over one million followers on the social media site.
"Why is it that before President Duterte was president, we didn't hear any accusations like this against Pastor Quiboloy? It was only in 2016 that these trumped-up charges began," Topacio also said. Quiboloy has been noted for his role as Duterte's spiritual adviser. He is not facing any similar charges in the Philippines.
Topacio's claim is false. As far back as November 2005, Quiboloy was sued by a former church member for allegedly brainwashing and holding her young daughter against her will, according to an article by the Philippine Daily Inquirer. The broadsheet at the time referred to Quiboloy's church as a "cult."
According to the FBI, Duterte's spiritual adviser is wanted for an "alleged participation in a labor trafficking scheme that brought church members to the United States, via fraudulently obtained visas, and forced the members to solicit donations for a bogus charity, donations that actually were used to finance church operations and the lavish lifestyles of its leaders."
Topacio called into question the testimonies' integrity, saying they came from "polluted sources."
However, reports by Rappler interviewed former members of the church who corroborated the testimonies, outlining how Quiboloy personally abused female members of the church both sexually and verbally under the guise of his supposed divinity. According to the reports, Quiboloy would sexually abuse teenage women in the church in exchange for privileges and to help them avoid "eternal damnation."
"These are former members of the kingdom who have absconded either with funds or broke the rules of the kingdom either with morality or ethics or other inappropriate behavior. They're now being investigated, but they went into hiding and even went to other countries," Topacio claimed.
The Department of Justice has said it would process Quiboloy's extradition with the United States if it is requested, even despite his close ties with President Rodrigo Duterte.
"If we receive the request, we will do our job within the bounds of the law and processes in our department, regardless of the personality involved," lawyer George Ortha II, the DOJ's chief state counsel, said in Filipino in an interview aired over DZMM TeleRadyo earlier Sunday morning.
— Franco Luna with a report from Xave Gregorio