40.6% of 'ayuda' for Metro Manila already distributed, DILG says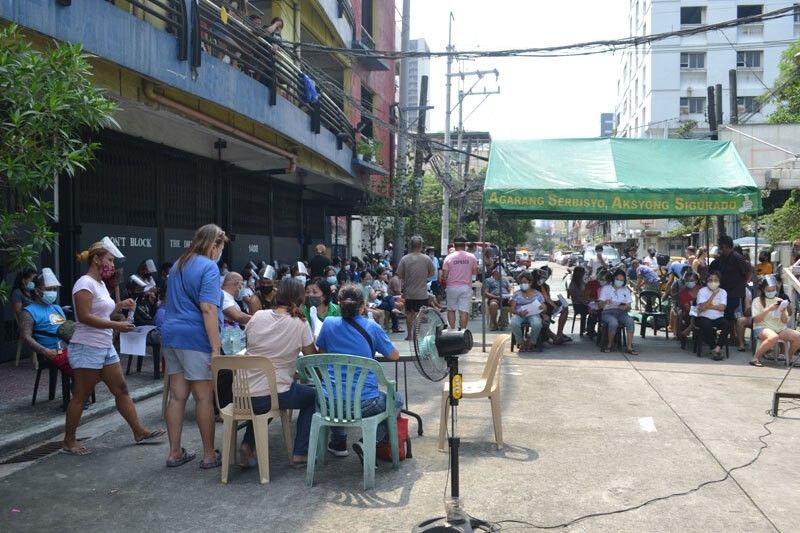 MANILA, Philippines — Less than half of the P11.2 billion ayuda fund released by the national government has been released to poor families in Metro Manila with just one week left for local governments to complete the distribution, the Department of the Interior and Local Government said Wednesday.
In a statement, the DILG said that just P4.5 billion or 40.6% of the ayuda allocated for the capital region has reached target beneficiaries as of August 16 after the aid rollout formally began on Wednesday, August 11.
Under the guidelines released to local governments, Metro Manila's local chief executives have 15 days from the start—or until Wednesday, August 25—to complete the distribution of ayuda to their constituents.
This comes just days after President Rodrigo Duterte hit an unnamed mayor— clues in his comments suggested he meant Manila Mayor Isko Moreno — for what he said having a "disorganized mind" and for allegedly not knowing how to enforce safety protocols.
On Wednesday, though, the DILG commended Metro Manila mayors for what it said was their "orderly and systematic distribution."
READ: Palace: Up to Duterte whether to reveal 'disorganized' mayor
"A total of 4,566,655 low-income individuals have already benefited from our assistance and we continue to provide assistance to our LGUs," Interior Secretary Eduardo Año said in Filipino.
"In addition, for transparency, the list of beneficiaries has been posted in all local government units in barangay halls, websites and official social media platforms for everyone's information," he added.
Among the local government units in the capital region, the DILG lauded those with the highest percentage of financial assistance distributed, namely:
Caloocan at 59.78%
San Juan at 56.51%
Mandaluyong at 55.22%
Taguig at 53.41%
Makati City at 51.48%
The DILG also commended the cities of Makati, Muntinlupa, Caloocan, and Parañaque for adopting initiatives to ensure faster distribution, such as the use of electronic and bank-assisted options.
Cities have received additional aid funds
The distribution of aid for the poor was delayed from the start as the ECQ was hoisted in Metro Manila on Friday, August 6.
Starting this week, the provinces of Laguna and Bataan will also start distributing ayuda to their low-income constituents as the two provinces have also been placed under ECQ.
READ: DILG vows no delay in distribution of 'ayuda' in Metro Manila
The department disclosed that Metro Manila's cities have also received the additional P368 Million approved by the President that was requested by NCR LGUS as additional financial assistance to Metro Manila.
"We are doing distribution everyday. We have not received any report of any untoward incident and our PNP is there to ensure that all minimum health standards are met," he said.
The DILG chief also shared that all 17 LGUs in the NCR have established a fully operational Grievance and Appeals Committee within their respective localities.
All of the 17 LGUs in the region have also formed and convened a Joint Monitoring and Inspection Committee led by the DILG.
Año assured the public that the Department, in close coordination with LGUs and the Philippine National Police, is ensuring the safety and security of all those involved during the ongoing distribution of ayuda, as well as the strict observance of minimum public health standards against the spread of COVID-19.