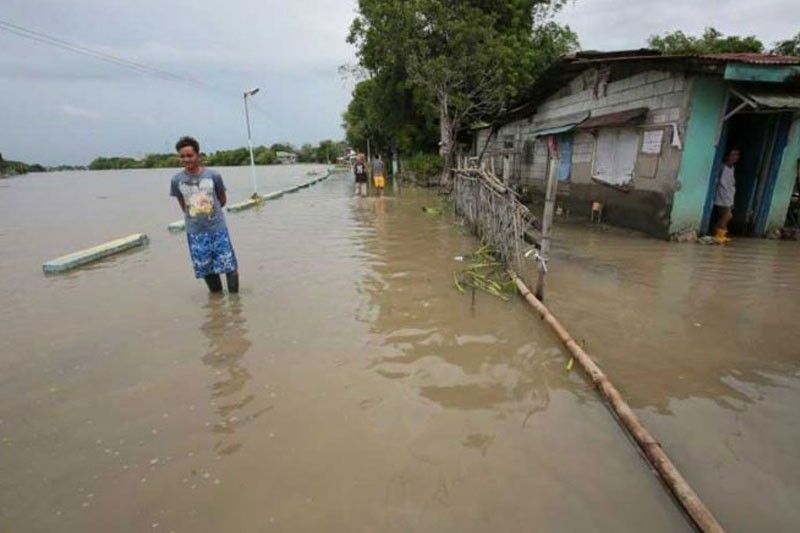 The typhoon was blowing west toward the South China Sea with sustained winds of 125 kilometers per hour and gusts of up to 150 kph. It roared overnight through island provinces south of Metro Manila, which was lashed by strong winds but escaped major damage.
Michael Varcas, file
Quinta batters Luzon; thousands displaced
Helen Flores
(The Philippine Star) - October 27, 2020 - 12:00am
2 dead, 19 missing
MANILA, Philippines — Typhoon Quinta battered the southern part of Luzon – including Metro Manila – Sunday night and yesterday, leaving at least two dead and 19 people missing, flooding rural villages and forcing thousands of villagers to flee to safety, disaster response officials said.
One of the two fatalities – a 60-year-old farmer – was from Cagayan Valley. Gov. Manuel Mamba confirmed the discovery on Sunday of the body of Artemio Bumiltac, who went missing after raging floodwaters carried him away while he was trying to save his water buffalo.
Gloria Rivas, 70, died when her hut collapsed after it was hit by a falling coconut tree in Sitio Munting Ilog in Mauban, Quezon.
The 19 people missing included a dozen fishermen and the crew of a boat that ventured out to sea over the weekend despite a no-sail restriction due to rough seas.
The typhoon was blowing west toward the South China Sea with sustained winds of 125 kilometers per hour and gusts of up to 150 kph. It roared overnight through island provinces south of Metro Manila, which was lashed by strong winds but escaped major damage.
At least 25,000 villagers were displaced, with about 20,000 taking shelter in schools and government buildings that were turned into evacuation centers, the Office of Civil Defense said, but officials added that some of them have returned home in regions where the weather has cleared.
"Villagers are now asking to be rescued because of the sudden wind which blew away roofs," Oriental Mindoro Gov. Humerlito Dolor told dzMM radio.
Dolor said pounding rains overnight swamped farming villages in his province, then fierce winds toppled trees and power posts early yesterday, knocking out power. Authorities were clearing roads of fallen trees and debris in some towns after the typhoon passed, he said.
In the eastern province of Catanduanes, the 12 fishermen were reported missing after they failed to return home from a weekend fishing expedition, officials said.
"They have been missing for 24 hours. They were supposed to come back home yesterday before noon," Gremil Alexis Naz of the Civil Defense office told dzMM radio, adding that search and rescue operations would be conducted.
Six fishermen from Albay were rescued after their boat capsized off Catanduanes. One of their companions remained missing as of yesterday.
17th typhoon
Quinta, the 17th typhoon to hit the Philippines this year, follows Tropical Storm Pepito (Saudel), which last week caused widespread flooding in Quezon province in the Calabarzon region, southeast of Manila.
In Albay province, 15,000 evacuees were allowed to return to their homes but many areas remained inundated and without power, Gov. Alfrancis Bichara told dzMM radio.
In Quezon province, about 21,125 individuals were sent to 294 evacuation centers from the four districts of the province, according to the Provincial Disaster Risk Reduction and Management Council headed by Gov. Danilo Suarez.
The evacuees – comprising 5,825 families – came from barangays in 28 towns including Lucena and Tayabas cities. They evacuated before Typhoon Quinta made landfall in the province.
Meanwhile, a yacht sank off Batangas province and the Coast Guard said it managed to rescue seven of the crewmen of M/V Oceanic Explorer 3. The Coast Guard was still searching for the other missing crew as of press time.
A passenger-cargo vessel ran aground on Bonito Island off Batangas as the region was being pounded by fierce wind and rain early yesterday. The Coast Guard said its personnel were on the way to the island to pick up five crewmembers and tow the vessel back to the coast.
More than 1,800 cargo truck drivers, workers and passengers were stranded in ports after the Coast Guard barred ships and ferry boats from venturing into rough seas, officials said.
Bustos and Ipo Dams in Bulacan released water at the height of the heavy downpour, which raised Angat Dam's water level by almost two meters.
Bustos Dam regulates the irrigation supply to Bulacan and some parts of Pampanga's farmlands. Ipo Dam serves as water reservoir for Metro Manila's potable water needs while Angat Dam is the main source of irrigation water for Bulacan and some parts of Pampanga's rice fields and at the same time provides 97 percent of Metro Manila's domestic water needs.
About half of the Philippines' 109 million population live in the Luzon region. The country is hit by an average 20 typhoons each year.
Agriculture officials said affected regions were able to harvest crops from some 133,292 hectares of farmland before the typhoon arrived, saving an estimated 530,593 tons of unmilled rice from destruction.
Damage to crops
Flashfloods caused by Quinta destroyed at least P60 million worth of crops in the northern province of Cagayan province, based on initial estimate. More than 1,600 families were also displaced by flooding.
Danilo Benitez, officer-in-charge of the province's Office of the Provincial Agriculturist, said farmers most affected were from the towns of Sta. Praxedes, Claveria, Sanchez Mira, Pamplona, Abulug, Ballesteros and Allacapan.
Benitez said the town of Abulug suffered the biggest loss at P18.85 million covering at least 1,257 hectares of rice lands.
"This is only initial damage report as we are still conducting our damage assessment in other towns as well as the damage to infrastructure," Benitez said.
The Manila city government set up an evacuation center at the Rosauro Almario Elementary School in Tondo and prepared food and other necessities in anticipation of the evacuation of residents of Baseco and Isla Puting Bato.
Mayor Isko Moreno met with officials of the city's disaster risk reduction management office and ordered the departments of engineering and public works and of public safety to immediately conduct declogging operations on sewers.
The Metropolitan Manila Development Authority (MMDA) suspended the operation of the Pasig River ferry service yesterday after Metro Manila was placed under Tropical Cyclone Wind Signal No. 2.
Meanwhile, the local governments of Makati City, Taguig City, Pasay City, Parañaque City, Muntinlupa City, Las Piñas City and the municipality of Pateros suspended classes, whether blended or online.
Classes in all levels were postponed in the cities of Taguig, Pasay, Parañaque, Muntinlupa, Las Piñas and Pateros town, while classes from kindergarten to high school were suspended in Makati City.
The city of Makati pointed out it followed the guidelines on class suspension mandated by Executive Order 66 issued in 2012, which said that classes from kindergarten to high school are suspended when Signal No. 2 is raised on an area.
The local governments of Makati, Pateros and Parañaque decided to halt classes yesterday morning, while the other cities announced the suspension on Sunday night.
Sen. Bong Go, meanwhile, said President Duterte was monitoring the situation at the height of Quinta's onslaught and had alerted concerned agencies to attend to the needs of those affected.
Go said the President assured the public that government agencies were ready to help the areas affected by the typhoon by repairing damaged bridges and other infrastructure, restoring power and distributing relief goods and medicine.
"We talked with President Duterte last night. He was monitoring the devastation of Typhoon Quinta in various regions, in the provinces, here in Luzon and the Visayas," Go said at a briefing.
Go said the President was regularly getting updates from officials including Executive Secretary Salvador Medialdea and Defense Secretary Delfin Lorenzana.
More rains today
Quinta will continue to bring moderate to heavy to at times intense rains over Occidental Mindoro, Oriental Mindoro, northern Palawan including Calamian and Cuyo Islands, Calabarzon, Aurora and Isabela today, especially in the morning.
The tail-end of a frontal system will likewise bring moderate to heavy rains over Cagayan, Apayao, Kalinga, Abra, Ilocos Norte and Ilocos Sur.
These two weather systems will also bring light to moderate to at times heavy rains over Metro Manila, Western Visayas, Zamboanga Peninsula, Bangsamoro and the rest of Luzon.
As of 5 p.m. yesterday, Quinta slightly intensified as it moved toward the West Philippine Sea, the Philippine Atmospheric, Geophysical and Astronomical Services Administration (PAGASA) said.
Tropical cyclone wind signal No. 1 remained hoisted over Batangas, Occidental Mindoro including Lubang Island, Oriental Mindoro, Calamian Islands and the extreme northern portion of Antique.
Quinta made landfalls in San Miguel Island, Tabaco City, Albay; Malinao, Albay and San Andres, Quezon on Sunday night; and in Torrijos, Marinduque and Pola, Oriental Mindoro before dawn yesterday.
As of 4 p.m., the eye of Quinta was spotted 310 km west of Calapan City, Oriental Mindoro with maximum sustained winds of 130 kph near the center and gustiness of up to 160 kph.
Quinta is expected to exit the Philippines today on its way towards Vietnam. — Rey Galupo, Ghio Ong, Evelyn Macairan, Cecille Suerte Felipe, Michael Punongbayan, Ding Cervantes, Victor Martin, Michelle Zoleta, Cet Dematera, Ramon Efren Lazaro