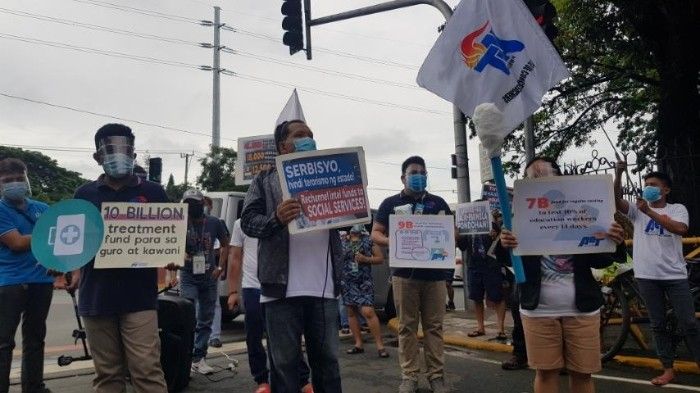 In this Sept. 15, 2020, photo, members of the Alliance of Concerned Teachers troop to Congress as the lower house begins hearings for the Department of Education's budget for 2021.
Released/Alliance of Concerned Teachers
Teachers' group renews call on Congress to increase DepEd budget in 2021
(Philstar.com) - September 15, 2020 - 11:56am
MANILA, Philippines — The Alliance of Concerned Teachers (ACT) on Tuesday renewed its call on the House of Representatives to "substantially increase" the Department of Education's budget for 2021.
According to the group, the proposed P606.5 billion allocated to DepEd by the Department of Budget and Management, as well as the entirety of the 2021 national budget, "is not responsive and [is not] resilient to present and future crises."
"Despite claims of pushing for a new normal, President [Rodrigo] Duterte's budget for education reflected more of the same insufficiency. Considering that the same state neglect we suffered for years mainly caused our inability to efficiently shift to remote learning and to safely and timely reopen schools this year, it's appalling to see how little funds had been allocated to DepEd," ACT Secretary General Raymond Basilio said.
The following is a list of funding demands for the education sector made by the Alliance of Concerned Teachers:
P16.9 billion for the funding of a 1:1 nurse to school ratio
P3.5 billion in order to provide 1,000 sets of personal protective equipment to every school district
P9.7 billion for minimum safety requirements such as alcohol, disposable masks, face shields and foot baths
P7 billion to cover RT-PCR tests every 14 days for 10% of education workers
P10 billion medical treatment fund for DepEd employees who contract COVID-19
P27 billion in order to provide a laptop to every teacher
P15 billion to grant P1500 internet allowance to all educators
P33.8 billion to provide gadgets to the poorest 5% of the estimated 27.7 million estimated learners in basic education
"Likewise, bigger allotments should be given to the production of learning materials which will involve not only the printing of modules but also the procurement of textbooks that should be budgeted yearly and will continue to be a basic provision for the education agency," Basilio added.
Realign 'problematic' allocations, prioritize essential services
"Even more enraging is to find that the people's money—instead of going to social services and aid—will be used to further infringe on our basic rights and endanger the lives of millions, and to line the pockets of the few," Basilio further criticized.
Given this, ACT urged the lower house to "rechannel problematic allocations for repressive and war programs of the regime, and prioritize essential services such as education."
DepEd Undersecretary for Finance Annalyn Sevilla on Tuesday told the House that the agency originally requested a budget of P1.1 trillion for 2021 but DBM approved a budget about 45% short of that amount at P606.5 billion.
The proposed national budget submitted to Congress by DBM last month revealed that Duterte is seeking a combined P20-billion increase in funds for the military and the national police in 2021.
Meanwhile, DBM denied the Department of Education's P65 billion supplemental budget request for its learning continuity plan.
Sevilla, during a virtual briefing, called the request a conservative amount, primarily meant to cover the provision of laptops to all public school teachers, as well as to fund the upholding of minimum health standards in basic education schools and offices.
To implement minimum health standards, the undersecretary further told Congress that DBM granted additional funds worth P4 billion.
However, for internet allowance and coronavirus treatment for DepEd employees, Sevilla reiterated these fall under the purview of other government agencies.
"We're under extraordinarily difficult times, which means the demand for accountability from the government is significantly greater. The government is there to protect the rights and welfare of the Filipino people, and we demand that the people's money be judiciously used for such," Basilio said. — Bella Perez-Rubio
As It Happens
LATEST UPDATE: October 29, 2020 - 8:08am
Follow this thread for updates on when classes will resume, and how those classes will be conducted.
Photo: Students wearing protective face masks have their temperatures taken while entering their college campus in Manila on January 31, 2020. AFP/Ted Aljibe
October 29, 2020 - 8:08am
The UN and World Bank plead in a new report Wednesday for schools to remain open despite COVID-19 risks, highlighting the damage the pandemic has inflicted on children's education, especially in poor nations.
Children in impoverished countries have been deprived of close to four months of schooling since the pandemic began early this year, while pupils in rich nations benefiting from remote learning have lost six weeks, the report said.
"Prioritizing reopening schools and providing much-needed catch-up classes are critical," says Robert Jenkins, education chief at the UN children's fund UNICEF.
"We don't need to look far to see the devastation the pandemic has caused to children's learning across the world," he adds in a statement. — AFP
October 9, 2020 - 12:24pm
A group of teachers warns of class disruptions and drop-outs if the problems have not been resolved a week after classes were opened.
"The Department of Education should objectively assess and boldly address the critical problems experienced in the first week of school opening, rather than patting its own back for its imagined success. If the agency has any foresight, they should know that the school year they opened is hanging by a thread," says Raymond Basilio, Alliance of Concerned Teachers secretary general.
October 6, 2020 - 10:54am
The resumption of classes on Monday was not a victory as claimed by Education Secretary Leonor Briones, Samahan ng Progresibong Kabataan says in a statement.
"Our leaders look at the millions disenfranchised and call it victory. They look at the teachers contracting the virus and march forward. They look at the millions of dropouts and four students dead and call it a new venture," the group says.
"You send millions to school with an underfunded and exclusive education system that leaves millions out anyway. Opening classes does not mean that you have accomplished the slightest thing. We have raised our voices for six months, and you have sat on your hands watching dropouts rise. This is not victory over COVID-19, this is the defeat of common sense," the youth group adds.
October 5, 2020 - 8:04am
Education Secretary Leonor Briones officially declares school year 2020-2021 open in an address streamed through Facebook.
She says this ends the debate on whether classes should resume and whether the department is ready for the blended learning system required by health and safety protocol against the novel coronavirus.
October 4, 2020 - 12:49pm
As public school teachers get ready for the resumption of classes on Monday, Sen. Risa Hontiveros calls for government support for them, including the proper medical benefits in case they get sick.
She says teachers should also get an additional allowance for internet access and to print out learning materials as well loans for computers and laptops for them to implement distance education.
"The government should spend for these because this is part of the teachers' official obligations," she says in Filipino.