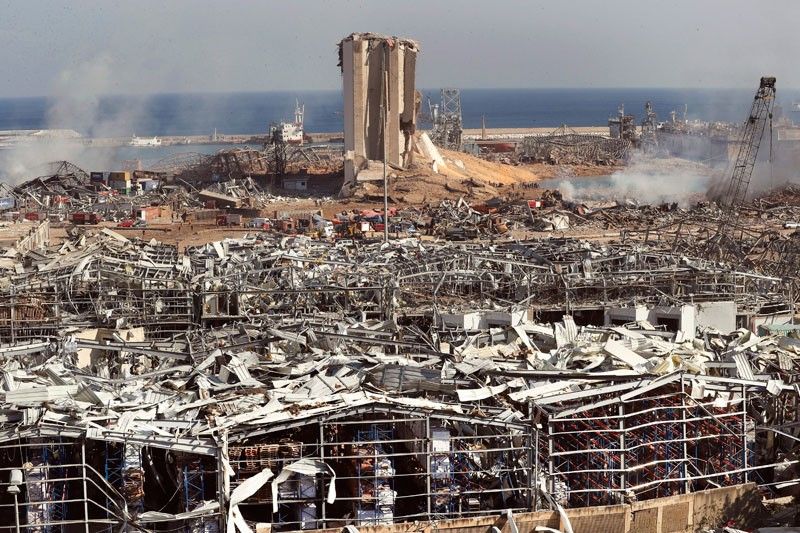 Rescue workers and security officers work at the scene of an explosion that hit the seaport of Beirut, Lebanon Thursday.
AFP
Injured Filipinos in Beirut blasts climbs to 31, deaths rise to 4 — DFA
MANILA, Philippines — The Department of Foreign Affairs on Friday announced that it has logged additional deaths and injuries among Filipinos who were caught in the deadly blast in Beirut, Lebanon earlier this week.
"The [DFA], through the Philippine Embassy in Beirut, regrets to inform the public that the number of Filipinos injured following the blasts in Beirut is now at 31," the department's statement read, amending the previous number of only eight injured as of Tuesday.
Philippine Embassy Beirut Charge d'affaires Ajeet Panemanglor added that two Filipinos "remain in critical condition."
"They are confined and are being monitored at Rizk Hospital," he said.
The agency also recorded two new deaths, bringing the total number of Filipinos killed in the blasts up to four.
"We are saddened by the latest turn of developments. The higher figure comes as our Embassy personnel work to ascertain the condition of the Filipinos in its jurisdiction," Foreign Affairs Undersecretary Sarah Arriola said.
On Thursday, the department reported that all 13 Filipino seafarers caught in the blast, 11 of whom were previously reported missing, were safe and accounted for.
However, it confirmed on Friday that one Filipina household service worker is still missing.
"Our Embassy officials shall continue to ascertain the condition of our community in Beirut. The DFA reaffirms its commitment to bring the much needed support and assistance to our kababayans (countrymen) specially at this hour of need," Arriola said.
Latest numbers show that at least 149 people were killed and over 5,000 were injured after two explosions devastated Beirut's port on Tuesday.
According to Foreign Affairs Assistant Secretary Ed Meñez, approximately 33,000 Filipinos are in Lebanon, 75% of whom are in the Greater Beirut area.
As It Happens
LATEST UPDATE: September 2, 2020 - 7:14am
The powerful explosions that rocked the port of Beirut on Tuesday left "people dead and injured", the Lebanon's National News Agency reports
Georges Kettaneh, the president of the Lebanese Red Cross, referrs to "hundreds of wounded" in a statement on Lebanese LBC television, adding: "We are overwhelmed by phone calls."
Lebanon's Prime Minister Hasan Diab has declared Wednesday a day of mourning, and President Michel Aoun called for "urgent" defence council talks. — AFP
September 2, 2020 - 7:14am
Lebanese leaders have promised to form a new government within two weeks, visiting French president Emmanuel Macron said Tuesday after talks with political blocs who designated a new prime minister a day earlier.
"What I have asked for, what all political parties without exception have committed to this evening right here, is that the formation of this government will not take more than 15 days," Macron said in a speech.
He said the cabinet would be comprised of "competent personalities" and would be an "independent" entity with the backing of political parties. — AFP
August 14, 2020 - 7:39am
UN human rights experts on Thursday demanded a swift, independent investigation into the catastrophic Beirut explosion, citing deep concern about irresponsibility and impunity in Lebanon.
The group also called for a relatively-rare special debate at the United Nations Human Rights Council this September.
UN experts do not speak for the United Nations but report their findings to it. — AFP
August 13, 2020 - 7:43am
The massive blast at Beirut port on August 4 caused more than $15 billion in damages, Lebanese President Michel Aoun says.
"Preliminary estimates of the losses suffered following the port explosion top 15 billion dollars," he was quoted as telling Spain's King Felipe in a phone call, in a message on the presidency's Twitter account. — AFP
August 12, 2020 - 7:34am
The death toll from Beirut's massive August 4 explosion has climbed to 171, a health ministry spokesman told AFP on Tuesday.
The new figure, up from 160, came exactly one week since the mega-blast ravaged swathes of the Lebanese capital, wounding more than 6,000 and temporarily displacing 300,000 people from their homes. — AFP
August 11, 2020 - 9:45am
Lebanon's premier Hassan Diab stepped down Monday amid fury within and outside his government over the deadly Beirut port blast he blamed on the incompetence and corruption of a decades-old ruling class.
"Today we are heeding the people and their demands to hold accountable those responsible for a disaster that has been concealed for seven years" he said in a televised address, blaming a "corrupt" political elite for the August 4 explosion.
"This is why today I announce the resignation of the government." — AFP